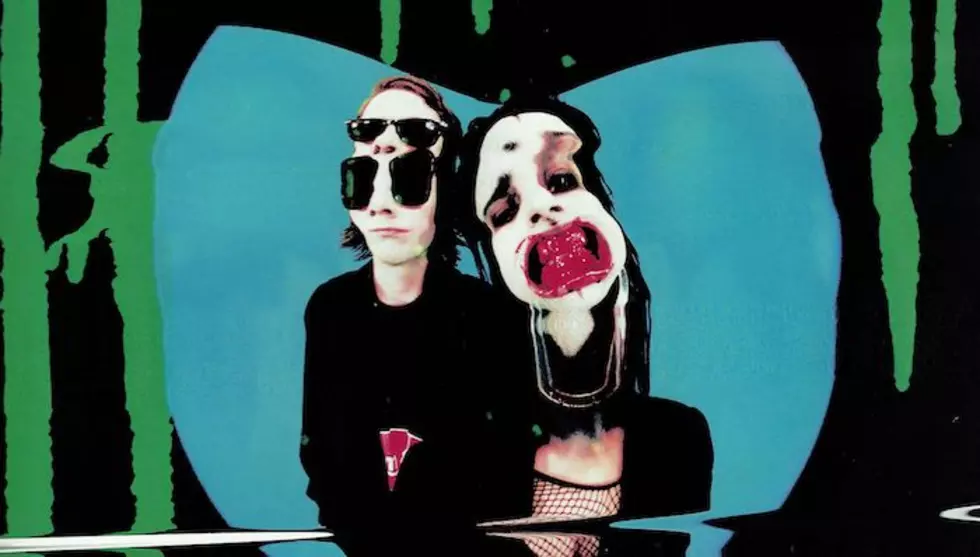 VOWWS give Britney Spears' "Womanizer" a dark, lo-fi twist—watch
[Photo by: Nedda Afsari, Edited/Scanned by: RIZZ]
If you think death-pop and Britney Spears don't mix, you're simply wrong. Los Angeles-based duo VOWWS have released a gritty rendition of Britney Spears' chart-topping "Womanizer," and it's everything you didn't know you needed in your life right now. 
True to the band's dark aesthetic, the cover is much more sinister and noisier than the original. The track itself is still incredibly catchy, even with the eerie synths and the deeper bass in the background singing in contrast to Spears' bubblegum vocal range. 
The cover is accompanied by a ghastly, lo-fi music video featuring the Aussie musicians Rizz and Matt James. The pair appear in their signature ghost-white face paint, black eyeshadow and all-black clothing. The video shows the duo performing the track in an all-white room with Rizz taking complete control of the small space. Stitched in between are surreal shots of Rizz with a bloody mouth held open by cheek retractors, and frames of the singer holding a lighter to her tongue. 
[Photo via YouTube][/caption]"We were genuinely inspired by the original while making this version," VOWWS say. "It's a banger to start with, a relentless song, and we felt like it wanted to be more aggressive... So we brought out the song's dark side—after all, it's really about a cheating womanizing piece of shit leaving a trail of hurt behind him."
You can watch the video for VOWWS' rendition of Spears' "Womanizer" below.
VOWWS released the track on their Instagram with the caption, "We covered britney ! Here's our version of 'womanizer' by @britneyspears We wanted to keep it interesting & cover a song that came from somewhere completely different to us. Full video + stream links in bio. Recorded & mixed by VOWWS Video: Edited by RIZZ 1st DOP: NEDDA AFSARI @mutedfawn 2nd DOP: ERICA WEITZ @zeitweitz #britneyspearscover #yep"
 

View this post on Instagram

 
VOWWS also commented on the motivation behind recording the cover in a press release.
"We wanted to do something unexpected, something that comes from a totally different world to us, artistically and sonically," they said. "It was a challenge to ourselves to reinterpret something with top-level pop production and give it a scrappy, DIY personality. If Britney's version is like a superstar heavyweight champion, ours is a bare-knuckled, chain-smoking, heavy-drinking street fighter."
VOWWS started as a metal cover band while attending the University of New England in Sydney, Australia in 2000 where they first met. The pair both take part in the songwriting process and share vocal duties, while Rizz plays synth and Matt plays guitar and drums. 
VOWWS are exactly what comes to mind when you think of the word "punk-rock." Everything from their early 2000s dark clothing to their melancholy vocals reminiscent of '80s industrial goth. VOWWS stand on the outskirts of society and look in, making poignant criticisms of pop culture and the society that we live in. 
Previously, the pair have worked on collaborations with Gary Numan, Thor Harris, Deftones' vocalist Chino Moreno and Danny Lohner of Nine Inch Nails. They also opened for Poppy during the I Disagree Tour.  
They have also stepped into the fashion world. In 2019, VOWWS performed during the Comme des Garçons runway show for Men's Fashion Week in Paris. All of the models wore long black coats, dramatic black eyeshadow and black lipstick, a perfect pairing to the aesthetic of VOWWS.
In addition to their performance at the 2019 Comme des Garçons runway during Fashion Week, VOWWS also partnered up with the fashion label again in 2020. The pair worked alongside the label and Jordan Hemingway on the score and sound design for the promotion of Comme des Garçons Rouge.
In an Instagram post, they wrote, "An honor to have worked on the score & sound design for this! Huge thanks to @jordan_hemingway and @adrianjoffe ❤️ @jordan_hemingway for @commedesgarcons and @commedesgarconsparfums starring @issalish for Comme Des Garcons Rouge."
 

View this post on Instagram

 
 

View this post on Instagram

 
Let us know what you think of VOWWS' cover of "Womanizer" in the comments below!