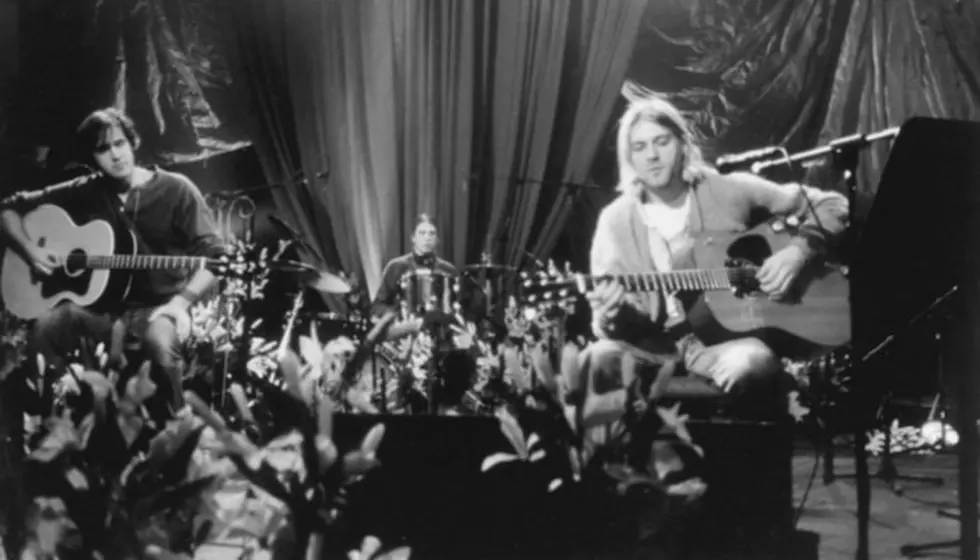 Nirvana 'MTV Unplugged' set celebrated with 25th anniversary reissue
[Photo via Spotify]
Nirvana will be receiving a 25th Anniversary Vinyl Reissue of their classic 'MTV Unplugged in New York' performance.
The record will include the iconic 1993 performance, as well as five rehearsal performances that were previously only available on DVD. It is due out Nov. 1
The reissue will be pressed as a  double-LP for the first time. In addition, it will come in a bifold jacket with silver foil details. Check it out below.
[Photo via Nirvana][/caption]The record also comes in exclusive limited-edition colors and can be preordered here. Check out the full tracklist for the reissue of Nirvana's 'MTV Unplugged in New York' performance below.
Nirvana 'MTV Unplugged in New York' 25th Anniversary Reissue Tracklist
LP 1 – Side A:
1. About A Girl
2. Come As You Are
3. Jesus Doesn't Want Me For A Sunbeam
4. The Man Who Sold The World
LP 1 – Side B:
1. Pennyroyal Tea
2. Dumb
3. Polly
4. On A Plain
5. Something In The Way
LP 2 – Side C:
1. Plateau
2. Oh Me
3. Lake of Fire
4. All Apologies
5. Where Did You Sleep Last Night?
LP 2 – Side D:
1. Come As You Are (Rehearsal)
2. Polly (Rehearsal)
3. Plateau (Rehearsal)
4. Pennyroyal Tea (Rehearsal)
5. The Man Who Sold The World (Rehearsal)
More Nirvana
Late Nirvana frontman Kurt Cobain is being commemorated with a clothing collection curated by his daughter Frances Bean Cobain.
Check out the "Kurt Was Here" collection below.
The apparel collection will include T-shirts, sweatshirts and hoodies, all designed using Kurt's sketches, paintings and notes.
There are currently more than 50 limited-edition pieces in total, all of which are available in unisex style and sizing.
Live Nation states the designs were taken directly from Kurt's original artwork without being edited or resized on the clothing.
"Kurt Was Here" is in partnership with The End of Music, LLC and Live Nation Merchandise.
You can shop the collection starting today at Barneys, Selfridges and online at KurtCobainShop.com.
You can check out a couple of the designs available at Barneys, below.
[Photo via Barneys][/caption]
[Photo via Barneys][/caption] 
Each item was "designed under the creative direction" of Frances Bean, who is the sole manager of her father's business entity.
Will you be preordering the Nirvana reissue? Tell us your favorite track below!
[envira-gallery id="199143"]