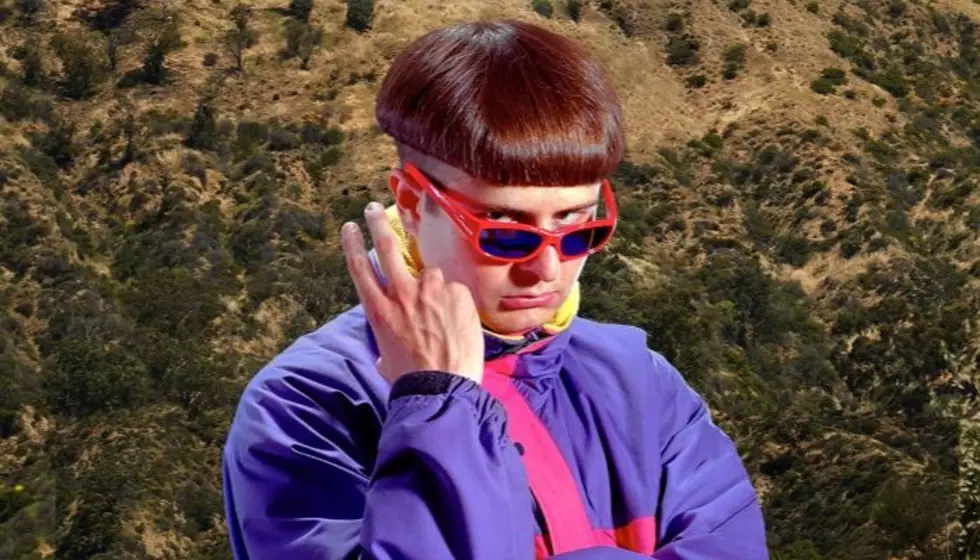 Oliver Tree helps us laugh through the pain on "Life Goes On" -listen
[Photo via Spotify]
Oliver Tree has released the deluxe version of his highly successful 2020 album Ugly Is Beautiful. Ugly Is Beautiful: Shorter, Thicker & Uglier includes seven brand new songs, including "Out Of Ordinary" and "Life Goes On."
"Out Of Ordinary" has a lyric video on YouTube, while "Life Goes On" is accompanied by a brand new music video directed by Tree.
The surreal new video features thousands of little Oliver Trees, all wearing his iconic pink and purple windbreaker, '90s JNCO-style jeans and bowl-cut hairstyle. They all dance in a mansion while one of the Olivers swings overhead on a chandelier. Eventually, the fun turns fatal, as one of the Olivers appears to have fallen from his perch. The video ends with the other Olivers mourning their fallen friend.
In an interview for his first Alternative Press cover, Tree spoke about his image and his work.
"I pulled together all the most interesting parts of my own life and my own personality, presenting myself in a way that was probably the most kooky parts of my life put together," Tree told AltPress. "And I think it really has connected with people well, because it is authentic and it's not fake."
Tree began promoting Ugly Is Beautiful: Shorter, Thicker & Uglier on his Twitter Wednesday. He first tweeted a link to presave the album with the caption, "PRESAVE THE DELUXE OF MY ALBUM, "UGLY IS BEAUTIFUL: SHORTER, THICKER & UGLIER"
He then posted a photo of his "cousin" Big Tommy wearing a black turtleneck and wielding a baseball bat adorned with nails with the caption, "PRESAVE MY DELUXE RIGHT NOW OR I'LL SEND MY COUSIN BIG TOMMY AFTER YOU…"
Tree performed  "Life Goes On" during his debut performance on CBS's The Late Show with Stephen Colbert. The meme-fueled fever dream of a performance featured multiple Tree impersonators, a cameo by producer Little Ricky ZR3, and a Guinness World Record-breaking 20-foot-tall kick-scooter. You can watch the performance here and below.
Tree described the otherworldly performance in a press release as "TOO CONTROVERSIAL FOR TV."
In his cover interview, Tree also detailed his creative process for AltPress.
"It's not some kind of elaborate plan," says Tree. "It's just me putting together my life in a specific way, and being able to share it boxed together with a little bow that presents everything I have as a human into one piece. Which is what you'll find in the music videos: All the extreme sports I've done, all the music, the singing production, [and] the directing—these are all the things I have to offer. It's a mixed bag of tricks. So to define Oliver Tree based on one thing alone would be inappropriate. You wouldn't be able to understand the vision if you just took it as just music or just an image."
Ugly Is Beautiful was released in July 2020 when it rocketed to Billboard's Top Rock Albums and Top Alternative Albums charts. 
Never taking itself too seriously, Ugly Is Beautiful seamlessly pairs upbeat and energetic beats with poignet critiques of modernity. Humor is also woven throughout the album, providing comic relief to help listeners laugh through the pain and creating a wholly unique music experience. 
Ones To Watch described Ugly Is Beautiful as, "a rapturous vision that is solely his… Tree makes his way through a range of genres, from alternative, hip-hop, pop punk, to electronic with a sense of reckless abandon that is nothing if not infectious… a breath of air in a music industry that seems to trade in genuine talent for novel, marketable risk or vice versa."
According to a press release, Ugly Is Beautiful now has over 900 million worldwide streams with a plethora of iconic singles, like RIAA platinum certified "Alien Boy" and RIAA gold certified "Hurt." Both singles have accompanying music videos that can be watched on Tree's official YouTube channel that boasts over 1.6 million subscribers. 
Tree celebrated "Alien Boy" going platinum on his Twitter, writing "My song Alien Boy went platinum! This is proof that if you pour your soul into a dream, anything is possible. The way you look has nothing to do with it. Thank you for making this happen. P.S. I can't wait for you to hear all the other crazy music I recorded before my retirement."
The release of Ugly Is Beautiful: Shorter, Thicker & Uglier comes after Tree's collaboration with Lil Yachty for their single "Asshole." The single was accompanied by a video directed by Tree himself.
Tree has also worked with iconic pop-punk band blink-182 on a rework on "Let Me Down." The track debuted at No. 24 on Billboard's Hot Alternative Songs chart. 
Tree is an entirely unique individual carving his own path through the Gen-Z music scene. He combines memes and music to create records that are incredibly current while still incorporating timeless themes of love and loss. Hopefully this is just the beginning of a long career in music for Tree, though he does talk of an early retirement.
Ugly Is Beautiful: Shorter, Thicker & Uglier
Tracklisting
1. "Life Goes On"
2. "Every Type Of Friend"
3. "Out Of Ordinary"
4. "Swimmer's Delight (SOS)"
5. "When You're Around"
6. "All In All"
7. "Lies Came Out My Mouth"
8. "Me, Myself & I"
9. "1993 (feat. Lil Ricky ZR3)"
10. "Cash Machine"
11. "Let Me Down"
12. "Miracle Man"
13. "Bury Me Alive"
14. "Alien Boy"
15. "Joke's On You!"
16. "Again & Again"
17. "Waste My Time"
18. "Jerk"
19. "Hurt"
20. "Introspective"
21. "I'm Gone"
Oliver Tree Performance Dates:
07/29-08/01 – Chicago, IL @ Lollapalooza 2021
08/28 – Reading, Uk @ Reading Festival 2021
08/29 – Wetherby, UK @ Leeds Festival 2021
09/05 – Manchester, TN @ Bonnaroo Music and Arts Festival 2021
09/23-26 – Dover, DE @ Firefly Music Festival 2021
08/28 – Reading, Uk @ Reading Festival 2021
08/29 – Wetherby, UK @ Leeds Festival 2021
09/05 – Manchester, TN @ Bonnaroo Music and Arts Festival 2021
09/23-26 – Dover, DE @ Firefly Music Festival 2021