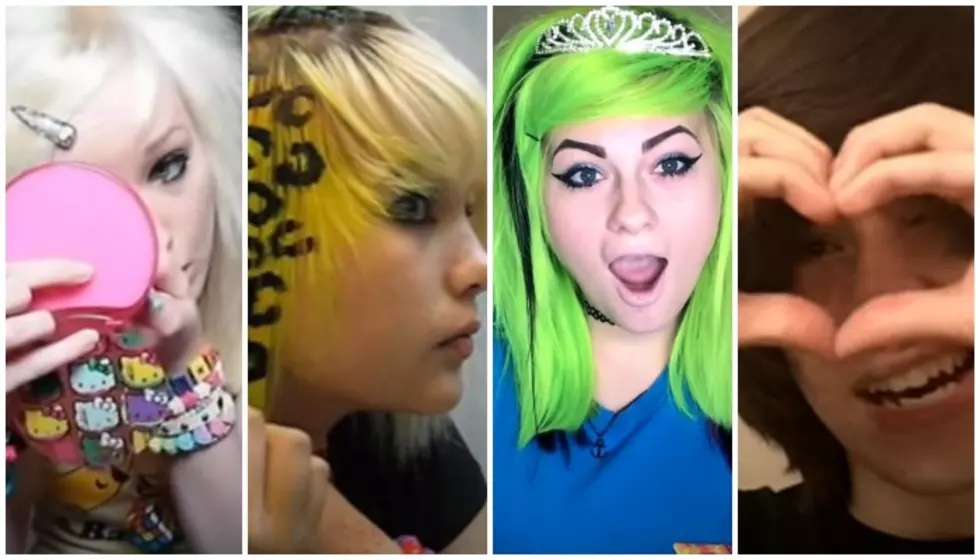 10 scene tutorials that still exist on the internet today
[Photos via YouTube]
Now that 20ninescene has passed and the Rawring '20s are here, it's time to look back at the old YouTube tutorials that showed many of us how to "be scene." You remember those videos, right? They always had metal and punk music in the background with free text transitions and hilariously low video quality. Those were the days.
Scene queens such as Hanna Beth, Audrey Kitching and Jac Vanek rose to the top of the Warped Tour community as well as took over social media pages with their style. Fans followed in their footsteps and demonstrated how to achieve scene hair, eyeshadow and much more.
Head back to your scene past and present with these fun, and at times cringey, video tutorials ranging in date from the late 2000s to 2020. 
1. Cheetah print hair
This isn't just any scene hair tutorial. This 2010 video guide demonstrates how to add some animal print to your light or neon-dyed hair. Simply take a swab dipped in dark hair dye and create the cheetah spot to your liking. Some scene kids opted for zebra stripes, too. This particular channel also shared how-to videos on adding stripes to bangs and achieving rainbow locks during the height of scene hair trends. 
2. Teased hair
If you were a scene kid back in the '00s and '10s, you probably donned a dramatic side bang and then teased your hair to the heavens. This 10-year-old video shows that the key to a good poofy look is hairspray, hairspray and more hairspray. 
3. Being a scene queen
YouTube personality and New Pollution vocalist Shannon Taylor dug up an old list she wrote at 10 years old about "How To Be Scene." Of course, she had to go through the list as a 22-year-old to reach scene-queen status again. Her young self had a love for Never Shout Never and detailed steps on how to do hair teasing properly. Taylor also followed steps to wear only gray eyeshadow, sport a nude lip and to "never wear turtlenecks." Essentially, this is a wikiHow by and for a young alternative kid. 
4. Dressing the part
This YouTuber shared her wardrobe favorites and how she preferred to dress for school. Undoubtedly, black was and is the scene go-to color, and bows are essential to a complete outfit. It also doesn't hurt if you have a little diadem to fit into your teased hair. 
5. Doing makeup
During the early 2010s, scene kids needed a lot of time to perfect their makeup look in the morning. After shaping the wing and the under-eye liner, it was time to add those false lashes if you were feeling brave enough with the glue. Then, you had to make sure your eyebrows were thin, dark and pointy. With enough dark eyeshadow, you were an emo beauty queen. 
6. How to be a "real" scene queen in only seven steps
That's right: In 2009, you could become a "real" scene queen in only seven steps, according to this video. The final step includes "Become famous!! You have to put yourself on the internet...BIG TIME! Make an account on Hi5, YouTube, Myspace, Buzznet, Facebook…" It seemed easy enough at the time. 
7. Styling scene-boy hair
There are several lovely scene-queen tutorials from many years ago, but of course, we have to check in on our scene kings from the past, too. This YouTuber shared how he straightened his hair to achieve the perfect emo swoop and whipped his head to get it just right. This also raises an important question: Was Justin Bieber's bowl cut secretly emo back in the early 2010s?
8. Perfect scene eye makeup
If you only had two words to summarize this video, they would be "bottom eyeliner." While the beauty community is divided on that issue, scene kids added a black liner to their waterline and then smudged it. Screw the rules of makeup. 
9. How to be a scene kid in 2020
Believe it or not, some YouTubers are preserving the subculture and revealing the secrets to being scene in the Rawring '20s. This content creator showed off her colorful, printed skinny jeans, her Invader Zim hoodie, her favorite artists including Breathe Carolina and Bring Me The Horizon and much more. How will you be celebrating the Rawring ''20s?
10. How to cut your own hair
This 2020 scene tutorial couldn't have arrived at a better time. With many salons closed or offering reduced hours due to coronavirus, you may have to take your hairstyling into your own hands. Warning: Be careful with scissors if you attempt to follow this tutorial and be extra careful if you cut straight-across bangs.