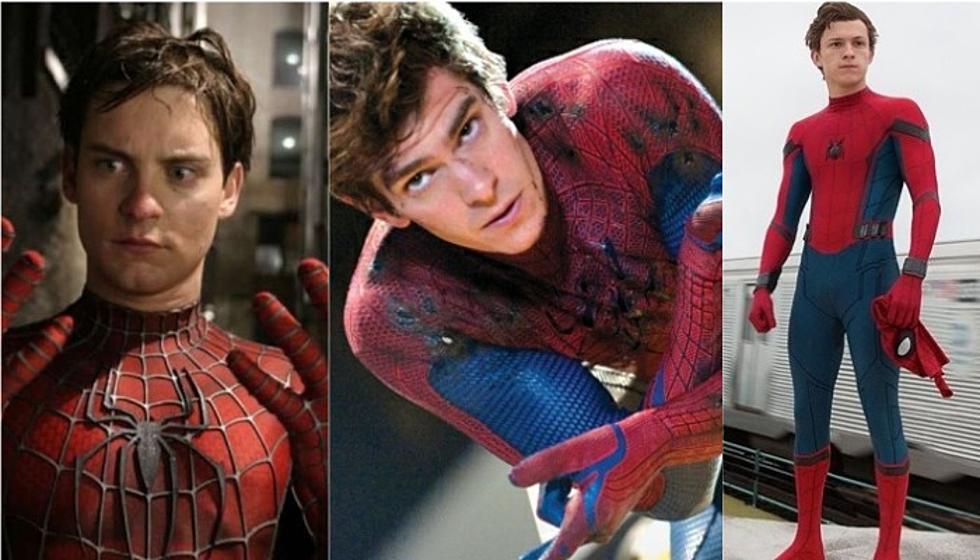 Spider-Man live-action films, ranked from worst to best
[Photos via YouTube]
As the debut of the highly anticipated Spider-Man: Far From Home quickly approaches, we can't help but reminisce on all the Spider-Man films of the past that got us to this point. Tobey Maguire sparked our excitement and love for the superhero, while Andrew Garfield revived the origin story with a new twist, giving us a fresh perspective on a familiar story.
Then our beloved Spoiler-Man Tom Holland solidified the superhero into the Marvel Universe, portraying a Peter Parker and Spider-Man balance fans quickly came to know and love.
As Holland's sequel quickly approaches, we sat down to rank these live-action Spider-Man films. Find out where your favorite Spidey film falls below!
6. Spider-Man 3
Budget: $258 million
Worldwide box office: $890 million
Probably one of the most criticized Spider-Man films, Spider-Man 3's over-the-top emo vibes combined with the feelings of a bad Saturday morning cartoon left this one falling flat. It's an attempt to show Parker's lack of empathy threatening to turn him into a bully while pushing his family and friends away. An uninteresting Venom and Sandman who will put you to sleep make this a good story poorly told. And let's not mention that awful dance scene...
5. The Amazing Spider-Man 2
Budget: $200 million
Worldwide box office: $708 million
This film received many complaints of "too many bad guys" despite the middle portion having almost none. The Amazing Spider-Man 2 attempted to appease a small number of hardcore fans by circling back to the comic and attempting to justify the violent fall of Gwen Stacy (Emma Stone). Stone's Stacy was a fan-favored character, so the franchise really shot themselves in the foot by killing her off just to please a handful of fans. The bad CGI of Jamie Foxx's Electro was extremely disappointing, but at least we got Tonight Alive's "The Edge" out of this one.
4. Spider-Man
Budget: $139 million
Worldwide box office: $821 million
This one was the roadmap for all to come. Maguire makes a great Peter Parker with his nerdy awkwardness despite looking a little too old to play the part of a high schooler. While the film sticks to the classic origin story, it does up the antics a bit. Luckily, the over-the-top villains are balanced by a grounded love story with Mary Jane (Kirsten Dunst). Plus, it's hard not to enjoy J.K. Simmons as the bitter newsman J. Jonah Jameson. The film does have its flaws, but it's hard to top the sheer excitement of the first-ever Spider-Man film, debuting back before superhero films were a staple of the film industry.
3. The Amazing Spider-Man
Budget: $235 million
Worldwide box office: $757 million
The new perspective on the original storyline had this film trying new things, thus edging out the original, and Garfield's Spider-Man is more enjoyable to watch than Maguire's. Gwen is the focused love interest instead of MJ, and Parker is given a nonvillain in the form of her overly protective cop dad. The idea of Parker's father being tied into the science that gave him his powers is satisfying, and Stone's ability to elevate the romantic subplot was just one more reason fans were bitter to see her demise in the sequel.
2. Spider-Man 2
Budget: $200 million
Worldwide box office: $783 million
With the origin story out of the way, this sequel digs deeper into the hard choices. What happens after you get what you want? We get the emotional stakes of doing the right thing as Maguire shows the struggle between Parker's life as a normal New Yorker and his role as Spider-Man. The action scenes were iconic for their time—we mean, did you see that train fight? However, one frustrating aspect of the film is how Parker can't seem to fix his easily solvable problems. If he's failing college, he should probably just do his homework. Daily Bugle won't take your photos? Maybe you should try selling them to a different media outlet.
1. Spider-Man: Homecoming
Budget: $175 million
Worldwide box office: $880 million
Holland entered the MCU and blew both Maguire and Garfield out of the water. A gutsier script proves that a third time's a charm for the Spider-Man franchise, incorporating adolescent concerns to balance out the superhero drama. Holland portrays a normal teen who hasn't quite developed his self-confidence, finding a father figure in our beloved Tony Stark. Michael Keaton brings Vulture to life in an amazing performance that's not too over the top, and seeing Spider-Man crack under pressure helps you realize that he really is just a kid.
Which live-action Spider-Man film has been your favorite so far? Are you excited to see the forthcoming sequel? Sound off in the comments below!
[envira-gallery id="194744"]