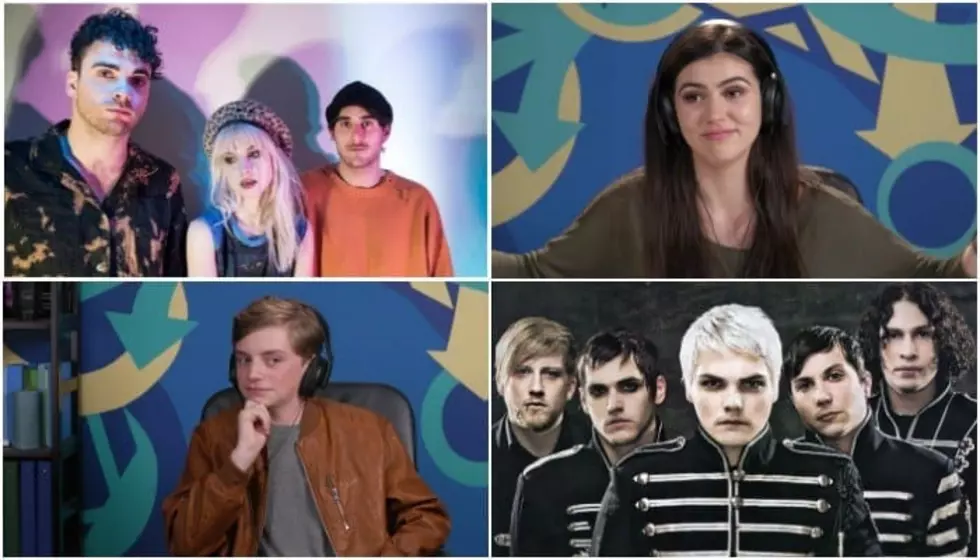 Watch these teens try to guess scene music from the early 2000s
[Photo by: REACT/youtube]
If there's one guilty pleasure of ours, it's watching various generations of people react to some of our favorite bands.
Luckily for us, FBE. have been feeding our obsession with these types of videos for quite some time, and if there's one thing we've learned from them, it's that they have the ability to make us cringe and swoon with nostalgia all at the same time (spoiler, this one is no exception to the rule.)
Posted yesterday, Dec. 30, the channel shared their fourth episode of "Do Teens Know 200s Pop Punk music," and as to be expected, there were some hits and misses among the bands played.
In FBE's latest reaction video, the teens were tasked with reacting to songs from all of our fave bands: Paramore, My Chemical Romance, American Hi-Fi, the Starting Line, Weezer, Good Charlotte and Jimmy Eat World.
To kick things off, the teens were asked to react to Paramore's "That's What You Get." While some of the teens at least heard of the classic track, others weren't really sure what was happening.
"Paramore? Does not sound familiar," one teen said...which, ouch, that one actually hurt our hearts.
Following this, the teens went through a bunch of different songs from the 2000s before they ended with the grand final: My Chemical Romance. And, oh boy, did these teens feel the emotion behind "I'm Not Okay (I Promise)."
"I feel that emotion, that's real," one teen shared, while another shared "Ouch, that hurt my soul, that's so heartfelt."
Honestly, that's us when we listen to any MCR song, so we're glad the teens can relate.
In any case, kick back and watch these teens react to some of our favorite scene artists from the early to mid-2000s:
We've got to admit, this particular episode of Teens React hurt just a little bit.
Were you able to guess all the songs featured in the episode? What songs would you have picked? Let us know all of your top 2000s pop-punk tracks by sounding off in the comments below!
See more: 11 most emo snacks of all time
[envira-gallery id="194744"]