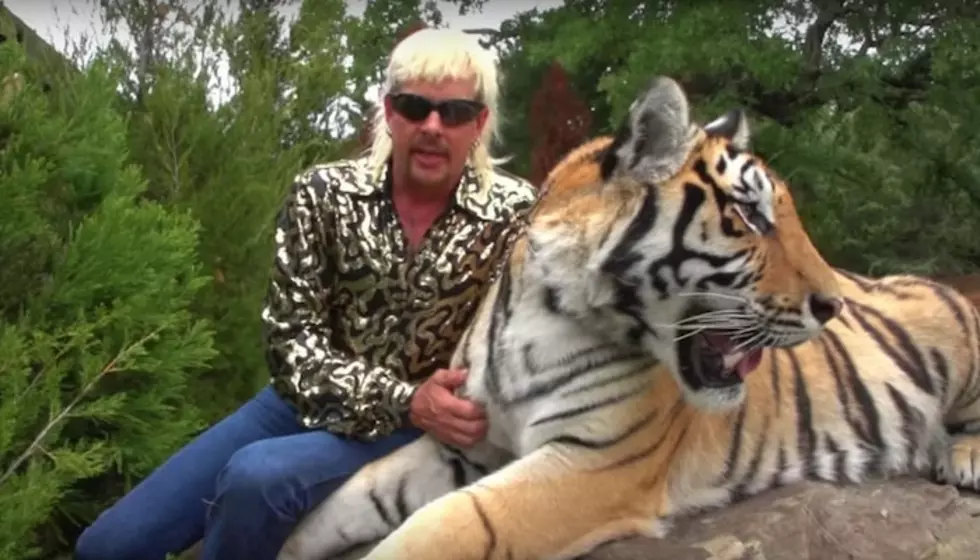 The truth about the Tiger King Joe Exotic's music is finally revealed
[Photo via YouTube]
For those who have somehow been living under a rock during this coronavirus quarantine, Netflix has a hit new documentary series called Tiger King: Murder, Mayhem and Madness. It is the source of all of the meme content featuring a guy with a bleached mullet posing next to a tiger. 
Well, for those familiar with the show, Joe Exotic is the Tiger King. A portion of the docuseries shows Exotic's music career through a series of songs and videos, which he claims are his own. Spoiler alert: they're not. 
The Tiger King is all the rage during this pandemic. It launched at an appropriate time considering most of us are stuck at home and watching television anyway. Perhaps you've skimmed past it on Netflix because it looks dumb. You're wrong. This show is electric. 
The title tells you everything you need to know. There is a Tiger King, there is also murder, mayhem and madness. What the title doesn't tell you is that there is also music. 
Throughout the show, the viewer is treated to plenty of music videos and background songs. Joe Exotic, the Tiger King himself stars in the music videos and claims the songs are his own. The majority of the songs are so specifically Joe Exotic, that no one has ever really questioned whether they were his or not because they had to be. Now, the truth comes out. 
Joe Exotic isn't singing those songs. It turns out, his music career was faked. For fans of the show, you know that's probably the most believable thing that shouldn't happen but did. 
The real musicians recently came forward and told the truth. 
It turns out, the men behind the music are Vince Johnson and vocalist Danny Clinton, who make up The Clinton Johnson Band. Sadly, Danny Clinton recently passed away. Both of their names appear in the credits of the show, but Joe Exotic refused to let anyone outside of his circle know the truth. 
Rick Kirkham, appeared on Tiger King as a producer shooting a reality show about Joe Exotic. Viewers know how that went. Well, Kirkham told Vanity Fair about the closely guarded secret. 
"It was absolutely ridiculous," Kirkham said. "One time Joe got a little bit drunk and high, and we actually coaxed him into singing part of one of the songs. He couldn't even hold a tune. It was just so ludicrous. It was a big joke within the crew and staff that it wasn't him [singing]—but he was damned insistent to anyone and everyone, including us and my studio crew, that that was him."
As it turns out, Joe Exotic had found Vince Johnson and Danny Clinton earlier and asked if they would make specific songs for him to use in his reality show. Johnson and Clinton agreed because they thought the exposure would be nice. 
It wasn't until later that Johnson found out Joe Exotic's real intentions. 
"I had no idea he was going to Milli Vanilli the songs," Johnson wrote Vanity Fair in an email. "It was a couple of months and two or three songs in when I was on YouTube one night and just happened to look up Joe Exotic. And there he was, lip-syncing and acting like the ghost of Elvis. I called him up, I was hot…And he bamboozled me about his reality show—that it was coming soon and he would make everything right as rain. I just wanted the proper credit."
The music videos are certainly a sight to see. One detail that viewers might recall is that Joe is often seen in tall grass or within trees—things that typically shroud his hands. Well, there is an answer for that too. 
Romeo Dupuy, a producer who decided to work with Joe after he saw a Craigslist elaborated on the music videos. "I'm a musician myself, and I was just flabbergasted by the sheer fakeness of his presentation. He couldn't even play the guitar. So we would pose him. When we shot him playing these songs, he would be behind grass to cover up his hands. Then he'd lip-sync."
Joe Exotic's music videos are as uniquely his as snowflakes are different. One such video for "Here Kitty Kitty" features a look-alike of Carole Baskin—Exotic's nemesis of Big Cat Rescue. 
Other videos feature the same tropes one would find from a seven-year-old using film editing software for the first time. Dark stormy skies, fade-in and out cuts and over the top special effects. They all look like the worst infomercial for a trash series of romance novellas, except the star is a mid-50's guy with a bleached mullet, a ton of piercings and a handlebar mustache. 
The most famous song and video from the series is the iconic "I Saw A Tiger" and you need to watch it below.
If you haven't yet watched Tiger King, do so now and prepare for the ride of your life. Just know that all of those glorious songs with Joe Exotic singing aren't his own. 
Have you watched Tiger King? Tell us in the comments below!
[envira-gallery id="195377"]