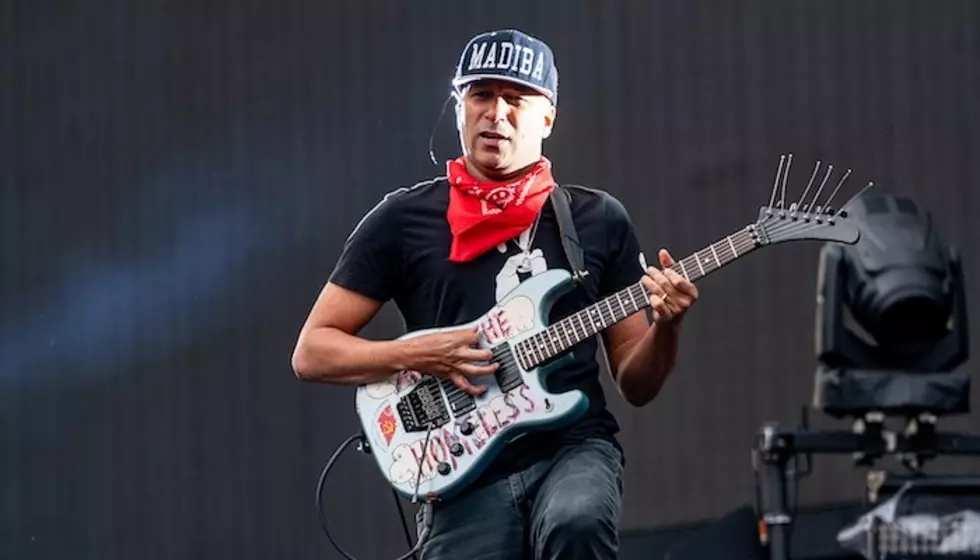 Tom Morello reminds the internet he's more than qualified to talk politics
[Photo by Raph_PH/Wikimedia Commons]
Back in 2017, Tom Morello absolutely crushed a fan with a comeback about his political knowledge. Now, the Rage Against The Machine guitarist has again shared the image of his comment to remind people of his qualifications.
Morello has been incredibly vocal regarding politics and social justice throughout his career.  Tom Morello especially has the proof to back up his insight as the guitarist has a B.A. in social studies from Harvard University. Morello earned the degree back in 1986.
The killing of George Floyd has sparked protests around the world. Morello has been showing support since the very beginning. He backed Nandi Bushell's RATM cover in support of Black Lives Matter. He's been very vocal in his support for the movement and the fight against racial injustice and police brutality for decades.
Rage Against The Machine walked onstage naked at Lollapalooza in 1993 with duct tape over their mouths to protest censorship. They got their second song cut during their stint on Saturday Night Live! when they draped upside-down American flags over their amps. 
Morello has always been fighting the good fight. Back in 2017, Morello posted a picture of him wearing a shirt reading "Mother, should I trust the government?" leaning next to a guitar with "Fuck Trump" scrawled onto the back.
One of Morello's followers decided to inject his opinion into the comments section. The comment was regarding Morello's ability to speak on certain issues.
The commenter implied that Morello was just a rockstar and wasn't qualified to address such issues. It's very similar to Laura Ingraham horrid "Shut up and dribble" comments about basketball players speaking about injustice.
"Another successful musician instantly becomes a political expert," the comment reads.
"One does not have to be an honors grad in political science from Harvard University to recognize the unethical and inhumane nature of this administration but well, I happen to be an honors grad in political science from Harvard University so I can confirm that for you," Tom Morello responded.
Now, Morello has again shared the exchange on his Twitter. He added a new comment this time.
Tom Morello also recently shared the amazing story of his mother who he says has "been a tireless advocate for Black Lives her whole life."
To show support through donations, connect with grassroots campaigns and obtain resources for allies, please refer to the links below.
Help the family of George Floyd here.
Fight for Breonna Taylor here.
Help the family of Ahmaud Arbery here.
To sign petitions for George Floyd, Breonna Taylor, Ahmaud Arbery and more, click here.
Donate to one or more community bail funds for protesters here.
Click here for more resources for protestors, including pro-bono lawyers.
Visit Movement For Black Lives for additional ways you can help the cause.
Click here to connect with leaders building grassroots campaigns.
Here are some anti-racism resources for allies who want to learn more. For other ways to donate, please head here.