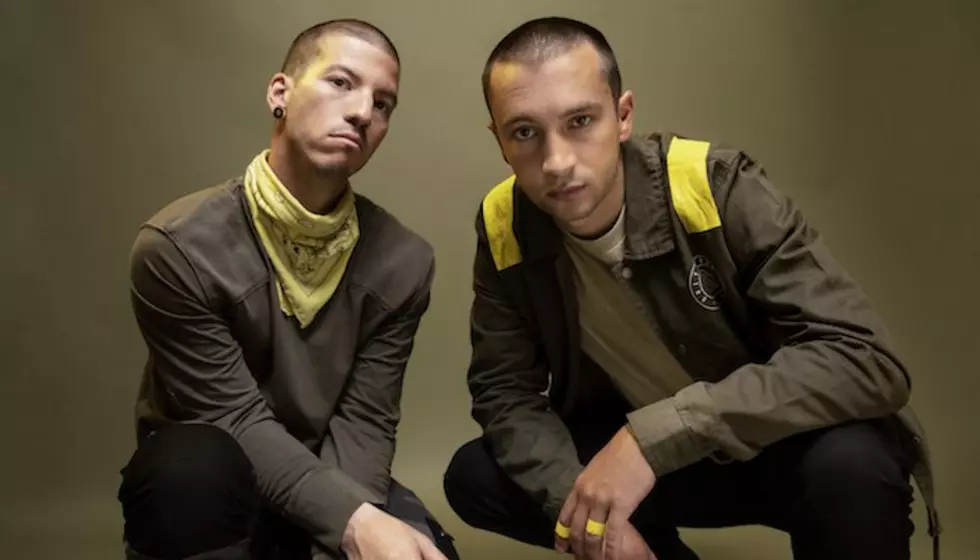 twenty one pilots fan recreates "Fall Away" as retro Game Boy song
twenty one pilots fans are a different breed. Between hilarious baby mashups and cryptic theories based on color, the TOP fandom is constantly busy. 
Now, one devoted member of the Skeleton Clique has brought us back to the 90s by recreating "Fall Away" as a Game Boy anthem.
Just because twenty one pilots aren't dropping new songs right now doesn't mean we can't get new-sounding material courtesy of the internet. One awesome fan decided to turn "Fall Away" from twenty one pilots' 11-year old self-titled debut into something that sounds closer to 25 years old. 
The reimagined track sends us straight back to the late 1990s, complete with ice-cold cans of surge and a pantry full of Dunkaroos. 
We're sitting on the living room floor trying desperately to get the Silph Scope from Team Rocket while Kenan & Kel plays softly in the background. 
"Fall Away" captures that nostalgia and will have you wishing you could boot up The Legend Of Zelda one more time.
The creator mentions that they didn't include the verses because it was difficult to pinpoint the notes for each word. Check out the fan-made twenty one pilots "Fall Away" GameBoy track below. 
More twenty one pilots
As we all know, Tyler Joseph of twenty one pilots and his wife Jenna just welcomed the birth of their first child Rosie last month. Now, video surfacing from a show in Des Moines, IA has fans thinking Tyler shared his would-be daughter's name before ever officially announcing it.
The moment occurs during a performance of "Smithereens" from their 2018 album Trench. Watch the moment below and decide for yourself.
In early February, AltPress reported that Tyler and Jenna Joseph welcomed the birth of their daughter Rosie. The moment finally came after months of waiting since their first announcement.
Tyler had been keeping fans in the loop, asking them for help with imagining what their future daughter will look like. He's also pondered band-inspired baby name ideas and given a peek at the nursery.
The couple shared a short video announcing the birth of Rosie Robert Joseph who arrived Feb. 9. She also mentions the reasoning behind the middle name choice was to match Tyler's.
Next, video surfaced from a Des Moines, IA show from October 2019. It has some fans thinking it might be the first time Tyler ever revealed his would-be daughter's name. Rosie or Ro as she's been referred to, could also be called RoJo after her last name. A reddit theory believes that during "Smithereens" Joseph is saying "So I'll sing you this song, baby RoJo." Watch it below.
Of course, other comments chimed in and believe he is saying "I'll sing you this song, baby with joy." That rhymes with the following line "I'll sing you this song, right here in Des Moines."
If this theory is true, that would certainly be a cool little reveal of Rosie's name. Especially, before fans had any clue what it would be.
Do you like the retro-inspired "Fall Away?" Sound off in the comments below!
[envira-gallery id="194356"]