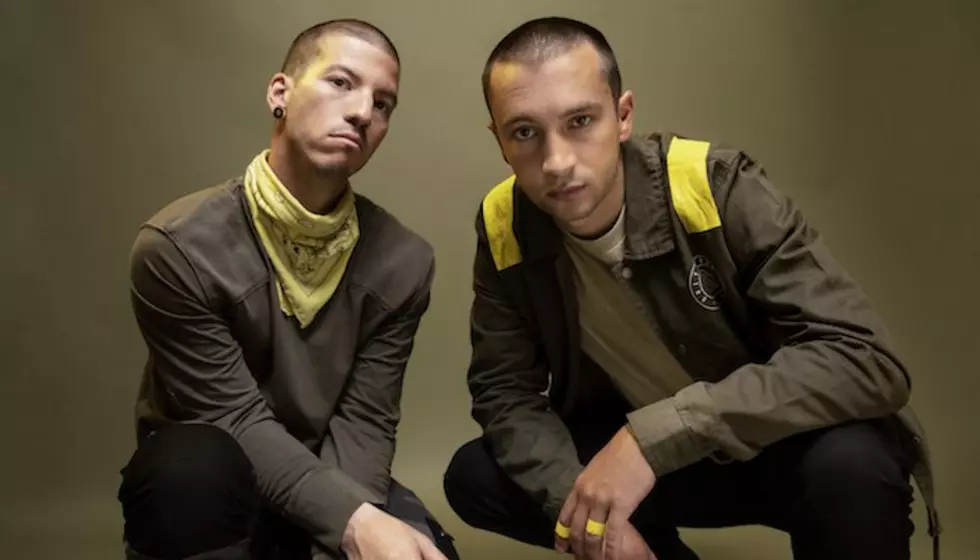 twenty one pilots address "going off the grid" again with future albums
twenty one pilots recently opened up about the start of their career and life on the road. Tyler Joseph and Josh Dun also revealed they probably won't be disappearing again anytime soon
This past weekend, the two played at the Almost Acoustic Christmas in Anaheim, CA and sat down for an interview with KROQ.
Drummer Josh Dun revealed that he has a hard time finding things to do between tours and recalls what the band thought when they first began booking shows.
"When we first started, when we had shows ahead on the calendar, we were like 'Cool, the band's moving forward because we're playing shows," he says. "So there is kind of a bittersweet thing when you go home. Now we've been on the road for a long time, and there's still this psychological thing where if we're not on the road, no one is listening to our band."
Joseph later adds some of the fears the duo used to face when it came to performing at shows.
"Just being conditioned from the beginning, Josh and I have each had nightmares where we play a show and no one's there, and we've actually done that before," he says.
"To travel the world now and be in a position where we know people are going to be there, we know people are going to show up is really special, it's something we don't take for granted."
When it comes to upcoming releases, the band said they probably won't be disappearing as they did in the past.
"I think completely going off the grid was tough for both of us" Dun confesses. "I don't know if it would be that. We're both wired to always be wanting to do something that pushes us forward."
In September, Joseph revealed that his wife is pregnant. When asked what his feelings were about becoming a father, the singer shared that he's a little bit anxious.
"I'm nervous," Joseph shares. "My wife is pregnant, but I'm so excited. "My dad is just looking forward to watching me be the dad now."
In regards to what Dun will be referred to as when the baby is born, the drummer already had an idea.
"I'm happy to be Uncle Josh," he says. "I'll give my input, but I'm not ready to mess up a kid."
Check out the full interview with twenty one pilots below.
More on twenty one pilots
twenty one pilots have spent much of 2019 touring in support of last year's Trench. With the Bandito tour starting in 2018 and running through this year with several one-off and festival appearances, it's no wonder the band secured a spot on Billboard's year-end lists as one of the top-grossing tours of 2019.
In September 2018, the band made their return to the stage following a year-long hiatus. They were welcomed back in London for an intimate club show, A Complete Diversion. A month later, they kicked off the Bandito tour's first leg with Max Frost and AWOLNATION.
With most of the year on the road, Billboard reports twenty one pilots comes in at No. 36 in their Top 40 Tours. The band's tour grossed $49.1 million with 726,952 members of the Clique attending 62 total shows.
What are your thoughts on twenty one pilot's future plans? Let us know in the comments below!
[envira-gallery id="185694"]