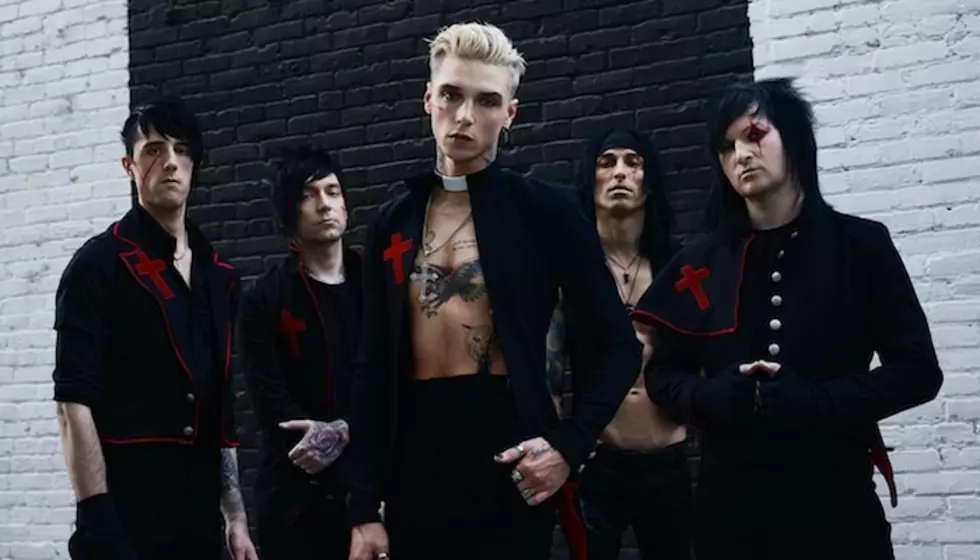 We are closer to finally hearing Black Veil Brides' 'The Phantom Tomorrow'
[Photo by Jonathan Weiner]
Last fall, Black Veil Brides sent fans into a frenzy when they announced that their new concept album The Phantom Tomorrow is officially on the way.
Now, Andy Biersack has offered a major update on how far away BVB are from completing the new record.
It's been three years since Black Veil Brides released their last full-length concept album Vale. Last year, however, we learned that the band have a completely new concept album in the works.
After sharing some cryptic clues, Black Veil Brides finally debuted their new single "Scarlet Cross" in November. Fans were introduced to the world inside The Phantom Tomorrow with the single's cinematic music video that ended on the ultimate cliffhanger.
Since the release of "Scarlet Cross," Black Veil Brides haven't revealed too much about the upcoming album. However, it now looks like fans are closer to finally hearing The Phantom Tomorrow in full. Earlier this week, Andy Biersack offered an update on the new record and confirmed that it is "almost complete."
In a new Instagram post, he also mentions Paradise City, the American Satan spinoff, which premieres on Amazon Prime next month. Biersack also takes the time to thank fans who have supported his new memoir They Don't Need To Understand.
"I just wanted to say thank you for all of your support and excitement regarding my most recent projects," he says. "The response to the book has been incredible and I can't wait for you guys to see @paradisecity coming to @amazonprimevideo next month! I also wanted to update you that the upcoming @blackveilbrides record 'The Phantom Tomorrow' is almost complete. So be on the lookout for release info and a lot more coming soon!"
 

View this post on Instagram

 
Last November, Biersack exclusively opened up to Alternative Press about the narratives weaved throughout The Phantom Tomorrow. The album follows the antihero Blackbird and a group of social outcasts known as The Phantom Tomorrow. Both groups are heavily misunderstood in the album's world. As a result, Black Veil Brides' new music tackles ideas regarding people's belief systems and the ways in which society influences those beliefs among other things.
"The idea is that there would have to be a belief system in this world," he says. "There's the idea if we had all of our social ways about us, our ways of separating what we believe in and what we think is real and all the critical thinking that many of us have toward different religions or whatever. But if Jesus were alive at the time, you had to face these crossroads. Do you believe that it's actually real? Or is this guy actually doing magic, or what is it? And instead of it being a story that's completely about a religious figure, it's one of [the] people applying the kind of religious faith and belief system into this story of this guy [the Blackbird] who defends the outcast, the downtrodden."
Andy Biersack's full The Phantom Tomorrow interview with Alternative Press can be read here.
Are you ready to hear Black Veil Brides' new album? Let us know in the comments below.