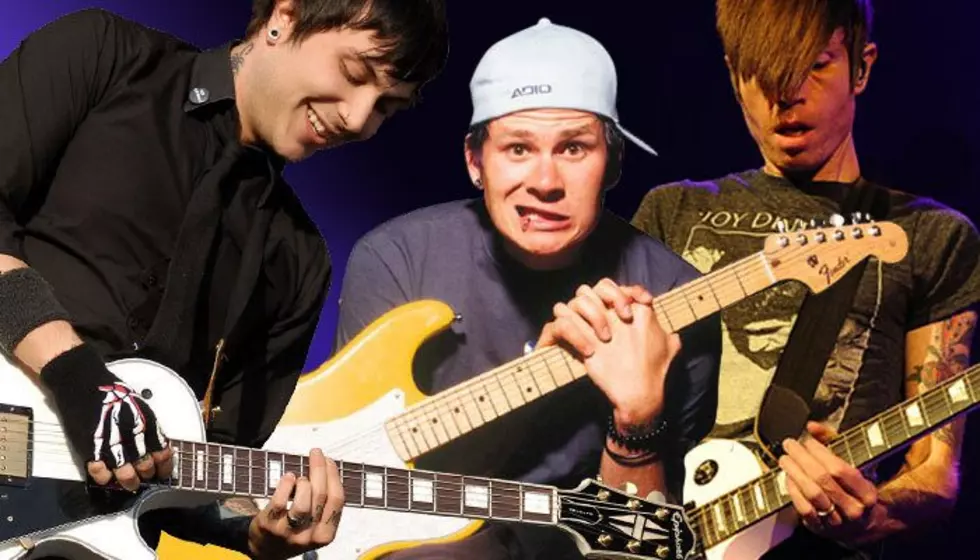 Here are the 20 greatest guitar riffs from the 2000s
If the flannelly, lo-fi nature of '90s grunge killed the hairspray bravado of '80s hair metal, then the 2000s definitely brought back some of its technicality and musicianship. The first decade of this century showcased way more than 20 perfect examples of a timeless guitar riff. It was quite difficult narrowing this list down, but we only had time and space for the ones compiled below.
Enjoy these modern classics and see what made the cut for the 20 greatest guitar riffs from the 2000s.
AFI – "Medicate"
Please revisit A Fire Inside's 2009 Crash Love LP if you haven't done so in a while. It's chock full of unappreciated AFI jams such as "Medicate," the first single on the record. The song's opening riff is simple, catchy and more than memorable. The folks behind Guitar Hero certainly agree. This song was a playable track on video games such as Guitar Hero 5, Tap Tap Revenge 3 and Rock Band. Hats off to you, Jade Puget.
The All-American Rejects – "Dirty Little Secret"
Few riffs personify the 2000s like this song's intro. While the All-American Rejects' self-titled record catapulted them to the main stage of Warped Tour, both this song and album, Move Along, brought the four-piece to the radio (and the entire planet). The band are mostly known for their saccharine vocal melodies. However, this song proved that guitar riffs could be just as memorable to the general public. Fun fact (and a dirty little secret): The riff is actually played by two people.
Atreyu – "Falling Down"
Taking many of their cues from rock 'n' roll masters Rocket From The Crypt, metalcore titans Atreyu released their catchiest single "Falling Down" in 2007, and the riff gods rejoiced. Guitar geek side note: Atreyu guitarists Dan Jacobs and Travis Miguel even trade lead duties during the song's epic solo, which doesn't often happen, as lead guitarists don't usually share the spotlight. But let's get back to the opening riff, which still slaps. Shake it off, shake it off.
Billy Talent – "Fallen Leaves"
The delay pedal is used prominently (and perfectly) on this aggressive track from Billy Talent's sophomore record. Ian D'Sa is one of the better guitarists to come from Canada (maybe even North America) this century, and he created a hummable riff melody for the ages with "Fallen Leaves."
blink-182 – "Stay Together For The Kids"
It's a toss-up whether this sad track, "Dammit" or "What's My Age Again?" contains blink-182's catchiest opening guitar riff. However, because the latter two came out last century, "Stay Together For The Kids" takes the prize for this list. Nearly 20 years after it released, "Stay Together For The Kids" still brings people together in classic sing-alongs at emo nights, blink shows and Spotify playlists containing the word "divorce" on 'em. So here's your holiday.
Bloodhound Gang – "Foxtrot Uniform Charlie Kilo"
The punk/metal/hip-hop/comedy powerhouse band known as Bloodhound Gang have a few hit songs that don't reference The Discovery Channel, and this one may be their largest. The acronym in the song's title says it all. However, the riff itself sounds like an incredibly groovy bassline raised a few octaves for the better. In keeping up with the 2000s aesthetic and mentality, this riff, track and band are all personally approved by Bam Margera from MTV's Jackass. 
Four Year Strong – "Heroes Get Remembered, Legends Never Die"
Following scene contemporaries such as Fall Out Boy, Four Year Strong have songs with long, nostalgic quotes as titles. However, no offense to the others, but none could shred on the guitar like FYS. Such precision. Such an abundance of insanely fast palm mutes. Such pinch harmonics! Respect. Both this song and album definitely led the band to a major-label deal for two other records and more mainstream riffage. Goonies never say die.

Matchbook Romance – "Monsters"
Here's the underrated addition to this list: Ryan "Judas" DePaolo doesn't get enough love from guitar aficionados. Many Matchbook Romance superfans were hoping that the band's second (and sadly, final) album, Voices, would change that, but the band broke up before this song had the chance to become their biggest hit. Still, the haunting riff in "Monsters" is one for the ages, and the handclaps that come along with it make it that much tastier. 
The Matches – "Papercut Skin"
Another underrated addition, the Matches' Decomposer deserves your time, and "Papercut Skin" is a guitarist's dream in terms of melody and power. The opening riff starts off super low, and then once the band kick in with unconventional vocals, it truly forms into an unimaginable, appealing shape that the world hadn't seen until then and hasn't seen since. 
My Chemical Romance – "Thank You For The Venom"
Thank you, Ray Toro and Frank Iero. While the venom of this song truly stuck in the United Kingdom, as this song was a hit there, My Chemical Romance's "Thank You For The Venom" features the band's quickest opening guitar riff of their guitar-heavy catalog. Try to catch up, but you're running after something that you'll never kill. Bet you can't wait to hear this song live after this pandemic is over.
NOFX – "The Separation Of Church And Skate"
Opening with a fictional family of adults and children bonding over an upcoming punk-rock show, NOFX started their most political record (remember George W. Bush?) with a two-part monster riff that ends just as the snotty vocals and the fastest palm muting this side of the Pacific took over. No need to separate the church and skate here. This uber-technical and light-speed guitar showcase is a supreme deity that all faiths could get behind.
Papa Roach – "Last Resort"
Easily the most recognizable riff on this list (and possibly the most popular one of this century), Papa Roach introduced themselves to the masses with the phrase "Cut my life into pieces/This is my last resort." Subsequently, they left their mark on every Guitar Center worldwide with one of the most memorable descending minor guitar progressions of all time. This riff managed to be as catchy as its vocal melody, and that's hard to do.
Plain White T's – "Hate (I Really Don't Like You)"
We love, love, love, love, love, love this riff. Plain White T's are no strangers to catchy-as-fuck tunes, but the band stepped up their guitar melody game with this riff that starts in a rockin' minor fashion and ends in a sunny major way on their major-label debut, Every Second Counts. Well, every note here counts as well, as it's performed with a deliberate precision that's unrivaled by all pop-rock bands.
Rise Against – "Re-Education (Through Labor)"
Try not to headbang when the guitar riff to this blistering and powerful song comes in. Exactly, you just can't. Few associated Rise Against (or their peers) with a guitar riff until this tune hit the radio, but then they were quickly reeducated without it feeling like hard work within the first 13 seconds of listening. Now it remains one of the band's most popular and most played songs.
Saosin – "Voices"
Saosin mastered the art of creating dissonant yet melodic note progressions way up the neck of the guitar that simultaneously counter and complement their vocal melodies. If you listen to this band's sterling catalog, their multilayered guitar parts often sound like a chorus of (wait for it...) voices. 2006 was a good year, and their self-titled major-label debut record is chock full of tasty riffs. 
Sum 41 – "The Hell Song"
The Sums demonstrated that they were so much more than a pop-punk band who occasionally rapped by showcasing their metal roots with "The Hell Song," the opening track on Does This Look Infected? Shredders such as Iron Maiden would be quite proud of the fact that Sum 41 still open many of their shows with this 18-year-old track. FYI: "Fat Lip" could've been on this list as well. "In Too Deep," as well. Hail hail, Sum 41!
Taking Back Sunday – "What's It Feel Like To Be A Ghost?"
Taking Back Sunday released two hugely popular full-lengths on Victory Records before jumping to major label Warner Records. The band started their tenure on the label with a literal bang of a riff on this opening track. It truly sounds like the guitarist at hand is in a different room than the band until the tune truly kicks in about 12 seconds in. If this song is what it feels like to be a ghost, we're ready to be undead.
Thrice – "All That's Left"
In 2002, Thrice were direct support for Anti-Flag at small, sweaty clubs across America. The following year when the band's Island Records debut, The Artist In The Ambulance, was released, they were on magazine covers such as this one; it was a crazy shift. "All That's Left" introduced many to the band, and the song starts with feedback, drums and a down-tuned riff for the ages just before the band kick in with heavy fervor. Can we be saved?
The Used – "I Caught Fire"
The finger-tapping beauty of "I Caught Fire" (courtesy of former guitarist Quinn Allman) seemed to stop everyone's breath as the Used released their second (and most commercially successful) album, In Love And Death. Surprisingly, the song took a much more accessible chill and harmonious turn post-riff. New fans outside of the post-hardcore screamo circle found something slightly used yet ablaze to dig their teeth into. The Used certainly proved that they could stay awhile.
Yellowcard – "Way Away"
We're gonna leave you now, but before we do, the shredding that accompanies the violin in this song's intro is quite underrated. Who would've thought that Yellowcard would get mentioned in a guitar piece?