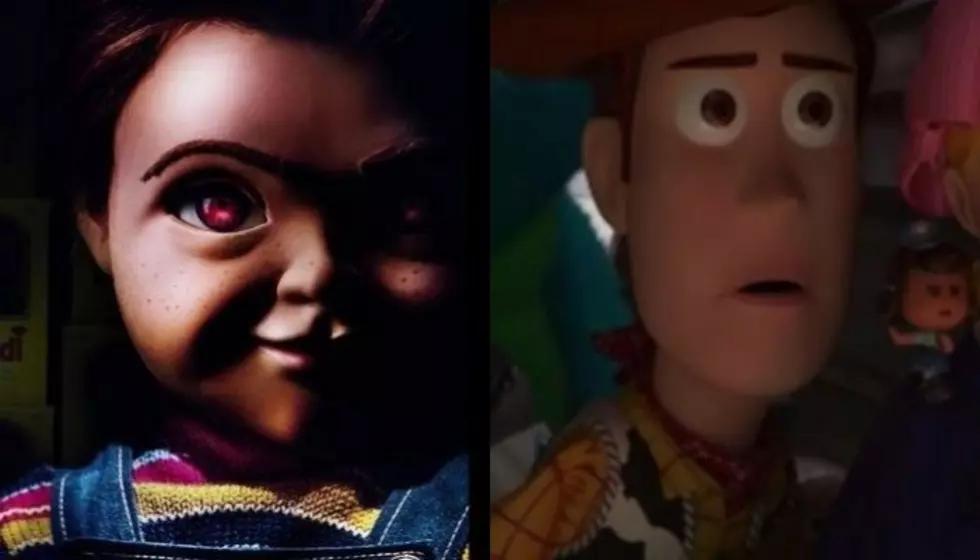 'Child's Play' adds 'Toy Story 4' character to victim count in latest poster
[photos via YouTube]
Child's Play has released a new poster just days ahead of its release that puts a horrifying spin on one of the classic Toy Story characters.
Both the horror reboot and Toy Story 4 hit theaters this weekend, so Child's Play had to put out one more freaky poster to convince us to head to theaters one way or another.
The new poster shows Chucky torturing beloved dinosaur Rex with a lighter, completely burning his head off.
"
Because friendship never goes extinct. Don't miss Child's Play, stomping through theaters starting this Thursday night," the caption to the poster reads.
Many people in the responses couldn't believe what the film had done to Rex.
The film has been killing off many characters from Toy Story including Woody, Buzz and more. You can see the posters for those down below.
The reboot, based on the 1988 slasher flick, will see a number of changes to Chucky who will not be a haunted serial killer doll but instead an artificial intelligence that's conceited into Chucky's character.
Director Lars Klevberg intends to use more humane characteristics that are "understandable from his point of view but also to us," in addition to Chucky's AI rework. The idea originated from Greek tragedies and Mary Shelley's Frankenstein, which he claims as his key inspiration for the film.
It producers David Katzenberg and Seth Grahame-Smith are set to produce the movie. Aubrey Plaza (Parks And Recreation) and Gabriel Bateman (Lights Out) portray mother and son Karen and Andy Barclay respectively. Karen gives Andy a toy doll for his birthday and is unaware of its sinister nature.
In case you haven't seen the trailer for the movie yet, watch it in the player below.
Child's Play hits theaters this Thursday along with Toy Story 4. You can see the Toy Story trailer below as well.
Other Child's Play news
As far as Child's Play goes, composer Bear McCreary has shared his chilling take on the theme music. McCreary released a video not only showing the movie's theme but also all of the toys he used to make it.
The composer has previously worked on soundtracks for the Walking Dead, 10 Cloverfield Lane and Godzilla: Kind of the Monsters among other things.
He revealed in an interview that he was attempting to make the entire soundtrack exclusively using toys.
"I eventually formed a group of toys that I called my Toy Orchestra. It was toy pianos, toy xylophones, plastic guitars. I raided my daughter's playroom and got little action figures that make clicking sounds, I got toy drums, anything that made a sound. Then, I augmented that with just weird handheld instruments that I could play myself: Accordions, hurdy gurdys, melodica, pocket synthesizers, Otamatones. Really strange sounds."
McCreary also says he was hesitant to take on the project initially due to his love for the originals but the filmmaker's direction was convincing enough to join on. The musician also says that even though the soundtrack isn't entirely made from toys, 95 percent of it is.
"I assembled them all together and wanted them to be the foundation of this score, and in fact, I wanted to avoid entirely anything resembling a traditional orchestra, and in that, I succeeded. 95 percent of what you hear in Child's Play is me, performing something, or singing in my own studio, layering it over and over and over to create the sensation of an orchestra filled with toys, and I augmented that with a little bit of a string quintet, for some of the more emotional passages."
Check out the entire clip in the player below.
More on Toy Story 4
As for Toy Story 4,  the Pixar film apparently has an Easter egg that connects it  to the terrifying horror film The Shining.
**WARNING: If you want absolutely ZERO spoilers (no matter how small) going into Toy Story 4 – then stop reading now!**
We're just a few short days away from the debut of the next installment of our childhood, and fans of Stanley Kubrick's The Shining might pick up one not-so-subtle nod to the horror film.
According to comingsoon.net, 30 minutes into the film Woody finds himself in an antique store. There, he comes face to face with the toy, Gabby Gabby.
Then, a record begins to play a song fitting of the old-timey atmosphere, but fans of the creepy classic will pick up on the familiarity of the track. The song is "Midnight, the Stars and You" performed by Ray Noble and His Orchestra for the horror film.
"Lee Unkrich is a huge fan of 'The Shining.' I'm a huge fan of 'The Shining,'" Cooley tells comingsoon.net. "I mean, the movie is insane. Every family should go out and see The Shining [Laughs]. So just the fact that we were going to be in a creepy place, having the old record player, that was essential. And we put that in as scratch at first, and just temporary, and I loved—it just made me happy. And then, we were able to actually use it and I just went over the moon. I just loved it so much."
The director also revealed a second The Shining reference in the film, although this one is a bit more subtle.
"The woman who Ducky and Bunny attack, there's that wide shot of the house when she's screaming. Her address is 237."
These references join other Toy Story nods to the film including Sid's carpet in the original Toy Story film, numerous 237 references and more. To check out more The Shining references, check out the gallery on comingsoon.net.
What do you think of Child's Play calling out Toy Story 4? Sound off in the comments below!
[envira-gallery id="194356"]