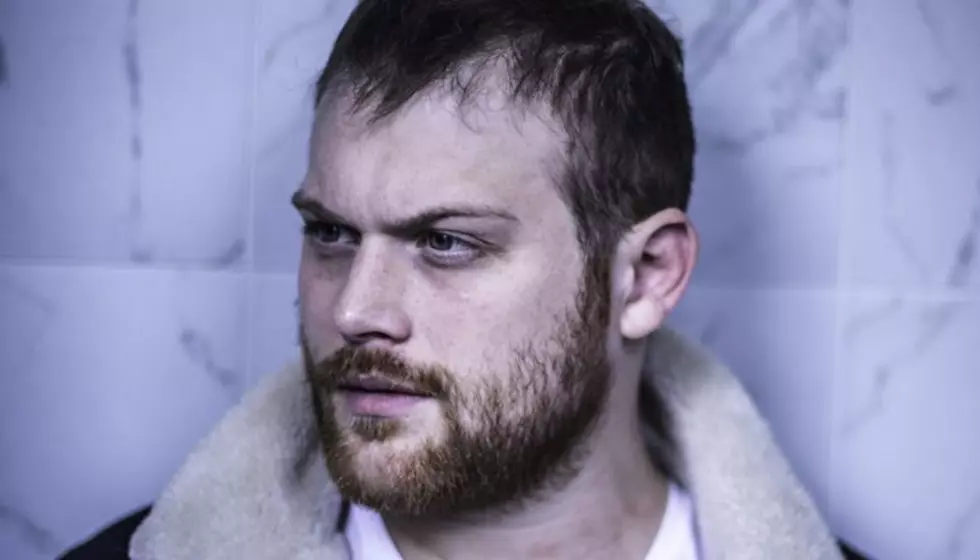 Danny Worsnop warns fans to "expect the unexpected" on new solo album
For Asking Alexandria frontman Danny Worsnop, the road toward complete control hasn't been an easy battle. However, through his solo project's forthcoming record Shades Of Blue, Worsnop has found an outlet to experiment with themes outside of the box the music industry continually threatens to put him in.
Worsnop remains unapologetically himself while breaking down "closed-minded" barriers he's observed within the rock community. That said, Shades Of Blue is far from your typical Asking Alexandria album. Instead, Worsnop pushes the envelope of archetypal sounds reminiscent of country, soul and blues to make a product that's entirely his own.
Taking over two years to release, Worsnop reflects on Shades Of Blue's uphill journey to its final form, noting resilience and knowing yourself is far more important than what any label tells you.
"It's a lot of record labels saying 'no' or having to do stupid contract things or fight and argue about how it's supposed to happen—which is something we shouldn't deal with daily in this industry," Worsnop says. "It is what we signed up for, but it's still frustrating. It's tough to deal with, but over time you become a little numb to it and just learn to go with the motions."
However, instead of remaining complacent, Worsnop decided it was time to shake the industry up. After dropping his booking agent and adopting the new direction as wholly his own, Worsnop says the payoff has been entirely worth it.
"If it doesn't work for me, it doesn't work for you, and [if] it doesn't work [for] the promoter and the venue, who is [it] working for, and why hasn't it changed? So I took matters into my own hands, and I've just been doing it myself," he explains. "Last year, I accomplished exactly what I wanted to do—something that I was told wasn't possible and wouldn't happen because that wasn't 'how people work within the business.' I just did it my way, and it works great.
"My manager helps me out here and there when I need something, but for the most part, I do a lot of that myself," Worsnop continues. "I have a great team at my office who do some of the heavier lifting for me, but it's very much so that I do this in-house. I created Dsnop Productions so I could do this myself. That's what I get out of it that's different. I don't see it as a challenge. I see it as an opportunity."
Additionally, Worsnop says he's been taking the production and arrangement side of his solo project into his own hands, noting that his newfound freedom to create exactly what he wants will certainly transcend into his work with Asking Alexandria and other projects.
 

View this post on Instagram

 
While Worsnop's solo project will certainly help in the aforementioned areas, listeners shouldn't get the two mixed up.
"Don't go into it expecting it to be an Asking Alexandria album," Worsnop says. "A lot of people compare the work I do with [We Are] Harlot and the work I do as a solo artist with Asking Alexandria. And they are totally different things. It'd be like watching Keanu Reeves and being like, 'Well, that was nothing like The Matrix. It's Keanu Reeves. It should have been The Matrix.'
"People are scared of creativity," Worsnop elaborates. "But it's only within this weird little subgenre, where people have this elitist, closed-minded mindset where people can only do one thing. And in all of these genres, I find that artists are celebrated for trying new things and being adventurous, and for some reason, in the little rock community, it isn't [like that]."
That said, Worsnop isn't partaking in that psyche, noting that Shades Of Blue will be something fans won't see coming. Pegged as his second country album by outsiders, Worsnop admits the record is anything but.
While the full-length may be reminiscent of artists such as Chris Stapleton, John Mayer and James Brown, at the end of the day, Shades Of Blue isn't anybody else's album other than his own.
"This one definitely isn't a country record," Worsnop says. "Parts of the last one were. But I keep finding that music is put in a box, and I don't like that. I feel like there has to be a blanket genre or statement made about the album—and I understand that. But you could pick out any song from this album and say, 'Oh, this is what this album sounds like.' And listen to another one and say, 'Oh well, that doesn't sound like that.'
"It's a Danny Worsnop album," Worsnop asserts. "There's nothing that fans can particularly expect—except the unexpected."
Shades Of Blue will be out May 10 via Sumerian Records, which you can preorder here. You can listen to Worsnop's first single from the album, "Best Bad Habit," which was released back in April, below.
Additionally, Worsnop is currently on the road in support of his forthcoming record. You can check out a full list of dates below and grab tickets here.
Dates:
05/08 – Richmond, VA @ Canal Club
05/09 – Baltimore, MD @ Metro Gallery
05/10 – Poughkeepsie, NY @ THE LOFT
05/11 – Easton, PA @ One Centre Square
05/12 – Lancaster, PA @ Chameleon Club
05/13 – Washington, DC @ The Pinch
05/15 – Lombard, IL @ Brauer House
05/16 – New Baltimore, MI @ Diesel Concert Lounge
05/17 – Leesburg, VA @ Tally Ho Theater
05/18 – Akron, OH @ The Empire Concert Club
05/19 – Monticello, MN @ The Nordic Brewing Co.
05/22 – West Hollywood, CA @ Whisky a Go Go
05/24 – Round Rock, TX @ Round Rock Tavern
05/26 – Katy, TX @ Wildcatter Saloon
05/27 – Fort Worth, TX @ Tomcats West
05/28 – New Orleans, LA @ The Howlin' Wolf
05/29 – Ocala, FL @ O'Malley's Alley
05/30 – Ybor City, FL @ Crowbar
06/21 – Memphis, TN @ Growlers
Are you excited for the new Danny Worsnop solo record? Let us know in the comments below.
[envira-gallery id="194356"]