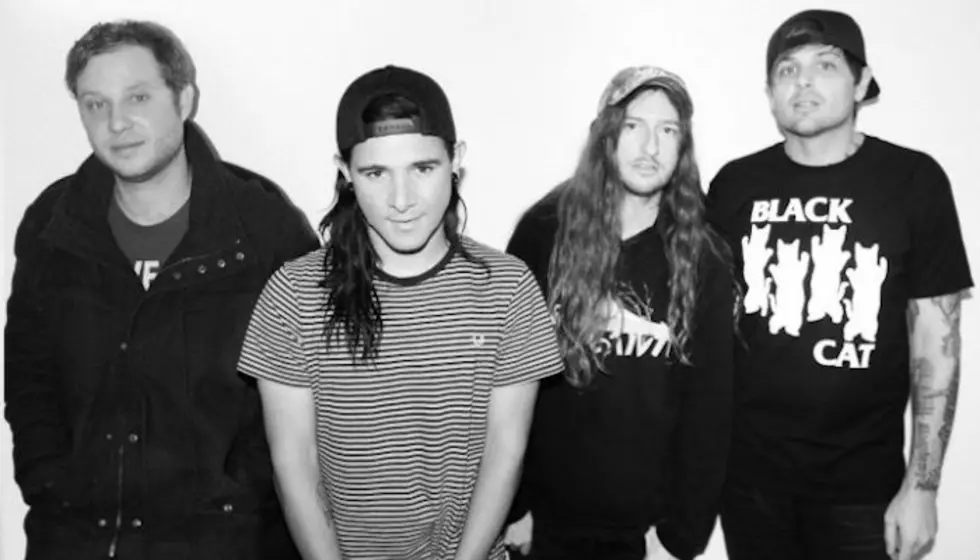 From First To Last reveal how their first show in two years came to be
Fans of bona fide post-hardcore screamo icons From First To Last got a loud-ass valentine yesterday when the BUKU Music + Arts Project announced the band would be playing their event March 22. The band—lead vocalist/guitarist Sonny Moore (aka Skrillex), guitarist/keyboardist Matt Good, guitarist/vocalist Travis Richter and drummer Derek Bloom—will be playing their first gig in two years at the New Orleans venue Republic.
This year's BUKU Project event is without question, the destination gig for FFTL diehards. On Saturday, March 23, Dog Blood, Skrillex's collaboration with German electro-house hellion Boys Noize, will be headlining the event at Mardi Gras World at the 1380 port of New Orleans. FFTL will be headlining Republic as part of a "BUKU Late" afterparty co-promoted by Emo Nite and BUKU. In addition (and in true Emo Nite style), Good and Richter will be behind the decks doing guest DJ duties.
Good tells AP that the idea of reconvening From First To Last was a good way to squash any concepts of beef fans might perceive. BUKU had reached out to Moore's camp to secure Dog Blood as a Saturday festival headliner. Meanwhile, Richter and Good were independently invited by the Emo Nite team to do a guest DJ set.
"Once we realized this, it was like, 'Hey, this is kind of weird. We're both going to be here, but we're not doing anything together. We should probably do something,'" he reveals. "Honestly, it would look weird if we didn't, because [fans] aren't familiar with the backstory and might think that there was something going on. It was on my mind totally: 'I wonder if people would think we're pissed at each other because we're both in the same city at the same time.'"
From First To Last created a VIP package that includes early access into Republic the night of the show; an exclusive seven-inch white-vinyl record of their two return songs, "Make War" and "Surrender," the first time physical versions of these tracks were made available; and a limited-edition FFTL shirt designed by L.A. clothing brand PLEASURES, reproducing the seven-inch art sleeve.
"I was stoked when I found out about it," says Good about the PLEASURES collaboration. "It was a cool idea to have. The way fashion is in the world right now, it makes total sense to me." Good is also a vinyl enthusiast who was thrilled to see those two FFTL tracks preserved on wax. "If you're a fan, it's a cool collector's item thing," he adds. "I like the tradition of having those songs on vinyl. It's cool."
So if you're one of those fans sitting this March show out thinking the band will be on tour this year, you might want to rethink your plans. The band aren't primadonnas as much as they are hellishly busy, from Skrillex's schedule to Richter's increasing role at the L.A. space 1720 Warehouse to Good's production duties and raising a 1-year-old child.
"In a lot of ways, I feel like the world directs you if you let it," Good says. "There are moments where things make sense to do them, and there's lots where they don't. Given all the circumstances that are involved with this band, being where we are now—at our ages, in our individual lives—there's a large amount of things that need to come together at the same time for it to make sense and for it to work. It doesn't happen very often, so it does create that sense of exclusivity of how things are in general now, from art and media. It's not our design, just circumstances beyond our control.
"Considering how often we get to do this, we're going to make sure this event is really awesome," he concludes. When kids reach out to Good on Instagram asking if they should fly out for the show, he tells them straight up, "I don't know if we're ever playing again! I'm sure we will, but I don't know if we ever will. So you probably should!"
At the time of print, FFTL's gig is nearly sold out with some limited VIP balcony access still available. You can check that all out here.