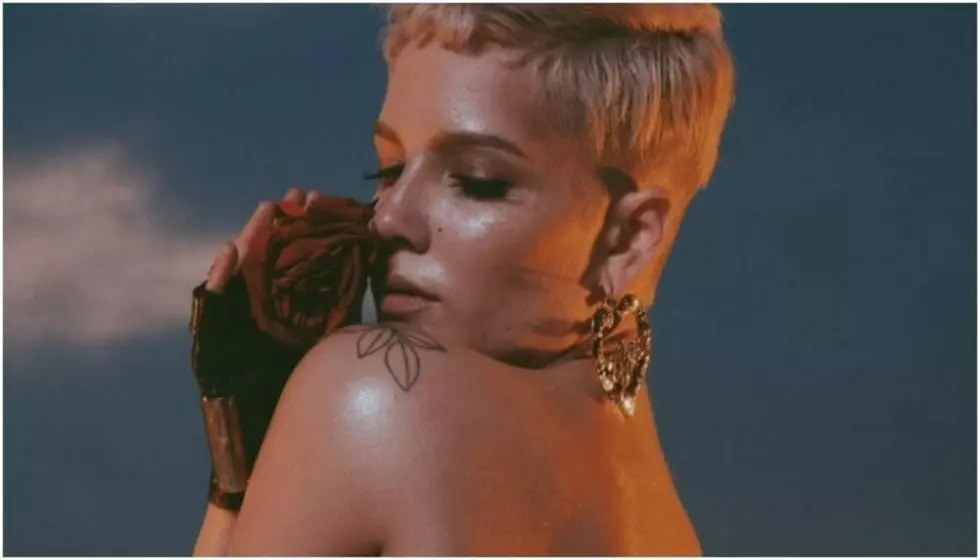 Halsey opens up about being vulnerable and what that means for her next album
Halsey has never been one to shy away from sharing her thoughts and standing up for what's right. Whether she's defending her performances to encouraging "inconvenient" women, she's proven time and time again that opening up about your feelings is OK.
The singer took to Twitter earlier this morning to pen an emotional series of tweets on vulnerability and what that means for her upcoming album.
In her first tweet, the singer explained that while her personal brand has always been one of a "confident girl," she felt "really scared" to be herself, which lead to a feeling on insecurity:
"'confident girl' has always been my 'brand' + for a while I felt really scared to be myself but then, I was ashamed I could be so insecure," Halsey writes in her tweet. "I wasn't allowed to be. it was 'weak.'"
She then continued on by saying that she recently accepted the fact that it's OK to not feel OK all the time, and it's led to her feeling a "new range of emotion," saying:
"Recently I accepted I won't feel 100 [percent] all the time + it's given me access to a new range of emotion."
Soon after that, she tweeted that his new discovery has got her excited about the writing process of her forthcoming album, which will be a follow-up to 2017's hopeless fountain kingdom.
"I'm excited for what this means for my next album. For this creative process. To be vulnerable and accept my weaknesses," she writes. "Bad bitch culture is tight, and I love all my devil-may-care cuties I'm surrounded by but it's OKAY to feel insecure about yourself sometimes."
She then finished her thread by leaving her followers with the message that it's OK to sometimes feel vulnerable and insecure:
"I was feeling bad about myself FOR FEELING BAD ABOUT MYSELF! How dare I be insecure! Bad bitches only! over it. it's ok to be vulnerable and insecurity is natural sometimes."
In other Halsey-related news, the singer recently released a music video for her first solo single since 2017's hopeless fountain kingdom, titled "Without Me." In it, she discusses the sad realities facing women in toxic relationships.
When the song first dropped, she had a chat with Zane Lowe, where she revealed that the track had a much deeper meaning to the person behind the persona:
"It's not protected by some character or some subplot," she says. "It's like this is really me talking about my life. It kind of gave me like an existential crisis as an artist a little bit, because I've prided myself on being an artist who's authentic."
What did you think of Halsey's Twitter thread? Let us know by sounding off in the comments below!
See more: 11 most emo snacks of all time
[envira-gallery id="194744"]