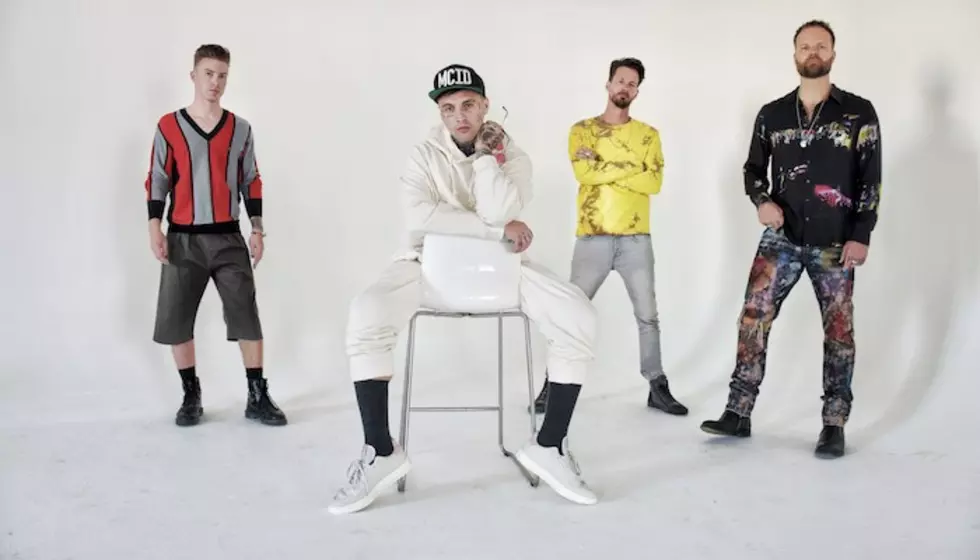 Highly Suspect deliver filter-free honesty on new "Fly" video—watch
Brooklyn-via-Cape Cod rock/hip-hop alloy Highly Suspect have been garnering acclaim for their most recent album, MCID. Today, AltPress is premiering the video for "Fly." The new clip's resonant message and do-it-yourself aesthetic intersect with other elements to create a poignant artifact.
The song's autobiographical focus comes from frontman Johnny Stevens' heart. Over the course of four-and-a-half minutes, the singer details everything from the ghosts in his head to the things he's left unsaid to family members and friends. You couldn't get any more transparent if you were polishing the lens of the iPhone he filmed the video on.
"Mental health was such a taboo topic when I was growing up," Stevens says about the external dialog of "Fly." "I felt like if I ever told anyone about how anxious and depressed I get, I would automatically be considered an outcast. Kids from my generation were ruthless. The way we treated each other—and even I'm guilty of it—was wild. Words were exchanged that simply cannot be said today without serious consequences. Now, it's 2020. I don't really care what other people think about my mental deficiencies because I know that I'm not alone, and I'm not deficient at all. But that said, lots of people all around the world suffer from neurological conditions.  
"A good friend of mine, Melissa and her husband, were on a plane that fell out of the sky in Kenya early in 2019," he continues. "This is one of two reasons the song is called 'Fly.' I've known many people that have passed too soon, but for whatever reason, this one hit very hard. It was that night that I decided I needed to write the realest shit I could possibly write because life can be over in an instant.
"So these words are all true, and I am no longer afraid of them. I needed to try and help other people who have stood on top of buildings ready to jump. I needed my brother to know it's my fault we don't talk enough. I needed my Mom to know I forgive her for the choices she made in life. And to tell myself that it's OK to not be Superman every second."
Stevens explains that the song's honesty is further maintained by his guerrilla, DIY style of video making. He shot the video in the back of the Highly Suspect tour bus while suffering from the flu.
"I'm living in this world where there is a filter on everything, where on social media, everyone enhances how they look," he says. "I look like shit in this video, and I don't care. This video had to be as raw as the song itself. The boys have had my back so hard on this song, and it's absolutely insane at concerts when thousands of people are singing these words back at me. It's a special one, and we hope it can help others to realize we're all in this shit together. Life is scary. Thank you so much for helping us spread our art."
Check out the "Fly" video below and all of MCID here.
Highly Suspect continue their tour in Covington, Kentucky, Friday evening with dates in the U.S. and Europe running through mid-May. You can see a full list of upcoming shows below with tickets here.
North American dates:
02/14 – Covington, KY @ The Madison Theater
02/15 – Grand Rapids, MI @ 20 Monroe Live
02/17 – Indianapolis, IN @ The Vogue
02/19 – Charleston, SC @ The Music Farm
02/20 – Lake Buena Vista, FL @ House of Blues
04/17 – First Avenue @ Minneapolis, MN
04/18 – First Avenue @ Minneapolis, MN
04/21 – Lexington, KY @ Manchester Music Hall
04/23 – Norfolk, VA @ The NorVa
04/24 – Richmond, VA The National
04/25 – Philadelphia, PA @ Franklin Music Hall
04/28 – Baltimore, MD @ Ram's Head Live
04/30 – Cleveland, OH @ Agora Theatre and Ballroom
05/01 – Toronto, ON @ The Danforth Music Hall
05/02 – Syracuse, NY @ Paper Mill Island Amphitheater
05/05 – Boston, MA @ Royale
05/06 – Boston, MA @ Royale
05/08 – New York, NY @ Terminal 5
05/09 – Providence, RI @ The Strand Ballroom & Theatre
05/12 – Burlington, VT @ Higher Ground
05/15 – Montreal, QC @ Corona Theatre
05/16 – Portland, ME @ State Theatre
Europe/U.K. dates:
02/25 – Antwerpen, Belgium @ Muziekcentrum Trix
02/27 – Amsterdam, Netherlands @ Melkweg
02/28 – Cologne, DE @ Die Kantine
03/01 – Hamburg, DE @ Markthalle
03/04 – Berlin, DE @ Astra Kulturhaus
03/06 – Prague, CZ @ Lucerna Music Bar
03/07 – Wien, Austria @ Arena Wien
03/09 – München, DE @ Backstage Werk
03/11 – Zurich, Switzerland @ Dynamo
03/12 – Frankfurt, DE @ Zoom Frankfurt
03/14 – Paris, FR @ Trabendo
03/16 – Bristol, UK @ SWX
03/18 – London, UK @ Electric Ballroom
03/19 – Birmingham, UK @ O2 Institute
03/21 – Glasgow, UK @ King Tuts Wah Wah Hut
03/22 – Manchester, UK @ Manchester Academy 2
07/10 – Madrid, SP @ Mad Cool Festival
07/17 – Joensuu, Finalnd @ Ilosaarirock Festival