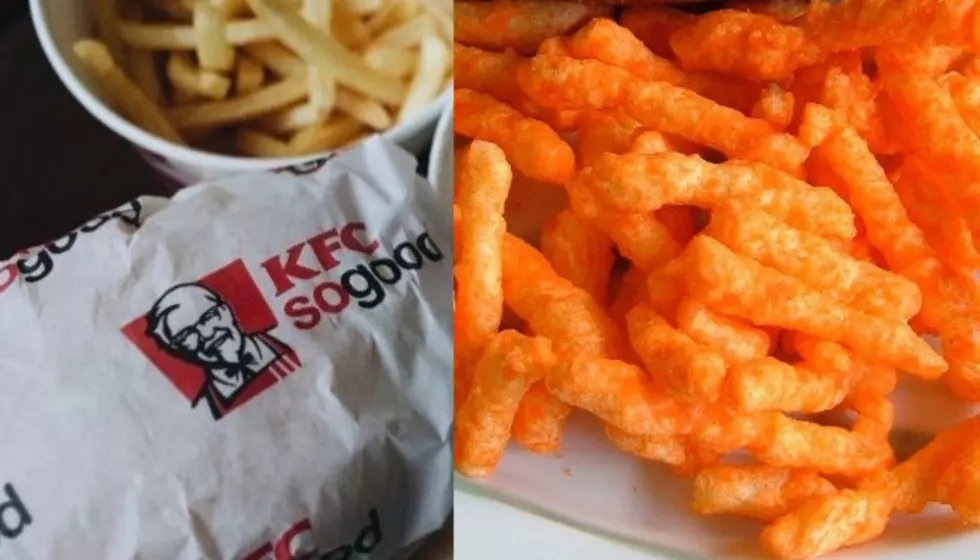 KFC and Cheetos teaming up for new chicken sandwich
[Photos via Unsplash and Wikipedia]
KFC may be busy with the weirdest ASMR of the year, but they've found time to come up with a wild new sandwich.
The fast-food company are introducing a Cheetos sandwich next month, but you'll want to act fast as it's only around for a little while.
The sandwich is made with a hand-breaded extra crispy chicken filet and a layer of crunchy Cheetos. To top it off, they've added a special Cheetos sauce to drizzle over the chicken.
Luckily you won't have to wait long to try it out as the new menu item arrives at U.S. stores starting July 1. You'll want to make the most of it though, as it's only going to be around for four weeks.
More on KFC
At the beginning of the year, the company released a series of relaxing "fried chicken sounds" along with a gravy-scented candle.
The series includes three separate tracks featuring the sounds of frying chicken, simmering gravy and falling fries.
"If you thought that the sounds of nature were relaxing, here's another way to unwind," KFC's website says. "It's time to free your mind and immerse yourself in the actual sounds of the KFC Gravy Mega Box. So take a deep breath and fill your senses with Finger Lickin' Good Vibes. 'Cos this January it's all gravy, baby."
Despite all of the good vibes from the ASMR tracks, the company faced a lot of negative feedback from an EDM stunt they pulled.
The company paid for a slot for Colonel Sanders to perform a rather awkward set which saw swarms of people walking away.
Are you excited to try KFC's new Cheetos sandwich? Let us know in the comments below.
[envira-gallery id="194402"]