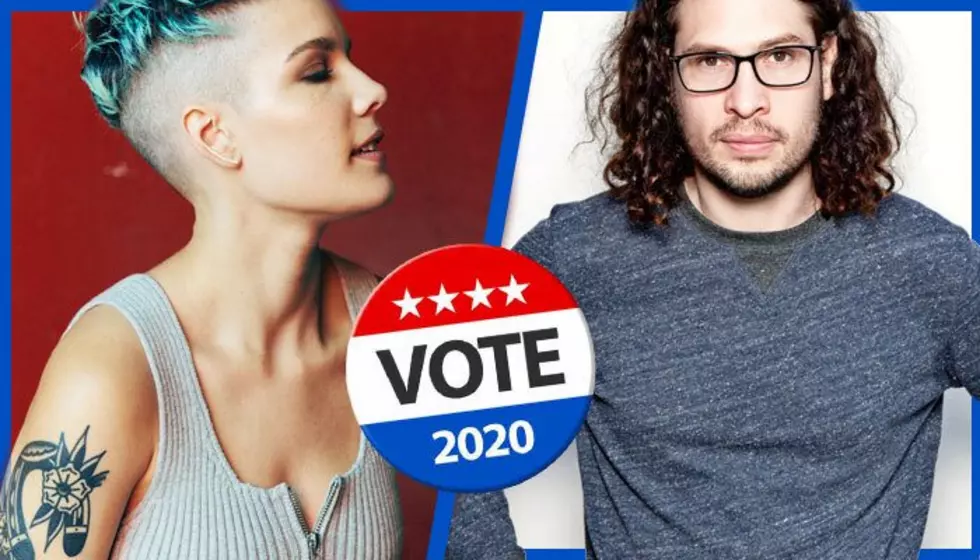 See how these musicians are using their voices on Election Day
Today marks Election Day in the United States, where Democratic candidate Joe Biden and Republican incumbent Donald Trump are hoping to obtain or retain The White House. This election is unlike any other in many ways. Not only are we living through a once-in-a-lifetime pandemic, but we have also seen the current POTUS show signs of authoritarianism and emboldening white supremacists.
In response to this, many musicians are using their platforms to encourage fans to register to vote, cast their ballot and fill in a circle for Biden.
On this contentious day in American history, artists are prompting their fans to get out to vote and share their "I Voted" stickers. Check out the list of musicians performing their civic duty this election season, and make sure to give Alternative Press' Election Day 2020 playlist a listen below.
Halsey
Halsey isn't afraid to share her politics, both in her music and on her social media platforms. Prior to today's election, she interviewed Sen. Bernie Sanders on various policies and why he's voting for Biden. She is a Biden/Kamala Harris supporter for their promises of women's rights, LGBTQ+ protections and more. She admitted, like many people in the States, that she's anxious.
K.Flay
Singer K.Flay turned in her absentee ballot early in October and had a dance party as she did so. Of course, she looked awesome as she dropped her letter in the ballot box in her Rage Against The Machine shirt.
Lady Gaga
Lady Gaga has been one of the most politically active mainstream musicians this year for Biden. She even appeared at his rally yesterday in Pennsylvania. She sent in her ballot in October and did it in typical Gaga fashion: in shiny platform boots.
Kesha
Pop star and activist Kesha got out to vote this afternoon and tweeted, "If you are like me then the choice today is clear. Go Vote!"
Jack Barakat
Jack Barakat from All Time Low voted early this year and shared his "I Voted" sticker in October. Along with encouraging ATL fans to vote, he also gave some great hair advice.
Ray Toro
Ray Toro of My Chemical Romance sent in his vote in late October and encouraged fans to vote out Trump. "We have all suffered enough," he noted in a tweet.
Rian Dawson
All Time Low drummer Rian Dawson cast his vote today and reminded his followers to "spread love today no matter what, rise above all that other shit and short-sightedness, be kind, be compassionate."
Joel Madden
You heard Good Charlotte's Joel Madden. Make sure your voice is heard today!
Dan Lambton
Former Real Friends vocalist Dan Lambton sees the polls and knows you see them, too. The only way to ensure a Democratic win is to vote.
Kid Cudi
Rapper and Cleveland native Kid Cudi sported his "I Voted" sticker this afternoon. Sport yours all day, too!
Oliver Baxxter
Broadside frontman Oliver Baxxter hit the polls bright and early this morning and shared his voting sticker. Did you get your sticker yet?
Ryan Scott Graham
State Champs' Ryan Scott Graham shared some hard truths with his Twitter followers today. To people who don't vote, it may seem like one ballot won't change much, but that is far from true, and having that belief is a privilege. There's still time to get your voice heard!
Awsten Knight
Waterparks and Awsten Knight know that the maps and polls all point to a Biden win but still hope their fans vote to secure a Democratic victory. Why take any chances today?
Geoff Rickly
Thursday frontman Geoff Rickly went to the polls himself and assured us that there's still plenty of time. Make sure you take his advice and hop in line ASAP.
Lzzy Hale
Lzzy Hale of Halestorm hopes you put on your mask and get to the polls if you haven't already. There's a chance she will retweet your voting picture, too!
Sharon Osbourne
Rock royalty Sharon Osbourne shared a photo of her wearing her voting sticker paired with a "VOTE" shirt to celebrate Election Day.
Cody Carson
Set It Off singer Cody Carson posted a selfie proving he got out to vote and made sure his followers know that every vote counts. He even retweeted a few fans with their "I Voted" stickers.
Taylor Momsen
Taylor Momsen, lead singer of the Pretty Reckless, got out to the polls and shared her "I Voted" sticker on her mask.
Foo Fighters
Foo Fighters made it to the polls today. Did you? There's still time left in the day! Frontman Dave Grohl supports Biden and even chatted about education with Dr. Jill Biden.
Jake Bundrick
Jake Bundrick of Mayday Parade shared his concerns with his Twitter followers about the uncertain future of live music and where it could, unfortunately, lead if we have four more years of Trump. He encourages all his band's fans to vote and said, "...hopefully today is a step in the right direction."
Get more information on voting and upcoming elections from one of the below online resources:
HeadCount (Campaigning and registration information).
Vote.org (Absentee and early voting rules for each state).
Rock The Vote (A nonpartisan nonprofit making democratic participation more accessible).
TurboVote (Election reminders, voter registration and absentee ballot applications).
You can check your polling place here, and make sure to wear a mask when you head out to vote.