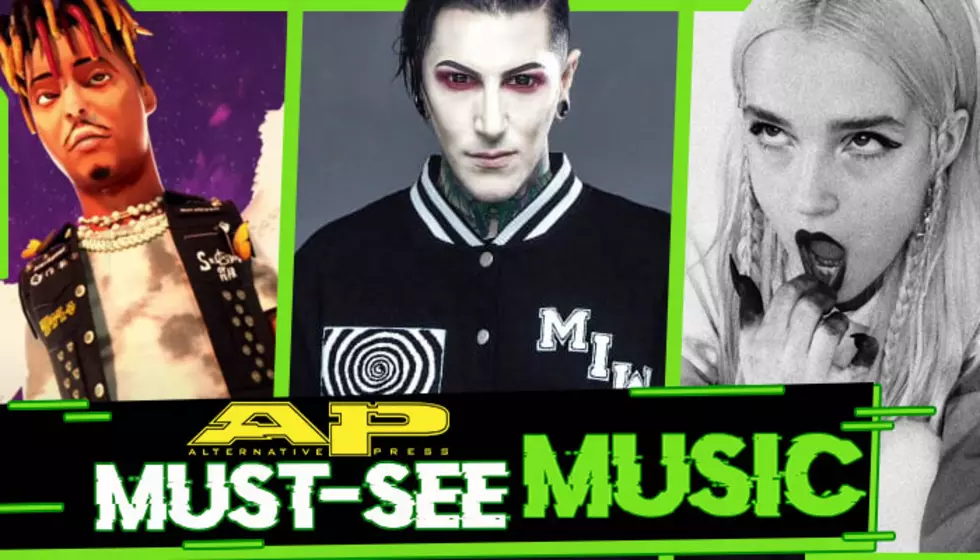 Must-See Music: new tracks from MIW, Juice WRLD, Poppy and more
You know what happened this week? An American goth-metal gang enlisted some international vocalists to boldly reinvent some fan favorites. Two post-hardcore artists traded loud guitars for melodic synths to explore new vistas. Britain's finest punk band teamed up with a world-acclaimed video director used to hanging out with Jack White and Jim Carrey. We saw the return of a hip-pop idol under the tutelage of a pop-punk idolmaker. There's also a bittersweet hip-hop duet from a world-class vocalist and the last recordings of a posthumous artist. Welcome to this week's Must-See Music.
This round of Must-See Music is the playlist your volume control setting was made for. All of the goth rock glory and nihilist punk explorations of the week are here for Must-See Music. It's our summary of the week's finest video and song releases, not to mention the sweet premieres brought to you exclusively by Alternative Press.
Motionless In White – "Another Life," "Eternally Yours"
Here's a side of Motionless In White you've never heard before. The Another Life / Eternally Yours: Motion Picture Collection EP features lush, cinematic reinterpretations of fan favorites from their 2019 LP, Disguise. "Another Life" features MIW CEO Chris Motionless dueting with Estonian vocalist Kerli, bringing all the love-sex-death drama in babybats' heads to life. Then Crystal Joilena joins Motionless for a redux of "Eternally Yours," which swaps out the previous song's grandeur for vulnerability. It's Motionless like you've never heard him before. Now you'll really know what he's capable of. 
girlfriends – "California"
Rapper/actor/Beats Music host Travis Mills teams up with drummer Nick Gross to give pop punk a good kick in the crotch. On "California," girlfriends are aided and abetted by uber-producer John Feldmann, who puts them through pop-processed vocals while still maintaining the genre's energy quotient. Mills delivers that great line ("All my friends are doing drugs to drown out their anxiety"), and the whole thing feels like being pushed face-first into a big bowl of hydrogen peroxide. Sure, Mills is great front and center. But you're missing half the show if you're not watching Gross expertly man his kit. This is the gig this writer wants to see next year. Must-See Music for the next two years. Trust.
Solence – "Direction"
Premiering earlier this week on AltPress, Solance's latest single is all about following your own moral compass. "Direction" features a great juxtaposition of styles while never really going all in on just one. The driving metal aspect is there in David Strääf's guitar work, while Johan Swärd's synthesizers give the proceedings a heightened melodic sense. We're still not sure if Solence are an electronic-metal band or a metal band with electronics. (Come to think of it, neither does frontman Markus Videsäter.) Solence are bringing a great sense of glory to metal's tired conventions. We wouldn't be surprised if more upstarts pick up their lead.
Deafbrick – "Sweat-Drenched Wreck"

Brazilian trio Deafkids floored us with their Neurot Recordings debut, 2017's Configuração do Lamento. It was a synergy of punk, garage rock, noise and indigenous South American music. Meanwhile, industrial terror duo Petbrick (starring founding Sepultura member Iggor Cavalera) were laying out their high-speed cacophony in clubs packed with noise fiends. Both bands collaborated onstage at the acclaimed Roadburn Festival in 2019 and agreed that they should make a record. That LP, Deafbrick, comes out Sept. 4. "Sweet-Drenched Wreck" was released earlier this week, and the world just got a fuck-ton scarier.
Hurtwave – "Bleach"
Fans recognize Rory Rodriguez and Mike Karle as the vocalist and drummer for post-hardcore unit Dayseeker. But Hurtwave are a different sonic plane altogether for the duo, effusing quieter electronic vistas and different subject matter than their usual stock in trade. In a recent story about "Bleach," Rodriguez discussed Hurtwave's predilection for pop music. "We're both really into pop and softer music," the singer says. "This is a perfect opportunity to have the ability to do that. It's a different musical avenue than Dayseeker—some of this stuff would just be too out in left field to release through our main project. We're happy to have Hurtwave in that regard." 
IDLES – "Model Village"
IDLES are the unlikeliest band to gain a foothold on our shores. Fronted by gruff vocalist Joe Talbot, their mix of angular post-punk noise rock with heavy socio-political invective found sympathetic ears in Trump Nation. "Model Village" comes from their impending third album, Ultra Mono, slated for release Sept. 25. All of the signifiers of IDLES' sound are in place, but it's truly highlighted by respected film/video director Michel Gondry (White Stripes, Björk, Eternal Sunshine Of The Spotless Mind). The process began with Gondry cutting out shapes of paper and moving each one frame by frame in front of the camera and sending the footage to his brother Olivier to work his CGI magic upon. Come for IDLES' new hip-hop-tinged track, stay for the Gondry brothers' wide, weird world.
Never Loved – "Over It"
"Over It" is the follow-up to last year's "Down" single, and it's the best slice yet from Never Loved. It's a grand formula: A double helix DNA of '90s Generation X guitar angst and some '70s glam. Add in that millennial, what's-the-use desperation that defines our times. Never Loved are getting consistently better with each release. You may be too late to get in on their ground floor, but theirs is the building you want to be partying in when the fame machine kicks in. Drummer Kevin Blackburn fighting with a potted tree alone is totally worth the Must-See Music designation.
Teenage Wrist – "Silverspoon"
There's something incredibly L.A. about guitarist/vocalist Marshall Gallagher and drummer Anthony Salazar, aka Teenage Wrist. "Silverspoon" has a hint of Laurel Canyon melodrama, some neo-psychedelia from Silver Lake and some girth that would sound good on your playlists next to outfits such as Silversun Pickups, Deftones and Failure. Teenage Wrist don't sound like any of those bands, but it's the combination of antecedents that make them so compelling in the first place. It's a great companion piece to last year's three-song Counting Flies EP.
Juice WRLD and the Weeknd – "Smile"
The untimely passing of singer/rapper Juice WRLD mere days after his 21st birthday was truly one of the most heavy-hearted events in current hip-hop history. This posthumous collaboration with reluctant R&B titan the Weeknd was created from previously unreleased tracks in the late rapper's archives. While "Smile" could've been a cynical, exploitative cash grab, the end result is anything but. The virtual reality-styled animation, devastatingly aching lines from both artists and the automotive metaphor used to describe the duo's artistic relationship make for one poignant video. Must-See Music to believe in, most certainly.  
The Lawrence Arms – "Quiet Storm"
Chicago's enduring punk unit follows up the lyric video for "Last, Last Words" with what looks and sounds like 133 seconds of wanderlust and depression. But in typical Lawrence Arms style, you should brace yourself for the startling ending. Drummer Neil Hennessy is seen wandering the streets of Los Angeles and wondering why he keeps getting name-checked in the weirdest places. Is it surrealism? A commentary on a person's self-worth with a little dollop of Ayn Rand egoism? An apocalypse of self-isolation? Only the band know for sure. Our favorite Easter egg? The reference to the opaque-black Nihilist Arby's Twitter account that frontman Brendan Kelly created.  
Poppy – "Don't Ask"
One of the four new tracks from the expanded edition of I Disagree (More), "Don't Ask" is a nice departure from our favorite intergalactic chanteuse's usual fare. The infinite-sustain guitar is the perfect accompaniment for Poppy's bittersweet treatise on a relationship that simply doesn't work any longer. Here, she's neither vindictive, bloodthirsty harpy or despondent and fragile victim. "Don't ask me how I'm feeling/There's nothing to talk about," she intones in a way that mines the hurt while still following her destiny. Given the different facets found on I Disagree, we wonder why this song didn't come out on the album's original configuration.
Weezer – "Beginning Of The End (Wyld Stallyns edit)"

Weezer CEO Rivers Cuomo has seen (maybe heard) the future, and it's looking pretty grim. His band's contribution to the new Bill & Ted Face The Music soundtrack might be as much fun as you can have while you stare down the apocalypse. Cuomo impresses us with his two-hand tapping, but it's still not as cool as the grandiose bridge that sounds like it was stolen from Brian May's guitar case. The soundtrack also features some similarly sweet jams from Lamb Of God, Mastodon and FIDLAR, so get some ThermaCare patches so you don't hurt yourself with all the headbanging.