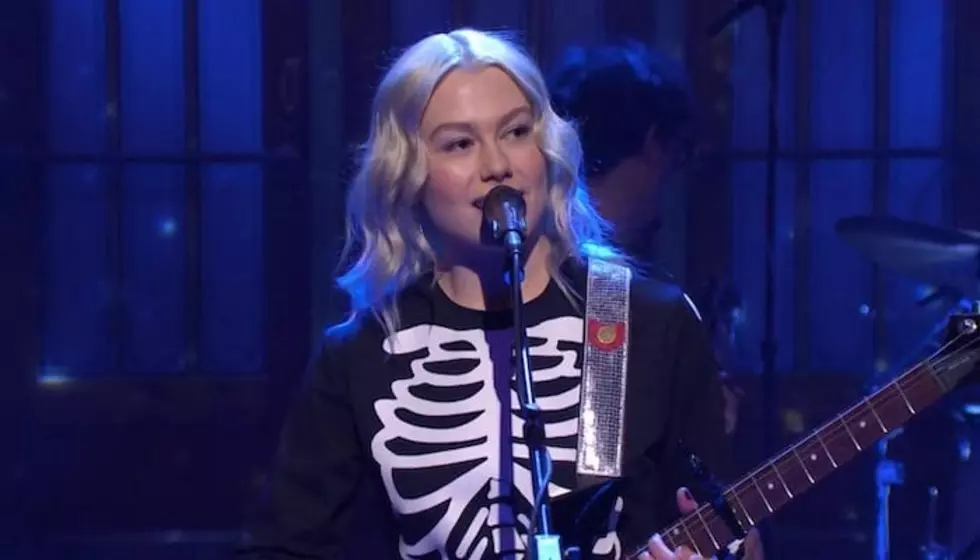 Phoebe Bridgers is auctioning off her smashed 'SNL' guitar to benefit GLAAD
[Photo via YouTube]
About two months ago, Phoebe Bridgers hit the Saturday Night Live stage for her performance debut. At the end of her two-song set, the musician smashed her guitar on stage, immediately earning the praise of fans and the attention of others.
Now, that iconic piece of music history has headed to auction to benefit GLAAD, an organization that promotes the acceptance and increased portrayal of the LGBTQIA+ community in media. Happening now with a current bid of $13,000, the auction ends April 11.
The auction has been launched around the 32nd Annual GLAAD Media Awards, which were hosted by actor Niecy Nash April 8. The virtual ceremony, which is currently available to stream on YouTube and Hulu, honors the media's fair and accurate representation of the LGBTQIA+ community.
Bridgers, who appears on Alternative Press' recent Power Issue: Women Rising cover, was nominated in the Outstanding Breakthrough Music Artist category for her latest album Punisher. She joined a diverse list of nominees including winner CHIKA as well as FLETCHER, Trixie Mattel and Victoria Monét. Fellow Alternative Press cover stars Orville Peck and Rina Sawayama, the latter of whom just appeared on the 100 Artists You Need To Know issue, also earned nods in the category.
Ahead of the annual ceremony, GLAAD launched an auction on April 1 featuring trips to San Francisco, Japan, Hawaii and Aspen Gay Ski Week among others. There is also an opportunity to own an original piece of artwork by Andrew Salgado or attend the 33rd Annual GLAAD Media Awards in New York in 2022.
However, perhaps the most intriguing piece is Bridgers' Danelectro Dano '56 baritone guitar that she smashed after performing "Kyoto" and "I Know the End" on SNL.
The current bid for the guitar is sitting at $13,000 with 15 bids. You can see photos of the legendary instrument below and place your bid in $500 increments here through April 11 at 11:59 p.m. ET.
[Photo via GLAAD][/caption]
[Photo via GLAAD][/caption] 
Following the SNL premiere, Bridgers received props from fellow musicians such as Dave Grohl and DragonForce's Herman Li. However, while guitar smashing is nothing new, not everyone was as pleased with the move with singer David Crosby calling it "pathetic" in response to a fan's question.
"Guitars are for playing [and] making music—not stupidly bashing them on a fake monitor for childish stage drama," the singer continued on Twitter the following day. "I really do not give a flying F if others have done it before It's still stupid."
Bridgers caught wind of Crosby's opinion shortly after and replied with a succinct "little bitch" and later followed it up with a link to Mariah Carey's "Obsessed" video.
Following the auction's launch this week, the "Kyoto" singer took to Twitter again to call back to Crosby's comments. "It can finally be yours, [David Crosby]," she tweets, tagging the musician. As of the time of writing, Crosby has not responded.
More on Phoebe Bridgers' SNL guitar smash
Airing on Feb. 6, Bridgers appeared on the episode hosted by Schitt's Creek's Dan Levy, a sitcom that was also nominated for and won for the second year in a row in the GLAAD Awards' Outstanding Comedy Series category. Previously, Levy was also awarded the Davidson/Valentini Award at the 2019 GLAAD Gala.
The day after the performance, the singer revealed that the monitor she was smashing the guitar on was actually fake. Minutes later in response to musician Jason Isbell tweeting, "That was like an 85 dollar guitar she smashed come on guys," Phoebe confirmed she got Danelectro's blessing.
"I told Danelectro I was going to do it, and they wished me luck and told me they're hard to break," she shares in a reply.
Later, in an interview with Variety, Bridgers addressed calling Crosby a "little bitch" and further elaborated on the general response to her performance.
"I stand by it!" the singer tells the outlet. "The fact that it made people so mad is kind of what's punk rock about it. No thought whatsoever went into what it represented or meant: I'd never done it before, so might as well do it [on 'SNL'], where it's gonna be immortalized. It's hilarious to me that people care so much, but, I mean, there's a video of a steamroller crushing a bunch of Gibson [guitars] as a tax write-off because they weren't selling all of their stock—let that piss you off!"
You can see a snippet of Bridgers' epic moment below.
Bridgers has a busy few months ahead with the singer joining in on Paul McCartney's upcoming reimagined version of his 2020 album McCartney III. Taking on a reworking of "Seize The Day," the singer appears alongside St. Vincent, Dominic Fike, Beck, Queens Of The Stone Age's Josh Homme and Gorillaz's Damon Albarn among others. Out on April 16, McCartney III Imagined is available for preorder here.
Additionally, the musician was recently announced as part of Bonnaroo's 2021 lineup set to kick off Sept. 2–5 in Manchester, Tennessee. Bridgers will perform alongside Foo Fighters, Megan Thee Stallion, Lizzo, Lana Del Rey, Tyler, The Creator,  Scarypoolparty and Dashboard Confessional that weekend. Tickets are on sale now and are available to purchase here.
Alternative Press' debut Power Issue: Women Rising issue featuring Bridgers is also available now here or below.