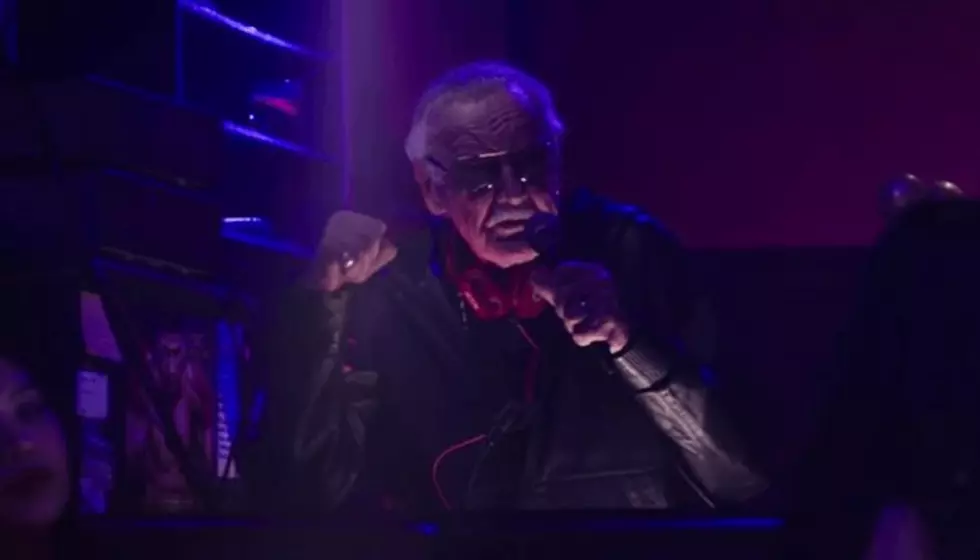 Stan Lee cameo highlight reel could be 'Endgame' DVD extra
[Photo via YouTube]
Marvel is trying to break our hearts — the studio is going to make a behind-the-scenes video about all of legend Stan Lee and his famous cameos in the films.
Entertainment Weekly reports that the company has comprised all the videos of Lee's cameos and is planning to release it. They also say it could possibly come as an extra for Avengers: Endgame DVD release.
"We've put a video together," Marvel Studios President Kevin Feige told EW. "We've never done this before, a behind-the-scenes of every cameo. All the B-roll that was shot and his stand-ups there. His passing was very emotional for all of us, but it suddenly all came back to me just when I watched it."
Lee died last year at age 95. He was a writer, editor and publishers of Marvel Comics and created several well-known titles. Those include Black Panther, Spider-Man, X-Men, The Mighty Thor, Iron Man, The Fantastic Four, The Incredible Hulk, Daredevil and Ant-Man.
Lee appeared in many of the Marvel film adaptations. Many considered his cameo as a fun Easter egg for many. Check out a full list of the films he appeared in below, according to GamesRadar.
Cameos
The Trial of the Incredible Hulk (1989) – a jury member during Hulk's trial
X-Men (2000) – a hot dog vendor as Senator Kelly emerges from the sea
Spider-Man (2002) – in the crowd as Spider-Man and Green Goblin fight for the first time
Daredevil (2003) – reading the paper in Matt Murdock's flashback
Hulk (2003) – a security guard with the original TV Hulk, Lou Ferrigno
Spider-Man 2 (2004) – watching Spider-Man and Doctor Octopus fight
Fantastic Four (2005) – a post office man
X-Men: The Last Stand (2006) – Professor X and Magneto visit young Jean Grey, and Lee is the neighbor
Spider-Man 3 (2007) – talking to Peter Parker in Times Square

Fantastic Four: Rise of the Silver Surfer (2007) – a guest at Reed Richards and Sue Storm's wedding.
Iron Man (2008) – a red carpet walker who gets mistaken for Hugh Hefner
The Incredible Hulk (2008) – he drinks soda mixed with Bruce Banner's blood
Iron Man 2 (2010) – he gets mistaken for Larry King
Thor (2011) – a pickup truck driver watching a crowd try to move Thor's hammer
Captain America: The First Avenger (2011) – a general in an audience honoring Captain America
The Avengers (2012) – on-screen in a news report after New York is destroyed
The Amazing Spider-Man (2012) — blissfully unaware of Spider-Man and Lizard duke fighting in the library behind him
Iron Man 3 (2013) – a beauty pageant judge

Thor: The Dark World (2013) – a mental ward patient
Captain America: The Winter Soldier (2014) – a Smithsonian Institute security guard
The Amazing Spider-Man 2 (2014) – an attendee at Peter Parker and Gwen Stacy's graduation
Guardians Of The Galaxy (2014) – Rocket sees him having a conversation through his scanning device
Avengers: Age Of Ultron (2015) – a war veteran having drinks at the Avengers' victory party
Ant-Man (2015) – a bartender in a flashback
Deadpool (2016) – a DJ at the club Vanessa works in
Captain America: Civil War (2016) – a Fed-Ex driver delivering Tony Stark's package
X-Men: Apocalypse (2016) – in a montage of people witnessing Apocalypse's destruction

Doctor Strange (2016) – a bus passenger as Doctor Strange and Baron Mordo battle Kaecilius
Guardians Of The Galaxy Vol. 2 (2017) – in Rocket and Yondu's cosmic leap through space and in the post-credit scene
Spider-Man: Homecoming (2017) – an annoyed neighbor as a car alarm goes off
Thor: Ragnarok (2017) – a barber who cut Thor's hair
Black Panther (2018) – a gambler in the casino
Avengers: Infinity War (2018) – Peter Parker's bus driver
Deadpool 2 (2018) – a mural on the side of a building
Ant-Man And The Wasp (2018) – getting in a car as Ant-Man and the Wasp are trying to get Hank's lab back from Sonny Burch
Venom (2018) – a dog-walker
Captain Marvel(2019) — himself riding the subway and reading lines for a screenplay for Mallrats
Lee's final cameo will be in the highly-anticipated Avengers: Endgame, out this Friday. In anticipation for the big debut, some theaters have had to open 24 hours a day from this Thursday to Sunday to meet high demands.
There is no denying the film is going to be a huge success. It already has broken major records in ticket sales ahead of its release.
For one, it's selling five times as many tickets as Infinity War during its first week of presales. This should come as no surprise with the demand of tickets being crazy enough for fans to spend upward of $15,000 for a pair.
Also, the film has broken the record for Atom Tickets' best-selling movie of all time in only 10 days.
Currently the Marvel movie is estimated to open between $230 million to $283 million domestically. Also, it has a worldwide projection of an astounding $800 million.
It was previously announced that Endgame would close out Phase 3 of the MCU. However, Marvel Studios President Kevin Feige revealed he now has other plans.
Avengers: Endgame will be monumental for so many ways. For one, it will feature the final cameo by Marvel legend Stan Lee, who passed away last year at age 95.
In other news, Twitter users were recently granted tons of emojis of nearly all the characters in the film.
While you're online playing with all the new MCU emojis, be careful to avoid possible spoilers as footage from the film is reportedly leaked and available online.
Also, one major revelation about who Hawkeye was training in archery in one of the trailers has finally been revealed.
We're only four days away from the release of one of the most highly anticipated films in MCU history. Yesterday, the franchise released a new teaser that gave us a first look at Valkyrie.
You can check that out below.
If you're a die-hard MCU fan, you can snag a Marvel Movie Marathon ticket from AMC. The chain confirmed they would be showing a 59-hour marathon of all 22 Marvel films leading up to Endgame at select theaters this week.
What do you think of a Stan Lee cameo video? Sound off in the comments below!
[envira-gallery id="199143"]