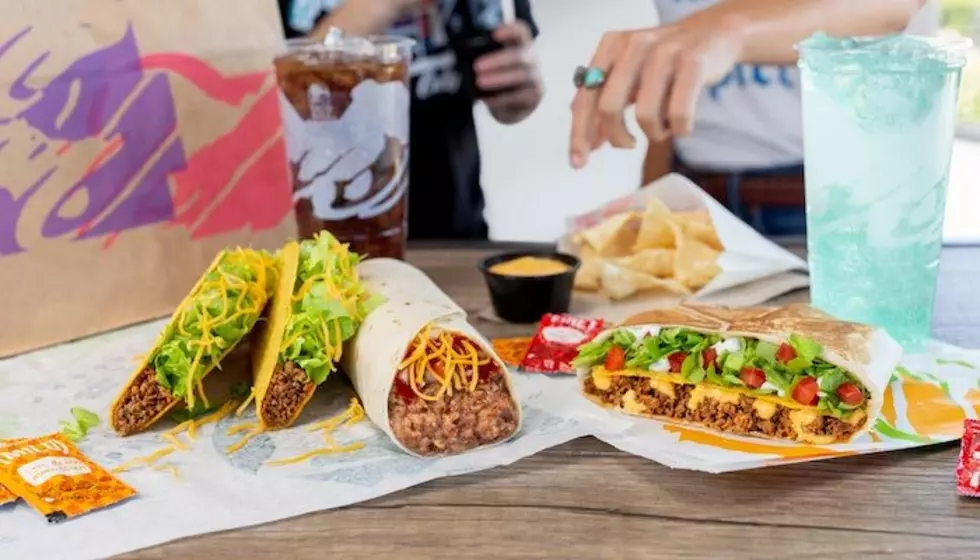 Yes, Taco Bell is now selling a custom red wine to pair with your chalupa
[Photo via Taco Bell]
Yes, it's true. Taco Bell is now selling its own custom wine to go with your chalupa.
The fast-food chain has launched the new Jalapeno Noir wine to pair with its Toasted Cheesy Chalupa. However, the new beverage is available for a limited time and only some customers will be able to taste it.
In a press release, Taco Bell says the wine and chalupa duo is "irresistible." The "rich taste and crunchy texture of the beloved Toasted Cheesy Chalupa complements notes of wild strawberry, cherry and beetroot in this silky limited-edition red wine."
Some customers, however, won't be able to try the Jalapeno Noir wine any time soon. The drink is being sold exclusively in Canada and arrives on Sept. 16. The wine was made at a vineyard in Ontario and is being considered a collector's item. It has three unique bottle labels and costs about $19 USD per bottle.
As well, American Taco Bell customers will have to wait a bit longer to try the Toasted Cheesy Chalupa. The new item won't appear on menus until November. However, for those wanting to try Taco Bell's boozy concoctions in the United States, some Cantina locations do sell both food and alcoholic drinks.
[Photo via Taco Bell][/caption]
said goodbye to some staple menu items
Then, earlier this month, the company announced even more changes to its menu. Taco Bell revealed that it is revamping its menu even further to offset its carbon footprint and make room for future innovations.
As well, Taco Bell is removing all of its shredded chicken items in November. This means that the chain is ditching the Shredded Chicken Soft Taco, Shredded Chicken Burrito and Shredded Chicken Quesadilla Melt.
Despite the items leaving, the chain is introducing some new items this year including the $1 Chipotle Chicken Melt and Dragonfruit Freeze. Taco Bell assures that these latest menu changes are the last to happen in 2020.
build various "Go Mobile" locations
coronavirus
Do you want to try the new Japaleno Noir wine? Let us know in the comments below.