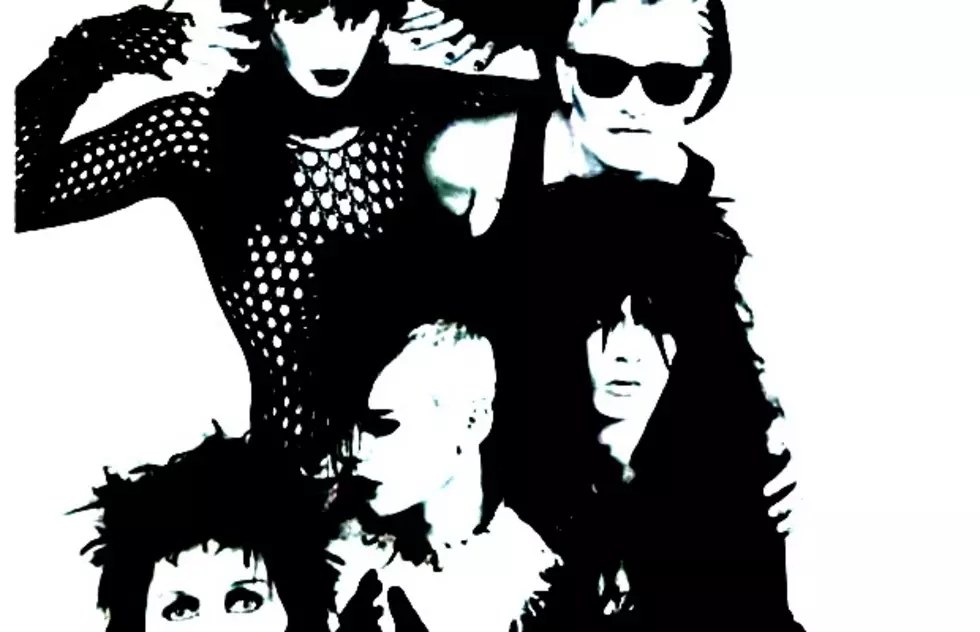 10 obscure tracks you need for your World Goth Day playlist
Today (May 22) is World Goth Day and we hereby salute all the musicians, icons and artistic works that have come out of the gothic movement. Goth means a lot of things to many different folks from old-timers (eldergoths) to young listeners (babybats) and we're not going to even begin to inspect them all. The list below appeared several years ago on this site and like a lot of goth culture, still resonates to darken your day in the best way possible. So swathe yourself in your best psychic Vantablack and turn it up.
One more thing: If you're not familiar with the Sophie Lancaster Foundation, please visit them. We frequently talk about inclusion and acceptance in music subcultures and it's an aching hurt when we lose somebody simply because they chose to participate in a particular community. —jp
We all know how people love to bunch up their panties and come out swinging on message boards about the be-all end-all definition of "punk." Then we realized the gothic community has just as many permutations and combinations of what defines true "goth." There are old-school types who bought every single record by such frontline movers and shakers as the Sisters Of Mercy, the Cure, Bauhaus and Siouxsie And The Banshees. The thing is, if you were to slap all those bands onto one playlist, they don't really sound that similar. The only thing they really share is a sense of darkness that's a combination of menacing, forlorn or downright cartoony. Also confusing things was the early-'90s advent of industrial-rock culture, which blurred the sonic lines when it appropriated all of goth's sartorial monochrome vibe. (Because on the surface, you can't look at some big-haired, black-clad club denizen and know precisely that person is obviously into, say, the Mission, and not Marilyn Manson.)
I'm not going to reaffirm everything that rock historians have told you about goth over and over for decades. Instead, I'm going to lift some lids off of crypts you may not have thought to pry into in the first place.
ALIEN SEX FIEND "Drive My Rocket"

Nik Fiend and his lovely wife Mrs. Fiend have been flying the electro-wacko goth-freak flag for decades. They embrace their goth-itude the same way Iron Maiden's Bruce Dickinson clutches his metal cred. This little number about taking a spaceship to visit Nik's home planet [You only wish you could hear Pettigrew laughing in his office right now. —disgust ed.] feels more punk than any kind of exercise in creating a spooky, dark atmosphere. But that's always been ASF's stock in trade: They've never cared about chart positions or actively pleasing a fanbase, which is why their music has remained vital.
THE BOLSHOI "Waspy"
The Bolshoi were one of a trillion new-wave/indie bands looking to make their mark in the world. Although they were quite polished, they did pretty good in the U.K. (as well as on MTV's 120 Minutes) with a dark little song about backstreet abortions ("A Way"). This track from their album Friends starts out with frontman/guitarist Trevor Tanner channeling his inner sociopath child, collecting insects in a jar. By the end of the song, the guitars are as opaque as obsidian glass, Tanner is shrieking his head off at his insect prey and the whole track comes off like one bad meth trip in an entomology class—or maybe just being trapped in a Tessa Farmer installation. Besides, it's the only song I can think of that has the word "beseech" in it [So does "My Paper Heart" by AAR! – useless knowledge ed.]
PLAY DEAD "The Tenant"

Throughout their career, seminal post-punk avatars Killing Joke were trying to make sure the planet kept its scheduled appointment with the apocalypse. So it makes sense that many an upstart band would borrow K-Joke's thunder (tribal beats, curiously equalized guitars, attitude-laden singers) for their nefarious ends. Play Dead hailed from Oxford, U.K., and while their brand of near-metal post-punk was energetic and furious, the goth community primarily embraced it more so than dudes wearing Angelic Upstarts or Comsat Angels shirts. If you like this, seek out their track "Bloodstains Pleasure" on the quite rare The Whip compilation.
SPECIMEN "Kiss Kiss Bang Bang"

Despite everything they did for the genre, I never hear anyone talk about these London creepy-crawlies. Lead singer Olli Wisdom and guitarist Jon Klein ran the London goth hotspot the Batcave in the early '80s, thereby creating a hangout for the whole scene. Sure, Specimen rocked the guyliner, hairspray and mesh shirts like nobody else, but what made their music so compelling was that there was a heavy '70s glam vibe (cf. Bowie, T. Rex, Slade) happening that was outwardly more about gregarious rock than mere introspective navel-gazing. One can't help but think Marilyn Manson went through several copies of the band's Batastrophe mini-LP all those years ago… >>>
THE FLOWERPOT MEN "Jo's So Mean (To Josephine)"

The duo of cellist Adam Peters and synth op Ben Watkins made their blip on the '80s radar with a song that ended up on the soundtrack to Ferris Bueller's Day Off ("Beat City"). Prior to that, they released three EPs of electronic propulsive club tracks, but this grinding little number about a dysfunctional (possibly same-sex) relationship owes more to Suicide's legendary "Frankie Teardrop" or Ministry's Twitch album, than the boo-scary vertical hair scene. The things that sound like electric guitars may very well be Peters' cello ramped up and overmodulated with a tone that most of your American noise-rock outfits would kill/die to achieve. These days, industrial-rock rivetheads probably have two or three CDs of Watkins' more recognizable project, Juno Reactor, but this writer remembers hearing this in clubs while trying to pick up Lillian Munster clones by offering them Sobranie Cocktail cigarettes.
INCA BABIES "Opium Den"

Most of the high-maintenance goths of the '80s dismissed these Mancunians as an uninspired rip off of the Birthday Party, the seminal outfit that gave the world Nick Cave. But if you ever heard the Inca Babies on a playlist after any song by the Cramps (which is how I got contaminated by them), the Babies make perfect sense on this list. Since their '80s heyday, the band reformed in 2007, released a single for U.K. Record Store Day in 2012, and released two albums, Death Message Blues (2010) and 2012's Deep Dark Blue. And they're always gonna be cooler than whatever pomade-abusing Americana act Paste is going to meow about.
JAMES T. PURSEY "Eyes Shine Killidiscope"

Mr. Pursey is well known as the frontman for first-gen Brit poonks Sham 69. But this track (recorded for the crucial goth compilation The Batcave: Young Limbs And Numb Hymns) is pretty great with Pursey's kinda-creepy vocals, a lone drum kit accompaniment and slightly sped-up demonette vocals. For some reason, this piece is capable of sending people who are baked into hysterical laughter or running for their lives. Which means it's cool as hell, obviously.
THE VENOMETTES "Dance Of Death"

Another great one from that aforementioned Batcave compilation, this string ensemble should be embraced by folks whose tastes in goth tend to veer closer to Emily Bronte's Wuthering Heights than, say, Beetlejuice. Anne Stephenson, Audrey Riley and Gini Ball were classically trained students who dug hanging out in the Batcave and listening to the new sounds. They wisely thought the audiences would dig what they were doing, so they started a string ensemble and ended up being club staples and in-demand session players. The ladies went on to form other bands, as well as contribute to recordings by folks such as Siouxsie And The Banshees and Marc Almond's post-Soft Cell project, Marc And The Mambas. The Venomettes helped instill the notion that like punk, "gothic" isn't a specific genre, but a way of thinking.
SEX GANG CHILDREN "Into The Abyss"

Another band that sound more concerned about punk than posturing, the Sex Gang Children liked to get all spooky, but they also brought a furious, crashing rock sensibility to their darkness. Andi Sexgang's sneering, psychopathic-mincing vocal makes him one of post-punk's unheralded characters. I listen to this track decades after the fact, and his vocals and the drunken tribal drum beat still sound as hard on the ears as ever—and I say that in the most loving, fuck-yeah way possible. Does anybody still attempt this kind of thing anymore?
KRENG Grimoire
Suggested Track: "Wrak"

This full album gets a nod by virtue of its ability to put a modern veneer on what exactly constitutes goth, ca. 2013 and beyond. The music on Grimoire takes assorted stylistic turns (moody rock, melancholy string ensembles, minimal jazz, room-clearing harsh electronics), creating that sense of darkness that's integral to the genre. Kreng is the moniker of composer/arranger/keyboardist/synth operator Pepijn Caudron, whose work can enhance a tragic love story or a splatter film, or dilate your pupils and your cervix. Play it loud while handing out candy at Halloween, and parents will knock it out of their kids' hands, under the suspicion you poisoned it.
[envira-gallery id="194688"]