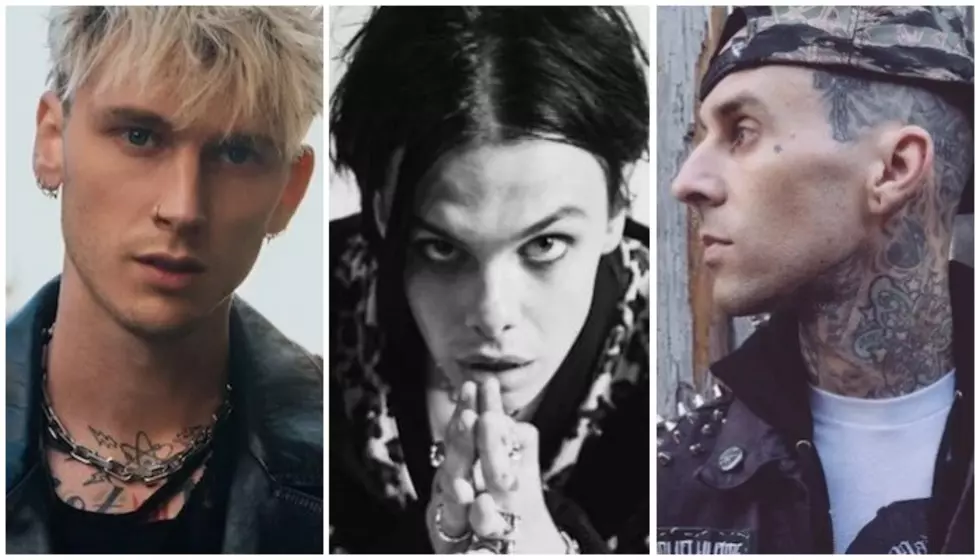 Hear YUNGBLUD, MGK and Travis Barker rejoin on their long-awaited collab
[Photos via Machine Gun Kelly/Alexandre Faraci, YUNGBLUD/Tom Pallant, Travis Barker/Jeremy Deputat]
YUNGBLUD has dropped a new track titled "acting like that" featuring Machine Gun Kelly with blink-182 drummer Travis Barker today.
The latest from YUNGBLUD marks the second song from the trio and is appearing on his forthcoming new album WEIRD!.
Last year, the trio dropped the platinum-certified smash hit "I Think I'm OKAY" and later collabbed with 24kgoldn for a cover of Sublime's "What I Got" for an episode of The YUNGBLUD Show.
They've also partnered with the Used's Bert McCracken for MGK's  Tickets To My Downfall track "body bag" this year. Now, they're offering fans more material with "acting like that" which they teased earlier this week and MGK says he's been using in his DJ sets for a year.
The English singer offered a statement on the track which you can read below.
"'acting like that' is a result of what happens when me, mgk and travis get together, the energy's electric and we write songs that amplify a feeling. this song radiates just going fucking nuts at your favourite show, a feeling that we all need right now. this song is about losing control and feeling free with your best fucking mates."
You can check out the new song in the player below. YUNGBLUD is also on a full-scale-production digital tour right now with a handful of remaining dates. The shows are set in specific cities but access to the event is not limited by location. You can learn more about those shows here.
Dates:
12/02 – Toronto, CA
12/03 – Chicago, IL
12/04 – Atlanta, GA
12/05 – Seattle, WA
12/06 – Los Angeles, CA
12/07 – Sydney, AU
The latest single arrives shortly after YUNGBLUD revealed his powerful new song "mars" off of WEIRD!. The new album arrives this Friday (Dec. 4) after facing distribution delays. You can pre-order it here.
What do you think of the new YUNGBLUD track with Machine Gun Kelly and Travis Barker? Let us know your thoughts in the comments below.