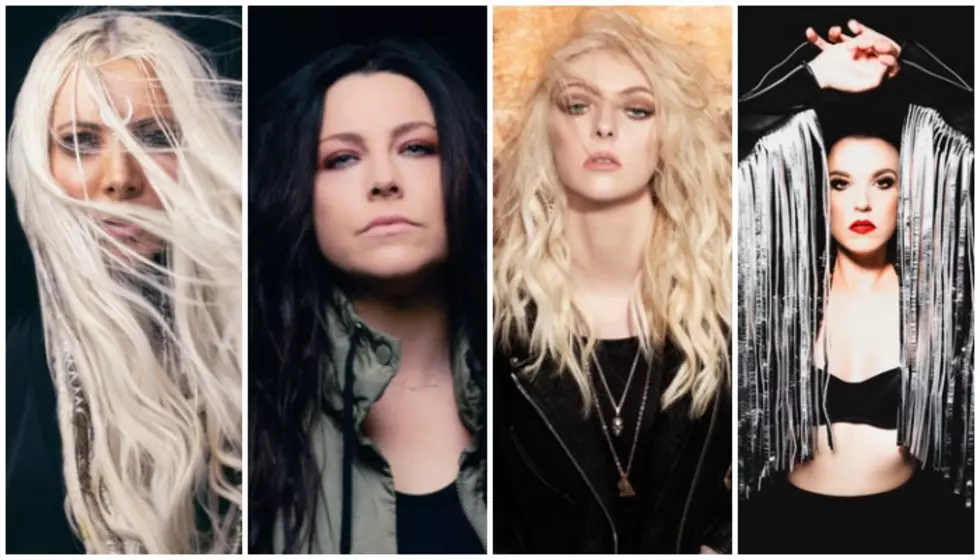 Taylor Momsen, Amy Lee, Maria Brink & Lzzy Hale discuss labels in music
[Photos: Maria Brink, Amy Lee, Taylor Momsen, Lzzy Hale/Joe Hottinger]
Before there was Amy Lee, Lzzy Hale, Taylor Momsen and Maria Brink, there was Joan Jett, Patti Smith, Poly Styrene and Kathleen Hanna. Generation after generation, these rock stars and others in their position have dreaded receiving what has become an inevitable label of "female-led," "female-fronted," "women in rock" or "female rock." While all of these talented individuals recognize their gender, none of them need a reminder of it—and furthermore, none of them need to be categorized into a nonexistent subdivision of rock music branded to keep women from reaching a certain level of success and stardom.
Through their talent and perseverance, each of them has pressed beyond societal limitations in their career field and has been dismantling the patriarchy that exists in the rock 'n' roll industry. Besides, rock and punk were created on the foundation of defiance and rebellion.
While Lee (Evanescence), Hale (Halestorm), Momsen (The Pretty Reckless) and Brink (In This Moment) have all linked together in some form through their spider web of connections and passion to tour together or collaborate with one another, they've remained supportive of each other and hopeful for the future of rock despite the healthy competition of working in the same genre. Regardless of their personal and professional battles with the unknown created by the pandemic, Lee (The Bitter Truth), Momsen (Death By Rock And Roll) and Brink (Mother) all released albums, while Hale has already made strides on her next body of work. Originally, this round table was intended to highlight the misogyny of the entertainment industry and focus on each artists' strengths. But after a raw and honest observation of this virtual gathering, we collectively shifted direction to the true resonance of women's empowerment.
I want to talk about how in the music industry, women are oftentimes made to feel like there's not enough room for women to be in music. But you all have worked to break that stigma. You support each other, you've worked together and some of you have toured together. How did you make sure to continuously do that, and why was it so important?
AMY LEE: I think it's funny because it goes along with giving men what they want, the feminism/sexism question of, "Why is there that stigma that women are going to fight each other and there's only room for one?" And there's always been this thought in my mind that that's actually a misogynistic idea because they want to see a catfight. They want us to mud wrestle. They want to imagine that we all want to just tear each other apart, and the clothes are coming off. [It's] this ridiculous thing because in life, of course, we've all definitely been around very competitive women that are tough to be around. I don't have friends like that. I don't know about you all, but it's hard to be around those girls. They're usually just really angry. But overwhelmingly, the people that we are and that we want to surround ourselves with are people that lift each other up, and we want to see each other do well. I need my women in my life. I need my girlfriends, my sisters, my grandmas. That means so much to have that understanding, support, friendship and camaraderie.
LZZY HALE: Well, Amy, it's funny because when I was tailing you in the music scene because you had blown the door open with "Bring Me To Life," and when we got signed and we were starting to pitch stuff to radio, I can't tell you how many times the radio program director would be like, "Well, we've already got one. We've already got our token girl on the rock radio."
LEE: Yeah, only one chick because that's a genre.
HALE: Exactly. That becomes disheartening to young women looking up trying to do these things. Of course, I'm like, "Well, that's ridiculous. I'm just going to keep doing what I'm doing." But to answer your question, the vast majority of women in this business, and in this genre specifically, all four of us support each other. We've worked together. We've toured together. We want to see each other succeed. We repost each other's music when it comes out because we are sisters. And that means a lot to us because of that very same question where we were coming up in the scene believing that, "Oh, we're all in competition, and we should be." And when we actually got here and arrived, that's really not true. And to Amy's point, any girl that actually thinks that way, it's just because she's been so incredibly beaten down and insecure about what she does. So she's in that mindset. 
TAYLOR MOMSEN: I don't disagree with anything either of you said, but I also think that competition is a good thing.
HALE: Well, there's definitely friendly competition.
MOMSEN: Yeah, but I also think that competition is something that forces you to examine yourself and make yourself better and pushes you forward. To say that there isn't competition, I think that that's a false statement. It doesn't necessarily have to come from a negative standpoint. We're all competitive here. We're all putting out our own records. I think competition is a really healthy thing. And I think it's a very necessary thing, especially in music. And I think especially when it gets related to women, people tend to equate that to girl fights. And it's like, "No." I love all you girls, and I'm very supportive of everything that you do. I think that it's healthy.
LEE: We want to be competitive in the same game [and] held to the same standards as all the guys. Competition isn't just between us. This isn't the circle of fighting.
MOMSEN: No, the competition is just the competition of the overall rock 'n' roll world.
LEE: Totally. And we've talked about that before, how it's really more about dropping the subject. I don't want the qualifier to be, "Hey, this is the female this. So give this some extra credit." Just drop it. I want to be the best because our music is the best, period. It doesn't have anything to do with anything else.
MOMSEN: 1,000%. I think that Amy just hit the nail on the head because, to me, we get asked, "What's it like to be a woman in rock?" And I'm like, "I don't know. It's the same." To me, it's like, "Who's writing the best songs? Who's putting out the best music? Who's making the best material?" That's who I'm looking up to. And it has nothing to do with their gender. In one way, I feel like the more we talk about it and the more we put a stigma on it, you're just prolonging the problem when really it shouldn't be a topic of conversation at all.
LEE: Before we started, I was thinking, women's empowerment is if we didn't talk about women's empowerment at all and actually spent this hour talking about our music and what we do.
I want to talk about music. Lzzy, I know you're working on new music. Amy, you've got a new album out. Taylor, you just put on an incredible album. And Maria, you put out an album in March 2020. Taking an album on tour, being onstage and being around the people that support you is an empowering feeling. How are you navigating not being able to take what you've put your blood, sweat and tears into out to your fans?
LEE: I especially like when you're making music, and I'm thinking about the show like, "Oh, this is going to be the cool part of the set when it all starts out, and the lights are low and then boom—the guitars come in, and then this happens." And that feeling of "I can't wait to do this" still exists. We're all in the same boat as everybody else that we don't know what's going to happen next and how long things are really going to take. But it's hard just because I miss that. You want that feeling. It's not just about praise. I want to see hands in the air.
MOMSEN: I think that, especially now in the crazy times we're living in, people need music more now than ever. I think music has such a healing quality to it. Withholding it till you can have that magical moment onstage again feels almost unfair to the fans. So that's why we decided to put our album out. But of course, as Amy said, you miss playing live. That symbiotic relationship that you have with the fans when you're onstage, it's for one moment. It's for one night. It doesn't exist virtually. But I think that we all have to remember, and that includes the fans and everyone, too, [that] as long as we're patient and do our part, it's gonna come back. Live shows aren't gone forever. When they do come back, it's going to be bigger and better than ever because everyone's been missing them so much that they're just going to explode.
HALE: Even when we started Halestorm when I was 13, we at least had two bowling alley gigs a month. [Laughs.] I've never gone this long without a live show. We're out on the road all the time, and we do consider ourselves, first and foremost, a live band. That's what we love the most. Not that we don't love recording and creating—that's a whole part of it. It's been really hard for me, actually, because I've had to look at myself in a different way. I've had to get to know myself again, and who am I without this? Who am I without the stage? Who am I without having that constant goal that, "OK, we're going on tour in eight days, for seven weeks?" It's always been that way. In one way, there is a silver lining to that because all of the songs that I was writing pre-quarantine and pre-COVID, we still have them, and we're still recording them, but I think it made me look at everything just a little deeper. 
MARIA BRINK: We were all scared and glued to the TV in the beginning, and I didn't know if it was The Walking Dead or what was happening. So I think that we just wanted to release it. We were nervous to do it. Our album cycle is over now, and we've never toured the album once. That's never happened to us ever. But I think it was a blessing, and then we wound up getting nominated for a Grammy. And we were like, "Thank God for all that." But I think everything in this has had its pros and then its cons. There have been really beautiful things, being able to be around my family and focus on the things in my home I never get to focus on. Like Lzzy was saying, finding things in myself, empowering myself, learning more about the music business, learning more about all of my numbers, all of my things. There have been a lot of powerful things like that. Some of the negatives for me are probably, psychologically, I do the type of music that I do to release a lot of my inner darkness or trauma or rage. In my everyday life, I'm very kind and sweet and caring. I don't walk around angry. So for me, that's like my real outlet onstage. I can release all the fire, and it doesn't explode and build up in me and make me crazy. 
I think that music will come out of this because I'm starting to write now, too. The best music in the world usually is written from pain and fear and the unknown. All these things that all of us are going through in this whole year with just the politics and Black Lives Matter and COVID-19, we're all filled with so many emotions that we're probably going to all write really good music. So that's the real positive thing that I think's been for all of this. Everything's about balance. We're all powerful, and we can find the good in all this.
This interview first appeared in Alternative Press 392, the Power Issue: Women Rising, which is available here.