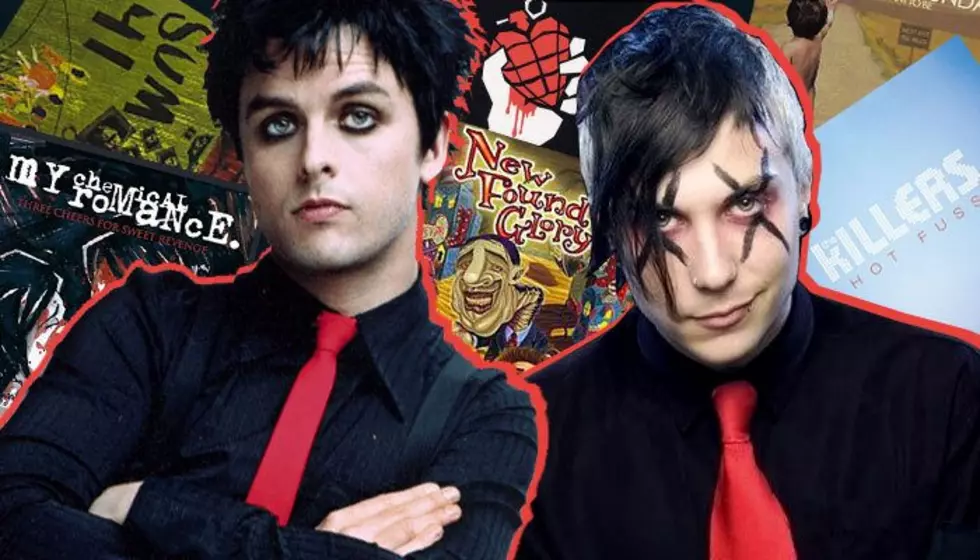 20 essential 2004 albums that proved the scene was here to stay
The 2004 alternative music community turned out to be a pivotal moment in time for scene bands. As the two previous years set the foundation for the genre, it quickly expanded. Musicians started to experiment more on albums with genres outside of emo, punk and pop. It was the year scene music established that it was here to stay. 
The opportunity for success in the genre was made possible as scene bands started signing to major labels and their tours broadened past the United States. This type of music went worldwide, and there was nothing stopping it from continuing to grow. With the combination of the onset of the social media boom and going mainstream, scene bands set the tone in 2004 for the years to follow. Here are the best scene albums from that year. 
Alexisonfire - Watch Out!
Debuting their second album, Alexisonfire took the opportunity to make Watch Out! their own thematic free for all. Topics range from drug addiction ("White Devil") to Linda Blair's role in 1973 horror favorite The Exorcist ("That Girl Possessed"). The band utilized a slew of topics to establish an emo and post-hardcore sound that wasn't entirely personal. Alexisonfire showcased that scene music could be about everything and anything, including your past, favorite film or even go-karting. 
Avril Lavigne - Under My Skin
In her second album, Under My Skin, Avril Lavigne showed an all new side to her music. Much more complex than her first album, it featured darker concepts of feeling lost and alone, such as "Nobody's Home." With deeper emotional lyrics and a punk-rock sound, Lavigne moved beyond her teenage pop-punk persona and matured into a fully fledged alternative music icon. 
Bayside - Sirens And Condolences
Bayside's debut Sirens And Condolences took influence from their emo predecessors in their lyrics with the added prospect of hope. With soft melodic tones, they established a new form of reflection that offered an upward look toward a bright future. While maintaining 1990s emo tonality, they created music that flawlessly blended emo with pop-punk elements. Bayside's first album based its sound in internalized thoughts, resulting in an unforgettable record. 
Bowling For Soup - A Hangover You Don't Deserve
Veterans of the music scene Bowling For Soup released their fifth album, A Hangover You Don't Deserve, in 2004. The album features classic pop-punk sounds that they had spent years perfecting. Bowling For Soup became known for mixing comedic lyrics with melodic pop to produce albums that challenged the status quo. With songs such as "Almost" and "1985," A Hangover You Don't Deserve is an album we'll never forget. 
From First To Last - Dear Diary, My Teen Angst Has a Body Count
From First To Last debuted their post-hardcore and emo sound with Dear Diary, My Teen Angst Has A Body Count. Before he was known as Skrillex, Sonny Moore fronted the angst-driven band and used his vocal talents to express feelings of heartbreak and anger. They quickly became known for their intensity in songs such as "Emily" and emotionally devastating ones such as "Note To Self." With their use of emo lyrics, post-hardcore sounds and bitter screams, Dear Diary became a blueprint for the scene. 
Good Charlotte - The Chronicles Of Life And Death
In 2004, Good Charlotte went full throttle with their darkest album to date, The Chronicles Of Life And Death. If the title didn't give it away, the album focuses on the concept of life's beginning, its in-between and end. They utilized the sounds of British punk rock, goth rock and emo mixed with their pop-punk background to create an album with songs to dance to such as "I Just Wanna Live" and ones to cry to such as "We Believe." Good Charlotte's third album was a fully realized body of work that recognizes the good, the bad and the mundane aspects of life in a way that pleases sonically.
Green Day - American Idiot
Punk veterans Green Day released their seventh album, American Idiot, as a concept album. It follows the story of a lower-middle-class adolescent as he comes of age during the Iraq war.  A tour de force of a record, it put Green Day on the map as a band who will go down in history as one of the greats. Featuring songs that span anywhere from three minutes to nine minutes such as "Jesus Of Suburbia," American Idiot is an integral album to the history of alternative music. 
Hawthorne Heights - The Silence In Black And White
It's undeniable that the first album from Hawthorne Heights, The Silence In Black And White, is integral to the history of scene music. Iconic songs such as "Ohio Is For Lovers" and "Niki FM" set them apart from any other band at the time. Their sound was deeply entrenched in elements of the gothic and emo, but Hawthorne Heights were much more than that. They offered components of hardcore with breakdowns in the middle of JT Woodruff's vocals that declared feelings of yearning. Then abrupt screams would intertwine with them to establish true commitment behind the lyrics.
Jimmy Eat World - Futures
On Futures, Jimmy Eat World explored feelings of hopelessness with songs such as "Pain" and "Kill." The album represented the band's desire to move past their old sound toward one that was more emotional and raw. They used elements of punk, emo and alternative rock to capture the future of their sound.
The Killers - Hot Fuss
The Killers made an unforgettable entrance into the alternative music scene with their debut album, Hot Fuss. They were influenced by new wave and post-punk when conceptualizing their sound, and it shows. With singles such as "Mr. Brightside" and "Somebody Told Me," the Killers became an instant success. Their lyrics were self-reflective and accompanied by dance-worthy instrumentation, making it one of the most influential and creative albums of the century. 
Midtown - Forget What You Know
Midtown's third and final album, Forget What You Know, reflects where the band were at in their career. The sounds are virtually all over the place to establish a moment of disorder that accompanies an abrupt change. Midtown were losing momentum, and lead vocalist Gabe Saporta was ready to move on. Regardless, they went out with a bang on their final record. They embraced their emo roots by emphasizing the harshness of reality but with amplified momentum and intense energy. 
My Chemical Romance - Three Cheers For Sweet Revenge
Following the success of their first album, My Chemical Romance took the alternative community by storm with their second record, Three Cheers For Sweet Revenge. It demonstrated the growth the band made both lyrically and sonically as they merged emo, punk and post-hardcore to create one of their most iconic albums. Gerard Way conceptualized the album as a horror story with music videos for "The Ghost Of You" representing the terrors of war and "I'm Not Okay (I Promise)" as the emotional hell of high school. Three Cheers For Sweet Revenge has stood the test of time for its inventive storytelling and a unique sound only My Chemical Romance could create.
New Found Glory - Catalyst
With aggressive, heavier sounds, New Found Glory released their fourth album, Catalyst, which represented everything they were and wanted to be as a band. Hardcore punk heavily influenced the record. The band pulled on this in songs such as "All Downhill From Here" and "Failure's Not Flattering." While giving the guitar parts a bigger sound, they also implemented new instruments into the lineup such as the keyboard. Overall, Catalyst was a power-packed album charged with personal drive toward creating tracks that represented the band as a whole. 
Senses Fail - Let It Enfold You
Senses Fail's first album, Let It Enfold You, was heavily inspired by literature and poetry. Charles Bukowski's poem of the same name even influenced the record's title. At the time, they were heavily influenced by emo's fervent lyrics and post-hardcore's explosive vocals. By mixing the two together, Senses Fail's debut album showcased the band's sensitivity toward intense topics alongside their carefree attitude. 
Simple Plan - Still Not Getting Any
The second album from Simple Plan, Still Not Getting Any, proved that the band could carry their youthful rowdy sound over from the first album while providing listeners with a desire to grow beyond it. With a mix of pop-punk and emo, the record offers somber reflections on loss with "Untitled" and takes a turn toward the carefree nature of youth in "Jump." Half of the record is composed of upbeat pop-punk essentials alongside sorrow-filled songs that make its entirety a roller coaster. 
Sugarcult - Palm Trees And Power Lines
Conceptually, Sugarcult's Palm Trees And Power Lines represents the beauty of the world juxtaposed with harsh realities. With pop-punk and power-pop elements, they created upbeat tempos with thoughtful lyrics about traveling, touring, relationships and mental health issues. Palm Trees And Power Lines is a deep meditation on how even light can shine through dark days. 
Sum 41 - Chuck
Before their third album, Chuck, Sum 41 were known for their rowdy personas and classic pop-punk sound. When they released this album, though, it showcased a newly evolved band who were more mature. Chuck featured darker themes and was heavily influenced by heavy metal, punk and alternative rock. With songs such as "We're All To Blame" and "Pieces," Sum 41 showed the world every aspect of their range and talent. 
Taking Back Sunday - Where You Want To Be
Taking Back Sunday's Where You Want To Be expanded their musical stylings. They introduced more pop punk into their emo roots and melodic hardcore sound as well as amplified vocals that intensified feelings of yearning. The album produced two successful singles with "This Photograph Is Proof (I Know You Know)" and "A Decade Under The Influence." Overall, it was a powerful record that set the tone for where emo was and where it planned on going. 
Underoath - They're Only Chasing Safety
While other bands were developing their own sound, Underoath were working on maturing theirs. Their fourth album, They're Only Chasing Safety, highlights how they were able to perfect a post-hardcore sound while shifting toward screamo and melodic hardcore. Nearly every song on the album discusses concepts of death, dying and the anxieties that accompany the fear of life's end. With vocals from Aaron Gillespie and Spencer Chamberlain, songs such as "It's Dangerous Business Walking Out Your Front Door" perfectly encapsulate acceptance and fear as they ping-pong between soft vocals and all-out screaming. They're Only Chasing Safety established the band as virtuosos.
The Used - In Love And Death
The Used's second album, In Love And Death, is deeply emotional and personal. The album's title and lyrics were all inspired by the tragic death of Bert McCracken's pregnant girlfriend. With brutally honest and emotionally raw energy, In Love And Death became their most successful album. It ranges from acceptance, regret, remorse and reflection with stylistically emo lyrics and rock sounds.