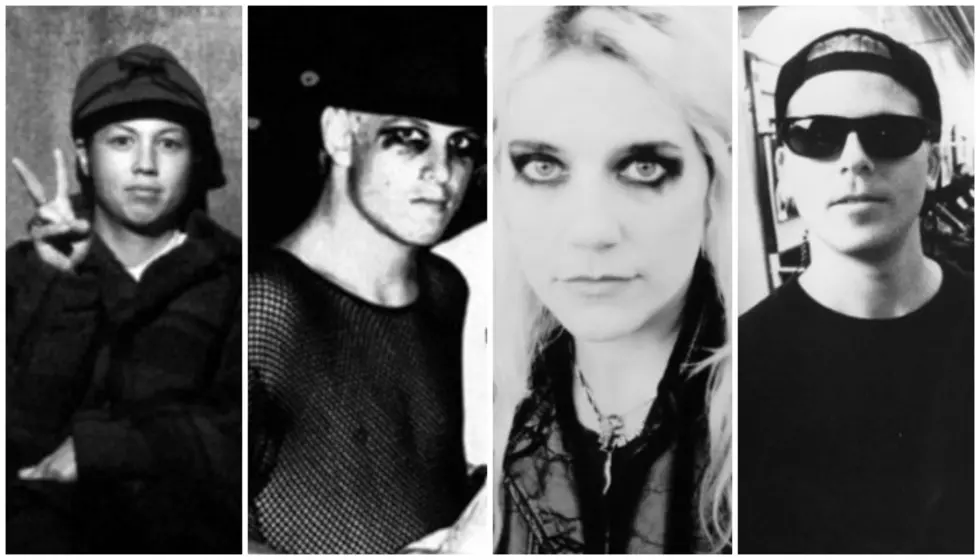 15 punk albums from 1992 that thrived in the era of grunge
[Photos by: Fastbacks/Spotify, Social Distortion/Spotify, L7/Spotify, The Offspring/Spotify]
The mood of 1992: "We won!" Nirvana's Nevermind sold by the truckload hourly. All anyone could talk about was alternative rock and grunge. Record biz execs walked around that spring's SXSW convention in Austin in floppy, artfully unwashed hair, just-purchased flannel shirts and ripped jeans. You'd pass a line of them in the parking lot of the downtown hotel where it was then hosted as they snuffed out their cigarettes, exhaled plumes of smoke and arrogance and announced, "We've got the next Nirvana." It was all you could do to hold down the morning's breakfast tacos.
This was dangerous thinking. Major labels were throwing around massive amounts of cash. Bands accustomed to cramming into exhaust-leaking cargo vans with their pawn shop amps, playing to 10 people in a Dubuque bar on a Tuesday and sleeping on a filthy floor in a trashed-out house now ate lobster with Columbia Records rather than gas station ramen. Some good records came out of this carpetbagging. More often than not, the records eventually ended up lining 99 cent bins, the band members working at a 7-Eleven and pawning last year's label-bought guitars after having their rent paid for a year. 
L7 and eventually Rocket From The Crypt benefited from the majors' largesse. The underground continued to produce raw and wild punk rock and its various mutations. Just ask comparatively primitive youngbloods like the Mummies, New Bomb Turks or the Gits. Social Distortion were getting modest hits now, leading to a steadier, lengthier career than most after years of those shitty-van-and-ramen tours. Other vets, such as the Ramones or Poison Idea, rolled along, seemingly impervious. Meanwhile, poppier bands like Bad Religion, the Offspring and NOFX were two or three years away from massive commercial rewards. Such are the riches provided by 1992's top 15 punk albums.
Bad Religion – Generator
The Kings Of Melodic Thesaurus-Core's sixth studio LP was supposed to drop in 1991. A year-long battle over artwork and packaging held it up, with several ideas tossed in Epitaph Records' dumpster. What finally emerged in that weird, gray-tinted sleeve depicting someone's hand in front of four long bird feathers were their first recordings with new drummer Bobby Schayer. Some subtle changes in direction entered the picture, too. "Two Babies In The Dark" and "The Answer" downshifted to midtempo, rendering them practically ballads in Bad Religion's world. The dark anti-nuke "Atomic Garden" was filmed for their first music video.
Social Distortion – Somewhere Between Heaven And Hell
It was a long road from Mommy's Little Monster to the Billboard 200. But the fourth Social Distortion studio album's two breakout singles, "Ball And Chain" and "Story Of My Life," finally got them there. Mike Ness and crew seemed to hit the sweet spot, balancing their old mascara-and-Aqua-Net punk with Johnny Cash-oid two-steppers. The key? Ness' ever-developing songwriting. He had an eye for chronicling life's underside, telling simple tales of the down-and-out struggling in a harsh world. But his characters always found some degree of redemption, as in the best country songs. This quality struck a deep universal chord.
NOFX – White Trash, Two Heebs And A Bean
These '80s popcore jokers were now four albums into their Epitaph Records contract. Appropriate, considering leader/bassist/singer Fat Mike received his Damascene moment—punk could be melodic—from Bad Religion's Suffer. The only thing from BR they didn't receive was a social conscience—that came with the George W. Bush presidency. No, their fart-and-dick-joke sense of humor still held at this point (witness this album's title, which, initially, was more offensive). But NOFX's nursery-rhyme melodies, double-time drums and octave-rich guitar lines became a big influence on future pop-punks such as blink-182. So did their frat-boy sensibilities.
The Gits – Frenching The Bully
The Gits were Seattle's answer to the Ruts: They burned like 1977, with chops imbuing their ferocious, raw punk with a deceptive sophistication. Certainly, singer Mia Zapata's angry charisma and commitment to social justice made her an analog to the Ruts' Malcolm Owen. They stood out in a grunge-saturated Seattle from the moment they arrived from their native Yellow Springs, Ohio, where they'd all met at Antioch College. They had a knack for anthems such as "Another Shot Of Whiskey." Others, including "Here's To Your Fuck," erroneously branded Zapata a riot grrrl. "Force of nature" is more like it.
These OC skate-rats were two years and one album away from becoming the first punk band on an indie label to go multi-platinum. At this point, Bryan "Dexter" Holland, Kevin "Noodles" Wasserman and crew were having a hell of a time convincing Brett Gurewitz that they were Epitaph Records material. The Baghdad EP, cut with veteran producer Thom Wilson (Adolescents, Dead Kennedys, D.O.A., Social Distortion) convinced him to give 'em a shot. Propulsive singalongs such as "Take It Like A Man" were pure 1981 joyrides—raw, tight and melodic. All they needed was a beefier, radio-friendly production and they'd be Top 40-bound.
Rocket From The Crypt – Circa: Now!
Led by ex-Pitchfork guitarist John "Speedo" Reis, San Diego's Rocket From The Crypt traded in his former band's post-hardcore for sweaty, high-concept garage punk. They favored matching outfits, a '60s soul review presentation, issued a million singles with seemingly every indie in the U.S. and granted free gig admission for life to fans bearing tattoos of their logo. Their second album was recorded at Westbeach Recorders as the L.A. riots raged around the studio. Under police orders to remain in the studio, they emerged four days later with the completed Circa: Now! It's the bridge between MC5 and Nation Of Ulysses.
Manic Street Preachers – Generation Terrorists
This writer was the first American rock journalist to interview these Welsh Situationist glam punks, for this very magazine. They'd stained 1991 England in white jeans, women's blouses spray-painted with slogans such as "LONDON DEATH SENTENCE HERITAGE," smudged eyeliner and Johnny Thunders haircuts, quoting more outlaw authors than a Smiths picture sleeve. Explosive singles such as "Motown Junk" and "You Love Us" mixed 1978 Clash with Hanoi Rocks, featuring lyrics sounding like those blouse slogans. Guitarist/lyricist Richey Edwards gave an interview as his band cut this very Guns N' Roses-like album in the next room. Three years later, he would vanish.
L7 – Bricks Are Heavy
L7 were getting better with every record. The previous year's Smell The Magic for Sub Pop was the definitive grunge record of all time, down to its thick Jack Endino production. Now on Warner-distributed Slash Records—home of L.A. punk leading lights X, Germs and the Gun Club a lifetime ago—they had the cash to hire Butch Vig, producer of Nirvana's Nevermind. What emerged from the future Garbage member's Smart Studios in Madison, Wisconsin, sounded like a smarter, feminist Mötley Crüe record. Yep, this was feminist metal, heavier than the titular bricks. Let's go for boulders! 
Lunachicks – Binge & Purge
These feminist punk queens emerged with 1990's Babysitters On Acid. The second LP was similar: A Hanna-Barbera riot of stripped-down Ramonic energy, metal riffs, MC5 blitzkrieg lead work, glam-rock razzmatazz, glitter glue and fluorescent fingerpaint and cake frosting. Binge & Purge enjoyed a more sympathetic production, full of crunchy upper-midrange sweetness. Singer Theo Kogan's clear alto soared above Sindi Benezra and Gina Volpe's roaring guitars in the mix. This allowed her message—skewering the beauty process and rejecting women's negative self-images of their bodies—to ring loud and clear. The record's anthem? "Superstrong": "Don't touch me in the street!"
The Mummies – Never Been Caught
Introducing San Bruno, California's kings of "budget rock"—deliberately crude, lo-fi garage punk, recorded in one take on a four-track cassette deck, mixed to mono, played on the cheapest instruments they could score at garage sales. The Mummies dressed in tattered bandages a la Boris Karloff and had one of the wildest live shows you'd see—arriving in an ancient hearse, rolling across the stage, singer Trent Ruane leaning his dilapidated Farfisa organ over until the electronics hung out. This was their sole true studio LP, unavailable via Spotify. Check out the YouTube link above to hear raucous, beer-drenched fist-pumpers such as "Stronger Than Dirt."
Poison Idea – Blank Blackout Vacant
America's most brutal punk band shred guitarist Aldine Strychnine after the release of their absolute classic LP, 1990's Feel The Darkness. This precipitated the return of Craig "Mondo" Lower opposite founding six-stringer Tom "Pig" Champion. Drummer Steve "Thee Slayer Hippie" Hanford's production expertise ensured Poison Idea records were as loud and clear as any metal band's, and more aggressive. They were also more musically imaginative: Few bands who emerged from hardcore would've had horns on "Forever And Always." Honoring Thunders' April 1991 death, they closed the LP with a beautifully faithful rendition of the New York Dolls' "Vietnamese Baby."
A new decade, a new label (Radioactive, distributed by MCA) after 15 years on Sire and a new bassist (CJ Ramone) for punk's premier band and standard-bearers. Longtime producer Ed Stasium returned after being absent from the last three studio albums. A good thing—he likely was the one who knew best how to record the Ramones. They continued the maturation process that had begun with 1984's Too Tough To Die, including an ill-advised Doors cover ("Take It As It Comes") and hardly any humor. The now-departed Dee Dee provided the three best songs, the CJ-sung "Strength To Endure" being the highlight.
Sub Pop was flush from points Nirvana provided on the bajillion-selling Nevermind. So as Seattle's premier indie propagated the grunge gospel worldwide with newfound Nirvana loot, they also quietly continued signing punk standard-bearers. These Tucson transplants set themselves apart quickly: no flannel, matching Les Paul Goldtops, arena-rock showmanship on a club stage and a blitzkrieg attack that sounded like Ramones, Angry Samoans, Misfits, MC5, Thin Lizzy and ZZ Top in a Waring blender set on "thrash." But the Supersuckers had fistfuls of catchy hymns such as "Coattail Rider" and a slambang stage show that quickly made 'em nationwide club headliners.
"Not only have both prole-threat punk bashery and destructo-rock found fresh voices—they've been melded into a seamless new terror all its own." Your Humble Narrator wrote that of this album for this very magazine upon its release. Scuzz-punk businessman Tim Warren of Crypt Records sent an advance tape that arrived the day before Election Day '92. The explosive mix of garage fuzz, hardcore overdrive and hyper-intelligent songwriting burned holes through an alternative-rock scene rapidly growing smug and self-congratulatory. How can one imagine themselves a rock star after Eric Davidson aimed both barrels of the viciously working class in "Born Toulouse-Lautrec"?
Fastbacks – The Question Is No
For a compilation, the Sub Pop long-playing debut of Seattle's premier old-school melodic punk institution was surprisingly cohesive. Fifteen tracks spanning 12 years and five drummers, including a teenage Duff McKagan, The Question Is No ably displayed Kurt Bloch's deft balance of his love of Buzzcocks and Generation X with '70s rock guitar solos. The genius was especially evident in his songwriting, which somehow applied teenage angst and confusion with grown-up hopes and fears and an eye for the commonplace. But the best part of this comp was its inclusion of the single best Fastbacks song, 1991's aching, beautiful "Impatience."