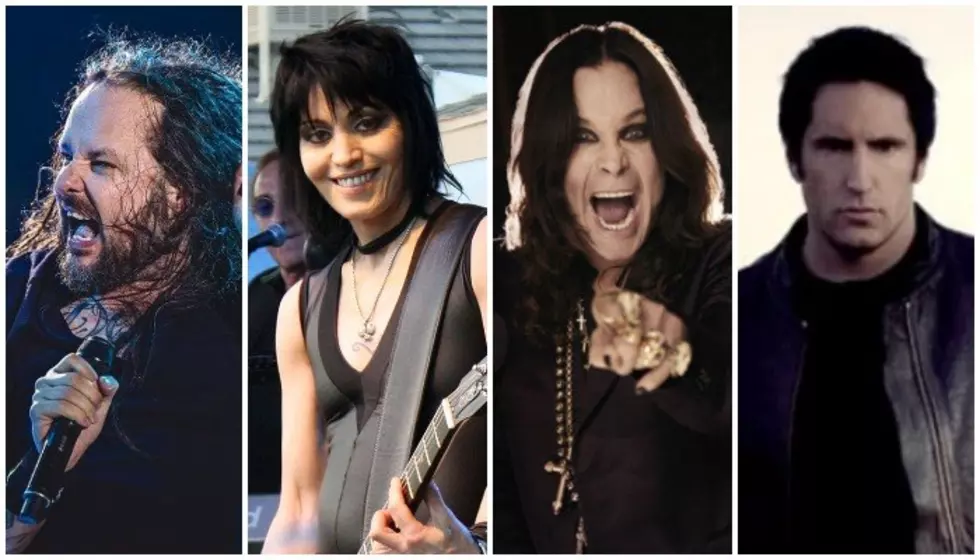 30 classic discographies to immerse yourself in while at home
[Photos by: Korn/Joe Banker, Joan Jett/Jessie Terwilliger, Black Sabbath/Spotify, Nine Inch Nails]
While everyone is self-isolating, we're all looking for ways to fill our time. Why not spend it digging into some of the classic bands you've always been meaning to learn about but haven't been able to?
With the amount of spare time everyone has, sitting down and listening to an iconic band's entire discography is completely possible without missing out on anything, so we're offering up a list of some of the best musicians to study up on while the world sits in place. 
Take a look below for 30 acts you should listen to while practicing social distancing.
The Melvins 
Most people know the staples of the grunge scene such as Nirvana, Alice In Chains or Soundgarden, but the Melvins always seemed to stay an underground act while consistently pumping out top-notch music. They have over 20 studio albums, various EPs and even more material to pick through via their many singles, so there's plenty of music to keep you busy. 
Black Sabbath 
Black Sabbath are the definitive beginning of heavy metal as a genre, and even though most people know their staples, they have a ton of material that's often overlooked. From their albums with Ozzy Osbourne to all of their material with Dio, there's dozens of records to check out. Plus, you can listen to their records with vocalists Ian Gillan and Tony Martin to discover what the band sounded like without the main faces behind the music. 
Iron Maiden 
Similarly to Black Sabbath, Iron Maiden have long been an essential group for anyone discovering heavy metal. They're one of the most iconic bands to exist in the genre, and with 16 full-lengths and 45 years of history to pick through, there's plenty of material to get to.
Black Flag 
Black Flag's influence on hardcore and punk is undeniable, and if you haven't explored their discography beyond Damaged, you're really missing out. They've cycled through dozens of members across their career, and along with the varying changes, they explored many different sounds beyond their typical hardcore-punk structure that are worth hearing. 
Misfits 
Misfits are one of the all-time-classic punk bands to check out, and going beyond their greatest hits is well worth the effort. Even beyond the Glenn Danzig era of the band, there's some gems on the albums featuring Michale Graves. Despite the Jerry Only-led material being fairly lackluster, it will make you appreciate everything that came before even more. 
Converge 
Few bands have been as influential to modern hardcore and metal as Converge. Dedicated fans know their '90s albums are often overlooked but equally as great as their newer releases, and listening back to any of their records, you can see where so many acts get their sound and style from. 
Deftones 
Deftones are easily one of the best bands to come out of the nü-metal scene. As the subgenre lost its popularity, leading to most bands falling into obscurity, they managed to evolve into a newer sound. Their discography is great to go through as you see them move from scrappy nü-metal underdogs to their ambient alt-rock-leaning tendencies to reintroducing heavy elements in the past decade. 
Nine Inch Nails 
Trent Reznor's career is a trip to listen to between his work with Nine Inch Nails and the countless movie scores he's done. Their discography moves through a vast range of sounds, including the industrial electronics in their early days to the more rock-oriented sound they picked up at one time to the ambient droning mass of more recent releases. 
Depeche Mode
Depeche Mode were a huge component pushing the new-wave scene forward, so if you're into '80s electronic sounds, there's really no better band to deep dive through. Their discography is dense with over a dozen albums and a ton of other releases to pick through, offering up plenty of content to check out. 
Suicidal Tendencies 
There's a lot more to Suicidal Tendencies than their self-titled album and the handful of songs that broke big across their career. From their crossover from punk to thrash metal and their mixing of funk elements in the '90s to their ability today to mix all styles together, their discography is filled with gems, and it's a ton of fun to watch evolve.
Faith No More 
Mike Patton's entire musical career would be worth digging through if you want to check out the never-ending stream of projects he's participated in, but Faith No More are the perfect place to start. They are hugely influential to so many rock and metal bands, and their discography shows an evolution through experimentation that's captivating. 
Dead Kennedys 
Dead Kennedys were a huge part of pushing politics in the hardcore-punk scene. While they didn't last long with their classic lineup, their discography is a worthy one to check out. Their history and influence are almost as great as the songs they actually wrote. Getting through their four full-lengths plus numerous other releases is a quick, rewarding way to learn some much-needed knowledge on the early days of punk. 
Sepultura 
While other thrash bands of the '80s were getting massive attention as a backlash to the glam-rock scene in Los Angeles, Sepultura were bringing a harsher sound over in Brazil by leaning into death metal before it was a thing. They have a mass of records to choose from, and while they've had some significant lineup changes in their career, they've still stayed true to their sound. 
Sick Of It All 
New York hardcore legends Sick Of It All are an integral part of heavy music's history. With 12 full-lengths under their belt, there's plenty of music to go through. From their raw, early recordings to their modern hardcore bangers, they have excelled for more than three decades. 
Sonic Youth 
Sonic Youth's presence is felt in just about any punk, indie-rock or grunge-leaning band today, and that's completely due to their excellence in leading experimental music. The legendary grunge act spawned 15 records across their time together. If you're looking to find the root of most noise-rock bands' sounds coming out today, they're a huge aspect of it. 
The Cramps 
The New York punk-rock scene wouldn't have been what it became without the inclusion of the Cramps. They were a vital aspect of developing horror punk, and their legacy lives on today in the heart of so many modern garage-rock and psychobilly acts.
L7 
The grunge scene was filled with great bands, and L7 were strong contributors to both feminism and music throughout their time together. Not only can listeners get a taste of some vital pieces of music history with their back catalog, but they returned with a new record, Scatter The Rats, in 2019. There are some modern sounds to discover once you've picked through everything else they've done. 
Bad Religion 
Punk icons Bad Religion have been championing the scene for decades, and their push for political movements in their lyrics are important to listen to. With 40 years' worth of music to dive into, there's definitely no shortage of songs to check out, and they've been consistent all throughout their career.
Beastie Boys 
Beastie Boys are lauded for their contributions to expanding hip-hop, but it's often forgotten how they influenced punk music. The trio started out in this scene before shifting their focus to punk-leaning hip-hop, and the crossover between the two has lived on to this day. 
Korn 
While nü metal became one of the most hated movements in heavy music as it came to an end, not every band from that scene was awful. Korn are one of the few to truly stand the test of time. They created something entirely different from what came before them, and their willingness to evolve their sound across 13 albums shows they are still doing more to build a movement through their music. 
Judas Priest 
Along with groups such as Black Sabbath, Iron Maiden and others, Judas Priest are legends within metal and helped shape decades' worth of music. Beyond the hit songs most people know, they built their sound into a colossal prog-rock-leaning giant while developing their songwriting instead of rehashing the same thing time and time again. 
Ministry 
Ministry are one of the pioneering bands of industrial metal, so if you've ever been curious about the genre, there's no better place to start. They have pumped out over a dozen records, numerous live albums, compilations and more, providing more than enough material to discover until you've decided to move on to the rest of the scene. 
Napalm Death 
Napalm Death are one of the earliest acts in grindcore and have been a massive influence on death metal, punk, hardcore and extreme metal as a whole. They have shifted their members a lot while moving through other notable bands in metal, but their discography is near perfect from their earliest releases all the way to today. 
Slayer 
There's no band who captured the essence of thrash metal in the same way as Slayer. Their extreme fanbase shows the dedication people have for them, and even when they didn't put out their absolute best material, it was still beating what others were capable of doing at the same point in time. 
Motörhead 
The embodiment of the rock star lifestyle lives on through Motörhead's music. Despite most people only knowing "Ace Of Spades," their entire catalog was consistently strong. With nearly two dozen albums under their belt prior to the death of Lemmy, there's a seemingly never-ending stream of music to get through to see how they perfected their sound. 
Propagandhi 
Canadian political punk legends Propagandhi are one of the country's greatest exports, with a solid catalog of music pushing positive movements within political action. They have fought for feminism, human rights, the working class and more all throughout their career and are still producing incredible pieces of music today. 
Bad Brains 
Afropunk legends Bad Brains are an essential part of hardcore's history, and their innovative take on mixing punk and reggae is unlike any other. Their importance to diversity in hardcore coupled with some of the most influential songwriting of the early days makes them a must-listen band.
Queen 
Few rock bands are as iconic as Queen. Their presence in the mainstream is undeniably massive, and their overarching discography along with solo works from various members solidified them as one of the most important groups to ever exist. 
Blondie 
Blondie were a huge proponent of bringing women to the forefront of music, yet they never got the amount of respect they deserve. Not only have they been an incredible part of punk and rock music, but they were also the first band to ever have a rap song go No. 1 in the U.S. and contributed to pushing that scene forward. 
Joan Jett/The Runaways
Whether it's her solo work or contributions to the Runaways, Joan Jett has been an icon in music for decades and has inspired countless musicians. With dozens of records to listen to and various appearances on other musicians' recordings, her presence is felt in so many sides of music. It's a worthwhile way to spend some time learning about music history.