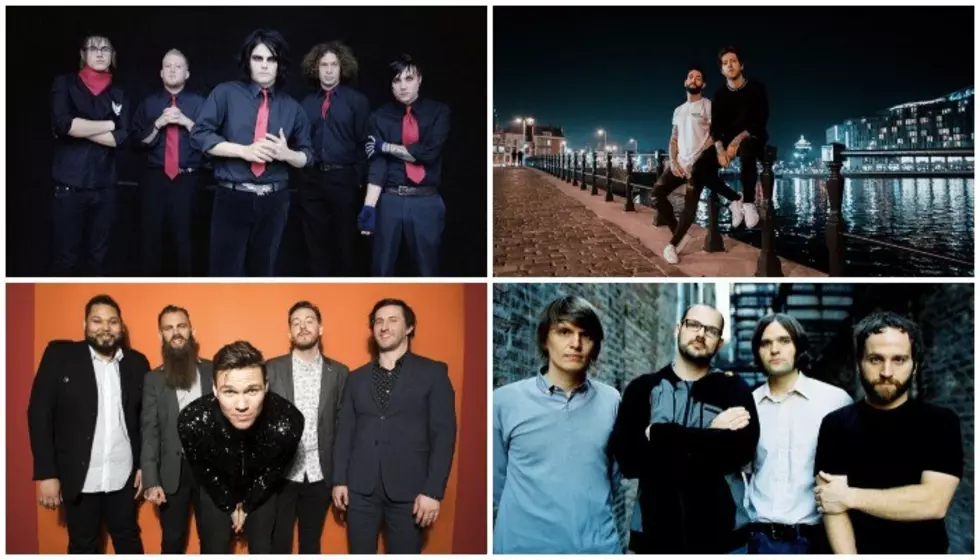 10 songs that are actually kind of creepy if you listen closely
[Photos via Spotify]
If you're listening to a new tune for the first time and not really paying attention to the lyrics, it's easy to get sucked into the track without registering what the words mean. On a second or third listen, however, you may find some of those songs may be a little disturbing and creepy. 
For all those times you were taken aback by a song after you really digested it, here's 10 tracks you didn't realize were actually quite creepy.
1. Papa Roach – "Last Resort"
Being Papa Roach's most popular song, you would think it'd be easy to hear the underlying meaning of the words. However, with people constantly parodying the lyrics in exchange for online fame (including them), it's easy to forget that the track is pretty graphic with lyrics such as "Do you even care if I die bleeding?/Would it be wrong? Would it be right?/If I took my life tonight." As the song goes on, it's a steady spiral into a creepy madness and dark thoughts. Now, is that going to stop us from absolutely raging to it? Probably not. 
2. My Chemical Romance – "Teenagers"
"Teenagers" is one of My Chemical Romance's most well-known tracks, and for good reason. While it's catchy and easy to dance and sing to, it also tackles the subject of violence in today's youth, making it much more complex than it lets on. "It's a topic that's so important to our culture," Gerard Way said in an interview with NME. "It's about a really big problem in America where kids are killing kids."
3. Famous Last Words – "Welcome To The Show"
"Welcome To The Show" is the introduction to Famous Last Words' first concept album, Two-Faced Charade. A man has fallen in love with the girl next door and will do just about anything to have her. Sounds like it'll be all right, but you're wrong. He begins stalking her, watching her through the windows and slowly losing his sanity.
4. Crown The Empire – "Johnny Ringo"
Crown The Empire begin a descent into hell with the first installment of their "Johnny Trilogy." The track starts with a dying soul being offered a second chance at life and contains a conversation between that person and another being, later revealed to be Satan himself. There's not much worse than dealing with the devil, a lesson that dear Johnny learns too late.
5. Foster The People – "Pumped Up Kicks"
"Pumped Up Kicks" was the song of the summer back in 2011. Whether it was radio, television or your friend's playlist, you heard it everywhere, but the meaning hiding beneath the pop beat of the Foster The People track is pretty dark. The lyrics are centered around the thoughts of a student who's daydreaming of a school shooting. Frontman Mark Foster revealed in an interview with NPR that he wanted to know "what would it be like to be inside of a kid's head that's a teenager and is basically losing his mind."
6. Breathe Carolina – "Get Off Easy"
"Some things are just in pretty packages," former member of Breathe Carolina Kyle Even revealed to AP in a track by track of the Hell Is What You Make It. "This one, however, is a Pandora's box…" Looks can kill, but that doesn't mean they allow you to get away with murder. In the case of this song, the villain ends up turning into a victim. 
7. Hail The Sun – "Disappearing Syndrome" 
Hail The Sun's "Disappearing Syndrome" takes inspiration from the disappearance of Elisa Lam. She was last seen in a hotel security video where she was exiting and reentering an elevator, talking to herself; the elevator also seemed to be malfunctioning. She was later found in one of the building's water tanks. "[It's a] chilling and eerie case," guitarist Aric Garcia says in a Reddit AMA. "Especially the fact that her body water was flowing through the water pipes and people were drinking and showering in that. Really adds to the creepiness of the whole thing."
8. Death Cab For Cutie – "I Will Follow You Into The Dark"
Death Cab For Cutie's "I Will Follow You Into The Dark" has been used in Scrubs and Grey's Anatomy during a couple of their most heartbreaking scenes. And rightfully so. The track is a soft, melancholy ballad about how someone loves their significant other so much, they're willing to die in order to be with them in the afterlife. It's sweet, but it's also pretty sad.
9. Hollywood Undead – "Bullet"
The most disturbing thing about this Hollywood Undead track is how cheery it sounds despite the dismal lyrics and how easy it is to get stuck in your head. The child singing at the end puts a sweet ending on an otherwise perturbing track, making you wonder if you heard the rest of the song correctly.
10. Dance Gavin Dance – "Honey Revenge"
The track starts off normal enough: Two people are in love, one of them promising to keep watch over the other. It's not until the lines "Whether you want it or not/whether you like it or not" that you begin to realize this Dance Gavin Dance song may not be all that it seems. It certainly gives the listener a sense of paranoia. After all, you never know who might be watching you.
Which creepy songs surprised you when you took a hard listen? Let us know in the comments below!
[envira-gallery id="194356"]