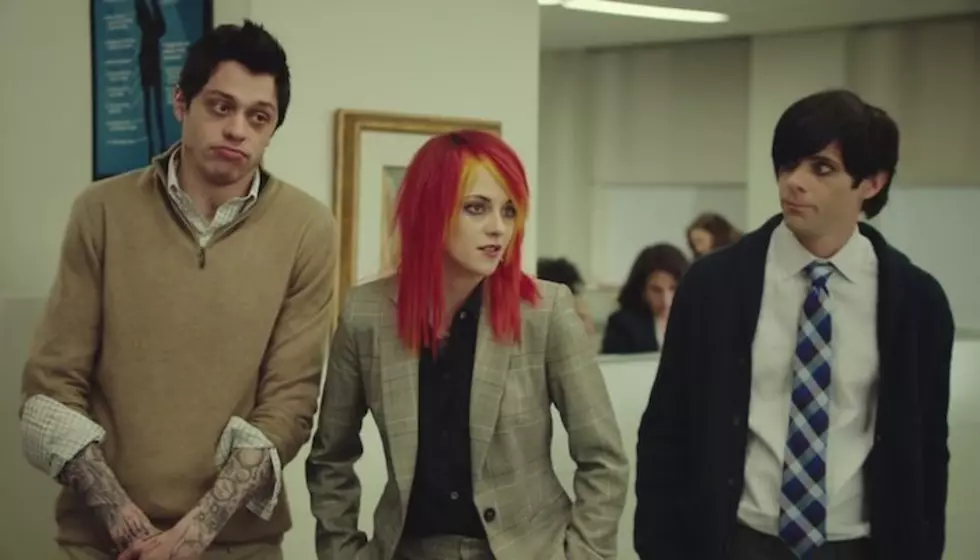 Hayley Williams turns Paramore-inspired 'SNL' skit into perfect meme
Saturday Night Live evoked their inner emo kid over the weekend with the "Corporate Nightmare Song." Fronted by host Kristen Stewart, the bit featured the actress wearing a Hayley Williams-inspired wig as her fellow corporate employees performed a punk-rock take against the establishment.
The (real-life) Paramore frontwoman saw the SNL skit, and took to Instagram to create the perfect memes.
The skit's song that sounds like it could pass for a Sum 41 deep-cut as Stewart was joined by castmates Pete Davidson, Kyle Mooney and Mikey Day. While Mooney shares an uncanny resemblance to Green Day's Mike Dirnt, there was no denying Williams' impact.
The vocalist did what anyone would if they inspired an SNL skit and turned it into a meme. First up was a reference to the band's decision to retire "Misery Business" in 2018: "Paramore if we retired every song in our catalog except Miz Biz."
The vocalist then made a reference to their expanded sound on their latest release After Laughter: "Paramore today, if we never discovered modulated synths."
The vocalist mentioned the band's decision to take a bit of a break next, writing, "Paramore today after taking time off from tour and getting so bored that we applied for admin jobs at the label."
And continued with an emo night joke: "Paramore today, if we went to every emo night in Nashville just to remind people that We Are Paramore."
Williams finished off her meme spree by laughing and thanking Stewart for her portrayal: "For real, this skit was real funny. Love you Kristen." The two, at the very least, crossed paths in the past as Paramore offered up scene favorite "Decode" for the Twilight soundtrack making this mashup all the more epic.
Williams' longtime stylist and cofounder of Good Dye Young Brian O'Connor also chimed in.
"Who wore it better 2006 @yelyahwilliams or #kristenstewart last night on @nbcsnl??" Connor wrote on Instagram. "What I really wanna know is did they use @gooddyeyoung on #kristenstewart wig???"
Check out the original video and lyrics here.
What do you think of Williams' meme response? Let us know in the comment below.