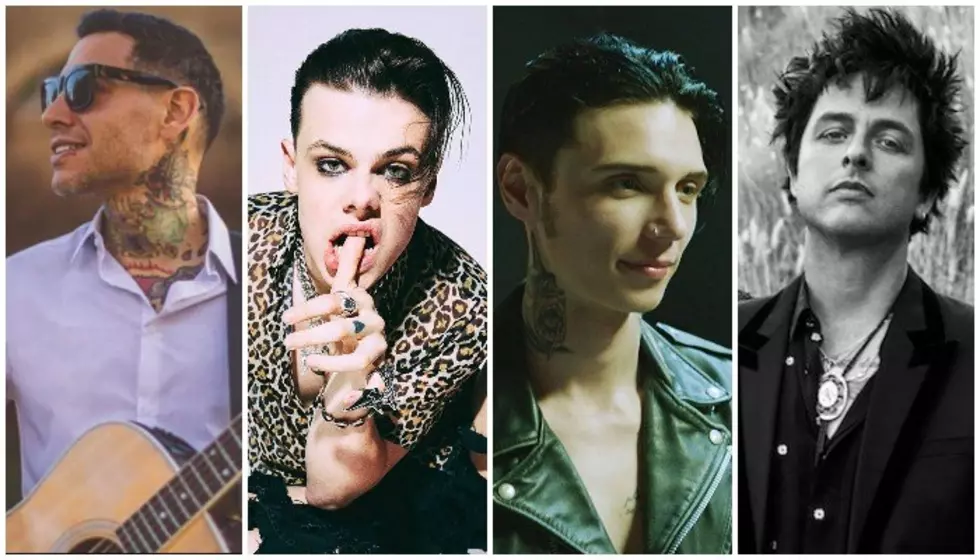 Here are the live performance streams to watch this week
[Photos via MxPx, YUNGBLUD/Jonathan Weiner, American Satan/Sumerian Films, Green Day/Pamela Littky]
We're well into this new temporary way of life of being stuck at home due to coronavirus. Retail stores, bars, restaurants and now movie theaters have closed their doors to the public. This means you've probably been sitting inside cycling through the same TV and movie options on Netflix and Hulu, as well as music playlists. However, there's good news for music lovers. Several musicians are planning livestreams for fans to hear some stripped-down songs and ask some questions. 
Check out the livestreams and movies announced and going down this week, and keep checking back as this list will continue to be updated. 
YUNGBLUD
YUNGBLUD sadly had to cancel his North American spring tour due to coronavirus. On April 13, he will share a live full concert from Brixton to fans across the globe on his YouTube page at 9 a.m. PDT. The singer even encouraged fans to dress up for the occasion like an in-person concert.

The YUNGBLUD Show will also be back on YouTube April 16 with special guests Travis Barker, Kelly Osbourne, 24kGoldn, Ashnikko and Machine Gun Kelly. Fans can tune into the star-studded live music performance at 7 a.m. PST here.
Metallica
Metallica is hosting a concert series every week called "Metallica Mondays." Fans can catch a concert from the legendary act every Monday on YouTube or Facebook at 8 p.m. EST. Their first concert series was entitled "Live At Slane Castle" from their June 8, 2019 show, and you can watch the stream here.
Code Orange 
Code Orange delivered an electrifying livestream concert from an empty venue in mid-March to help fans with the self-isolation blues. They also started up their own livestream series "YOU AND YOU ALONE" on their Twitch channel. The second installment will be streamed April 13 at 8 p.m. EST, where guitarist Reba Meyers will be hosting a guitar clinic. Fans can play along with the band's hits and even ask questions along the way. 
You Me At Six
Vocalist Josh Franceschi of You Me At Six will be taking over the band's Instagram April 13 at 6 p.m. BST/1 p.m. EST. Fans may hear some stories, participate in a Q&A and maybe even hear some special stripped-down songs. You Me At Six members will be streaming live every day this week. 
Vic Mensa
Vic Mensa will be streaming his "COVID Commissary Concert" on the MATT app. He will share songs to raise money to donate to commissaries during this time for vulnerable imprisoned Americans. The stream will start at 6 p.m. EST. 
Brendan Murphy (Counterparts)
Counterparts vocalist Brendan Murphy is taking over the Pure Noise Records Discord April 14. Fans can head over to the page for a Q&A session at 7 p.m. EST. In a tweet, he suggested some topics he can talk about, which includes the 1975, pandas and coffee. 
Of Mice & Men
On April 14, Of Mice & Men will be streaming a whole concert on Twitch. The live show will be from their 2018 performance at New York City's Gramercy Theatre. Fans can head to Twitch at 12 p.m. PST or 7 p.m. PST. 
Death Cab For Cutie
As tours starting to be postponed and the world began staying inside, Death Cab For Cutie's Ben Gibbard took this time of self-isolation to play songs for his fans on daily YouTube and Facebook Live sessions called "Ben Gibbard: Live From Home." After two weeks, Gibbard announced he was shifting to once per week, broadcasting Thursdays at 6 p.m. PT here.
Drummer Jason McGerr has also been hosting streams titled Refuge In Practice with special guests such as the Head And The Heart's Tyler Williams and Andrew Marshall who drums for Billie Eilish. The episodes aire Tuesdays at 5 p.m. PT with Bon Iver's Matt McCaughan joining this week. You can tune in here.
All Time Low
All Time Low are returning for their Everything Is Wine Happy Hour April 15 at 2 p.m. PST/5 p.m. EST/10 p.m. GMT on Twitch. The band will be chatting about the visuals surrounding their latest release Wake Up, Sunshine featuring photographer Ashley Osborn and designer and former A Rocket To The Moon drummer Andrew Cook.
Grayscale
Grayscale are logging on to Twitch every Friday at 7 p.m. EST to teach fans guitar chords to their songs via "Von Halen's Shred Shack." In past streams, guitarist Andrew Kyne has shared how to play "In Violet" and "Forever Yours." Every Wednesday and Sunday, the band will also stream a game of NHL 20 where they compete as the Philadelphia Shamrocks. You can stream the game at 7 p.m. EST. 
Cavetown
Like many, "Lemon Boy" singer Cavetown had to cancel all shows and meet-and-greets due to the coronavirus pandemic, but he still wants to share as many experiences with fans as possible. He's been hosting Cavetown TV with various forms of content across several social media platforms since March. On April 15, he'll be hosting a virtual show art gallery at 10 a.m. PST. A full list of his content streaming schedule is available on his Instagram page.
Dashboard Confessional 
Dashboard Confessional will be going live on their band Instagram page April 15. Fans may hear songs and ask questions, but they will for sure be able to see Jasper the super cute pup who will make a "special guest" appearance. Fans can text 615-257-9558 for a reminder and tune in here at 8 p.m. EST. 
Tessa Violet
Tessa Violet has added dates to her Something To Look Forward To tour. This week, she'll be playing songs live from her bedroom April 16 at 7 p.m. PST and April 19 at 2 p.m. PST. All streams can be found on her YouTube page.
SiriusXM Octane Home Invasion
SiriusXM's rock station Octane, is letting some of your favorite musicians take over in their free Home Invasion series. Five Finger Death Punch kicked things off from their home, playing hits and chatting on the broadcast April 16 at 12 p.m. EST. Future guests include Korn, Shinedown, Papa Roach, Nothing More, Asking Alexandria and more. Listeners can stream from SiriusXM channel no. 37, the SiriusXM app or this link. 
ECHOSMITH
ECHOSMITH aren't slacking off on touring even in the midst of a national quarantine. The band are virtually traveling on The Lonely Generation Digital World Tour. They will be playing music and chatting with fans on various social media livestreams with one final show this week on April 17. A full list of streaming sites and time slots are available on their Twitter.
Knotfest
Slipknot's Knotfest recently announced they'll be streaming a set from an artist within their community each Friday. Following Slipknot themselves and Lamb Of God, Behemoth are the next band who will have a full set streamed on April 17. The show comes from their 2016 Messe Noire: Live Satanist show in Warsaw. Fans can tune in at 5 p.m. EST to see a video intro from Nergal and chat with Orion throughout the broadcast here.
ONE OK ROCK
ONE OK ROCK have not one, not two, but six livestream concerts in store for fans over the next two months. Fans can make their way to YouTube Premieres to watch these live shows on April 17, 25 and 29 and May 14, 23 and 31 at 10 a.m. EST. A full concert lineup and URL listing is available on their Twitter.
Every Time I Die
Every Time I Die are bringing their hometown holiday extravaganza 'Tid The Season to fans everywhere April 17. You can stream the first night of their 2019 weekend-long December festival at 5 p.m. EST on YouTube. Fans can even chat with the band throughout the stream. 
MxPx
MxPx's Mike Herrera is creating a recurring livestream throughout the month of April. Every Friday, fans can catch Herrera on Facebook at 6 p.m. PST for his "Life In Quarantine" series. There will be stories, laughs, songs and more. What more could you want in this time of self-isolation?
Sumerian Films
Sumerian Films is hosting a free weekend of movies and Q&A sessions on their YouTube channel. The event will kick off April 17 at 9 p.m. EST with American Satan starring Andy Black. Bones UK Unplugged will air April 18 at 3 p.m. EST featuring a live text chat with the duo during the film. Mind Over Matter will also be streamed April 18 at 9 p.m. EST, featuring an exclusive interview with Brandon Mendenhall and Munky from Korn. The movie weekend will wrap up April 19 with Bomb City airing at 9 p.m. EST followed by an interview with the film's producer and writer/composer. A live chatroom will be open on the YouTube page one hour before the film starts, and during the entirety of the broadcast.
One World: Together At Home
Late-night stars Stephen Colbert, Jimmy Kimmel and Jimmy Fallon are co-hosting a global broadcast on CBS, ABC and NBC called One World: Together At Home. The show will feature an array of musicians all working together to promote the work of the World Health Organization (WHO) and raise money for COVID-19 relief efforts. Lady Gaga raised $35 million for the organization already and had a hand in curating the artist lineup. Alanis Morissette, Kacey Musgraves, Paul McCartney, Elton John, Billie Eilish, FINNEAS, Lizzo, Chris Martin of Coldplay, Eddie Vedder of Pearl Jam and Billie Joe Armstrong of Green Day are just a handful of artists who will perform. The show takes place April 18 at 8 p.m. EST on YouTube, Facebook, Instagram and Twitter. It will also air on various cable channels, iHeartMedia,Yahoo, Twitch, Amazon Prime Video, Apple Music, Alibaba, LiveXLive, Tencent, Tidal and TuneIn. 
Live From Quarantine 
MAGIC GIANT are hosting a third weekend of their virtual music festival "Live From Quarantine." The Lumineers, Meg Myers, Scarypoolparty and MAX will be among some of the featured artists. Extreme illusionist David Blaine and actors Edward Norton (Fight Club) and Woody Harrelson (Zombieland) will also pop in during the broadcast. Fans can head over to the band's Instagram page April 19 at 2 p.m. PST to join the livestream. The band will be raising money for the Frontline Responders Fund to provide protective gear to medical workers in need. In two weekends alone, the festival has raised $40,000 in support of MusiCares COVID-19 relief fund and the Frontline Responders Fund.
Pandora "Listen In" Series
Pandora wants to give listeners a truly unique experience inside the minds of their favorite artists through their new "Listen In" playlist series. You can listen to the playlists created by the likes of H.E.R., All Time Low and Marshmello which arrived in March. Shannon Larkin and Tony Rombola of Godsmack even curated their own playlist including AC/DC, Led Zeppelin and Oasis. Recently, a new batch of artists curated their own playlists including Third Eye Blind, Best Coast, PVRIS and the Pretty Reckless. Check out those playlists here.
Upcoming streams announced this week
Room Service Music Festival
A new virtual music festival is heading to your screen April 24-26. Room Service Music Festival will have multi-channel "stages" all available on YouTube. Artists appearing on the streams include YUNGBLUD, Rezz, Mt. Joy, mxmtoon, YULTRON and Sullivan King. A full list of artists is available on Twitter with time slots coming soon. All donations made during the event will benefit Feeding America and Sweet Relief. 
Together In Pride
GLAAD is hosting a livestream titled "Together In Pride: You Are Not Alone" celebrating the contributions and efforts of LGBTQ+ individuals during the era of coronavirus. Featured guests include Kesha, Adam Lambert, Bebe Rehxa, American Horror Story stars Billy Eichner and Matt Bomer and many others. Donations will be collected and donated to LGBTQ+ organizations. Viewers can stream the event April 26 at 8 p.m. EST via YouTube and Facebook. 
320 Festival 
Talinda Bennington, wife of the late Chester Bennington, and Kevin Lyman revealed the previously announced 320 Festival will be going virtual May 8-10. The 320 Festival's main goal will be to offer hope and healing during this period of self-isolation via mental health education sessions, covering topics such as mindfulness, social media and healing from trauma. Several musicians will also take part in the livestream including Blue October's Justin Furstenfeld, Sum 41's Frank Zummo, gnash and Lindsey Stirling. The stream will be available on Facebook, YouTube and the KNEKT.TV Network on Roku and Apple TV.