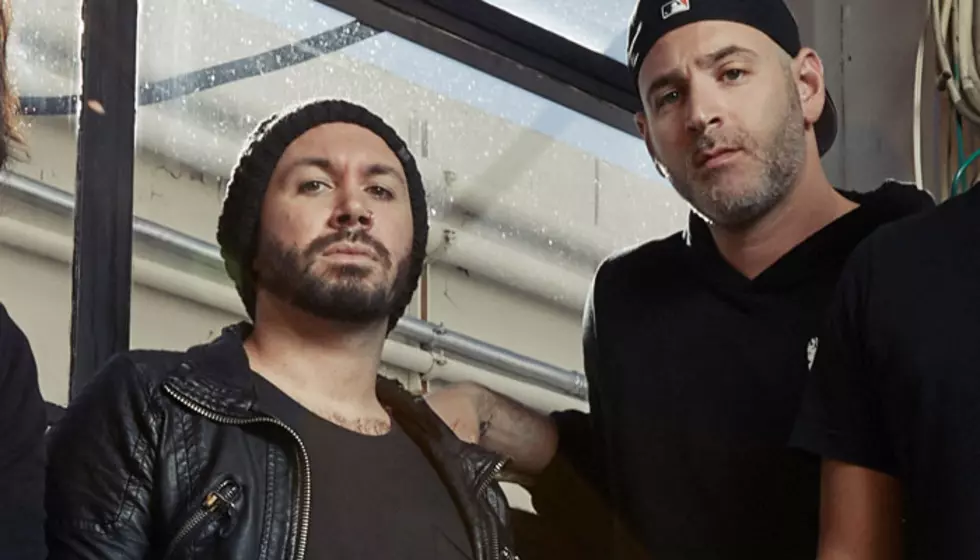 Here's why Periphery and A Perfect Circle members aided a local charity
Matt Halpern and Spencer Sotelo [Photo: Travis Shinn]
Periphery drummer Matt Halpern is always ready to help out a friend. So when his longtime bud/guitarist Justin Gosnell needed a drummer for some session work, it was no problem. Gosnell and vocalist David Manning enlisted A Perfect Circle bassist Matt McJunkins for the sessions, and the project was completed with Periphery vocalist Spencer Sotelo handling the production duties. The track, "The Road To Awakening," was attributed to Till The Days End, the self-proclaimed "charity rock" band.
The power ballad wasn't a ploy for Gosnell and Manning to get a record deal and a coat-tail ride out of their Frederick, Maryland, homes. Till The Days End's sole goal was to monetize the song so they could give back to their local community. Money generated from sales of the song went straight to funding groceries for elderly people at risk during the coronavirus pandemic. Then the band set their sights on helping service-industry workers who had lost employment through bar and venues closures.
Till The Days End have released four songs to give back to the people of Frederick. Moreover, there are other people involved in the movement who wish to remain anonymous so the focus is kept on the community. If there was any kind of scheme in place to make this a career-building exercise, it was botched right from the start. Altruism was the only priority.
"When I was brought on to this, I was brought on as a session musician," Halpern says. "'Hey, you're a session guy. Come learn drums, learn these songs, play the songs, see you later. You don't have any more involvement.' But the project definitely means a lot to me. I do believe in the cause. I do donate to it myself—not only my time but dollars—so if there's an opportunity to do more or do more interviews or spread the word, I'll do whatever part I can."
Halpern (who lives in nearby Baltimore) spoke to AltPress about the project, the greater movement that Till The Days End represents and how the project could inspire others. "No one involved in this is looking for a pat on the back by any means," he says.
Till The Days End are described as a "charity rock band," but the intention feels like a movement. It's as much about the service side as it is the art. The music is taken seriously, but there is a follow-through that many bands haven't considered. It seems a lot more passionate than just writing a check for a donation.
MATT HALPERN: 100%. I'm glad that shines through. To be fair, I am not exclusively or immediately associated with the core of the project. I am close to a couple of the guys that are involved [in Till The Days End], which is why I was brought in to do the drumming and Spencer was brought in to do the production for it. Beyond that, we are both really big fans of the movement, as you called it—because that's exactly what it is.
It is different than just a band trying to promote themselves by doing a little good by associating with a specific charity or cause or giving away part of their funding. [Till The Days End] are a much different angle on that. The people involved in this project care deeply about their community [and] specific causes. And it's starting locally rather than globally, in terms of where they are donating the money that comes in. That's because they see things happening around them physically on a day-to-day basis, and that is where they are choosing to put their initial efforts. Which is great.
It's very much a grassroots project on a micro-level.
It's a small project at the moment. It has the potential to be a lot bigger. That's why I'm stoked to talk about it. I want more people to hear about this and really get behind it because it is an important thing. They're doing food drives and other donations to local hospitals and other community needs. And they are using the music to raise those funds and get those donations. The people involved with the band are longtime musicians and performers who have been in many different bands. Not bands that are very well known by any means. I'm down to help out my friends any way I can. The songs are good, the lyrics are good and the message is there. And I know the people behind it are genuine.
One of the things Justin is trying to do on behalf of the project is get the message out there that this [is] something anybody can help with. No amount is too small. If it goes bigger, he can take it on a much larger scale. Justin's the liaison between the art and the charitable parts. He's been specifically focused on feeding people during the COVID-19 pandemic.
In his local community, there are a lot of elderly people who haven't been able to get out. Justin's been making the push to get out and make sure those people can have meals and are fed. He's been taking care of a lot of the essential workers that are in service jobs, whether it's restaurants and bars or supermarkets. Justin's trying to make their lives easier because obviously, they're really putting themselves out there. There isn't one direct charity Till The Days End are aiming toward. It's about who needs help the most right now.
Both the song and the movement go far to make the personal political. Let's face it: Microbes aren't partisan. We are truly all in this together. The lyrics in the song say we have to take care of ourselves so we can take care of each other. It's obvious, but it's not. Because of how we let things overtake our lives. Nobody's waving any flags. How was feedback on the track? Are you seeing the best of humanity here?
Absolutely. The only negativity Justin has seen is people saying, "This is just a way for you to promote your band." And that couldn't be further from the truth. Spencer and I are a lot more involved, given our bands and our businesses. We're at a different level than he and some of the other guys involved. He comes to me and says, "Man, this is really disheartening. How do I get past this? Should I turn off comments on Facebook posts?" It's never been about the music; the music has always been quite well received. My response to him was, "No, don't turn off the comments sections. Let people comment so you have the chance to truly defend the project." The more that the message is expressed through saying, "This is what we're about. This is not a cash-grab," and showing where the money is going. It will silence those people over time. But that's the only criticism that's been apparent.
I think there are a lot of people who negatively like to jump on bands that do things that are associated with charity. People will always say, "You're only doing it for notoriety. Latching on to a charity to make a name for yourself." And that is certainly not the case here. These guys are remaining anonymous because they're not looking for that personal notoriety in any way. As cool as the music is, it's not the main factor. The movement is. It's not like a Ghost scenario or an early Slipknot one where they are trying to create a gimmick. The movement is bigger than any one person.
I went to the website, and it's completely transparent. What's appealing is that the numbers are small. There's not thousands of dollars coming in. It's like a school bake sale. There's no wealthy industrialist dropping a check for $12 million. The small donations illustrate the resonance of the project.
Exactly. And I think if anything, it should add more authenticity to the movement because there isn't a lot of money involved. The people who are deeply involved aren't taking a dime of it. They're doing as much as they can with the minimal dollars donated to help the maximum group. Which is definitely a challenge so far.
A friend of mine helped first responders in New York City during 9/11. She's always imparted to me that the best way to allay your personal fears is to help someone else.
Oh, I agree with that, for sure. To add on to that, my grandfather always said to me, "Charity is great, but charity starts at home." And I think that ties directly into the meaning of "The Road To Awakening." Again, you have to take care of yourself first so you may then take care of others. And that has always resonated with me. Till The Days End are taking care of their core community first, getting more people in a good place to then help the next person. 
I've constantly heard fans say to band members, "Your music saved me." I'm wondering if during those moments when musicians are feeling despondent now, they just grab their instrument and play.
What we'll see at the end of [this pandemic] is that any bands who were doing this strictly for the notoriety might not get through it, and they may end up focusing on other things. The true artists who do this because it is their passion and love are going to play music no matter what. They're going to find ways to put themselves out there playing that music, no matter what. At home, in the park or quarantined. It's their release. It's their way to find peace with this whole thing.
I've seen so many of my friends come up with creative ways to share music. It might not be ideal, and it might not be the best way to do it. I would think that the artists who are trying to put themselves out there are probably getting more messages from fans like, "Hey, just so you know, the thing you put out on Instagram or the live thing you did on Twitch pulled me out of a really bad place." That in and of itself is going to keep the artists doing it. Because it's real. I've seen that. The real fans are gonna shine through, and the real artists are going to do what they do, no matter what.
We're seeing these pockets of selflessness from people who have lost the most. Touring musicians are really hurting. And yet, musicians made "The Road To Awakening" come together.
I think this is a unique way to have a band.  It is not about being the biggest band in the world. It's a vehicle to help others. And it's a unique way to do it.
All proceeds from the sales and streaming of "The Road To Awakening" will go directly to the Mental Health Association of Frederick County. The organization is dedicated to aiding those who need mental health assistance. Learn more about the band's work by visiting their site.