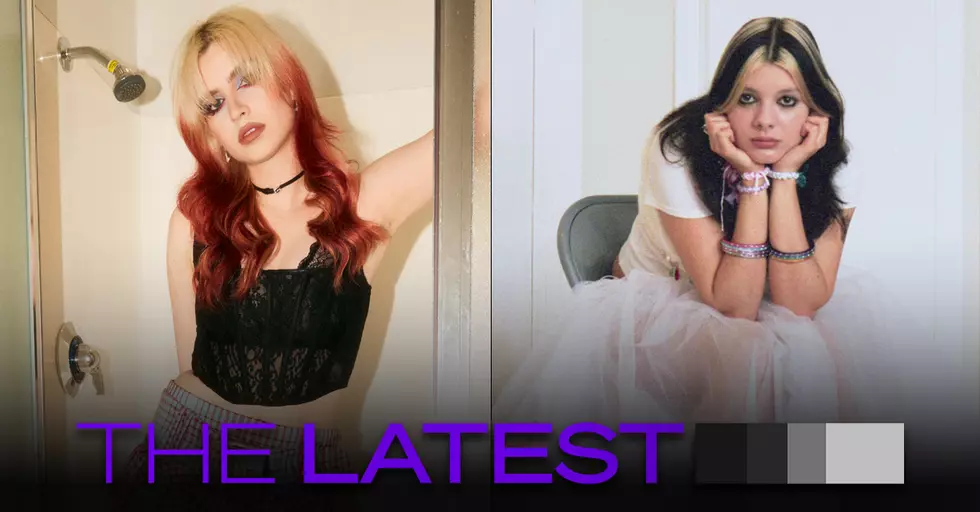 Abby Roberts, Pretty Sick's Sabrina Fuentes and 8 other things to check out this week
[Abby Roberts/Tati, Sabrina Fuentes/Iris Luz]
Check out The Latest — for all the essential new music, tickets and livestreams you need right now.
Abby Roberts is a name you need to know
You probably recognize Abby Roberts from TikTok, but did you know she's also opening Halsey's summer tour? "The first time we met, I spent the whole day at her house, and we just talked about so much life stuff and a lot of music," Roberts says. "They taught me that I'd never feel ready for a tour like this so soon and the best way to learn was just throwing myself into it." Read the full interview here.
[Photo by Tati Bruening]
Pretty Sick's Sabrina Fuentes rips up the fashion rulebook
In the world of Pretty Sick, chaos is very much synonymous with catharsis. The three-piece make music that ultimately reflects the city that vocalist Sabrina Fuentes grew up in. That sense of place will become even more significant on the band's debut album, Makes Me Sick Makes Me Smile, which you can preview with lead single "Human Condition." Check out the gorgeous photos from our Lookbook, captured by Iris Luz.
[Photo by Iris Luz]
The Interrupters team up with ska veterans
The Interrupters' new album, In The Wild, is inching closer. To preview the release, the band shared another ska banger, "As We Live." What's more, the track features genre veterans Tim Armstrong (Operation Ivy, Rancid) and Rhoda Dakar (The Bodysnatchers). Listen to the Interrupters' lovable ska team-up here.
[Photo by Jimmy Fontaine]
The new Idol trailer is wild from start to finish
A24's The Idol is stacked with notable names, from the Weeknd and Lily-Rose Depp to Troye Sivan and Debby Ryan. But just wait until you watch the trailer. It's quite possibly the sleaziest Hollywood love story ever. Watch the chaos unfold here.
[Photo via YouTube]
Slipknot are soundtracking the end times
Slipknot have returned in glorious fashion with the announcement of their seventh studio album, THE END, SO FAR. To preview the project, the band dropped "The Dying Song (Time To Sing)" and an accompanying video. Additionally, Slipknot will embark on the third leg of their Knotfest Roadshow tour this fall. Get all the information right here.
[Photo by Jonathan Weiner]
Pool Kids szn is here
Simply put, Pool Kids went through hell to make their latest record. With four days left to record their new self-titled album, a flood hit the studio. "We were riding on such a high, getting so much done," bandleader Christine Goodwyne explains. "Then after that, we were all just sitting there. All of us were just at rock bottom, like, 'What are we going to do? How are we going to save this record?'" Read more about the Hayley Williams co-signed indie rockers here.
[Photo by Karalyn Hope]
Get to know these 6 nonbinary artists
A decade ago, you'd struggle to find nonbinary artists in mainstream popularity. Now trans and nonbinary artists are being platformed more than ever and given spaces to celebrate their music. From Arca to JER, there's no shortage of amazing songs to soundtrack your weekend. See who made the list here.
[Photo by Rae Mystic]
Not Okay is clout-chasing horror
What happens when you get more clout than you bargained for? Danni Sanders (Zoey Deutch) answers that question in the latest trailer for Hulu's Not Okay, a film that centers on the horrors of influencer culture. You can watch the trailer here starring Deutch and Dylan O'Brien (aka weedboiiicolin).
[Photo via YouTube]
Billie Eilish's new Guitar Songs EP is a delightful surprise
In case you missed it, Billie Eilish surprise-dropped a new EP, Guitar Songs. The two-song release features the tracks "TV" and "The 30th," the first of which premiered in June during a Manchester concert. Both tracks are wreathed in sadness, with Eilish giving a resonant vocal performance. See for yourself here.
[Photo by Mason Poole]
Palaye Royale's new song will satisfy your inner theater kid
Not only did Palaye Royale drop a new single and a visual, but the trio also announced their new record Fever Dream. With their fourth studio album, the band are looking to return to their roots while scaling back on the chaos. "Making this record felt like getting back to when we first fell in love with music," Palaye Royale say. Check out the video here.