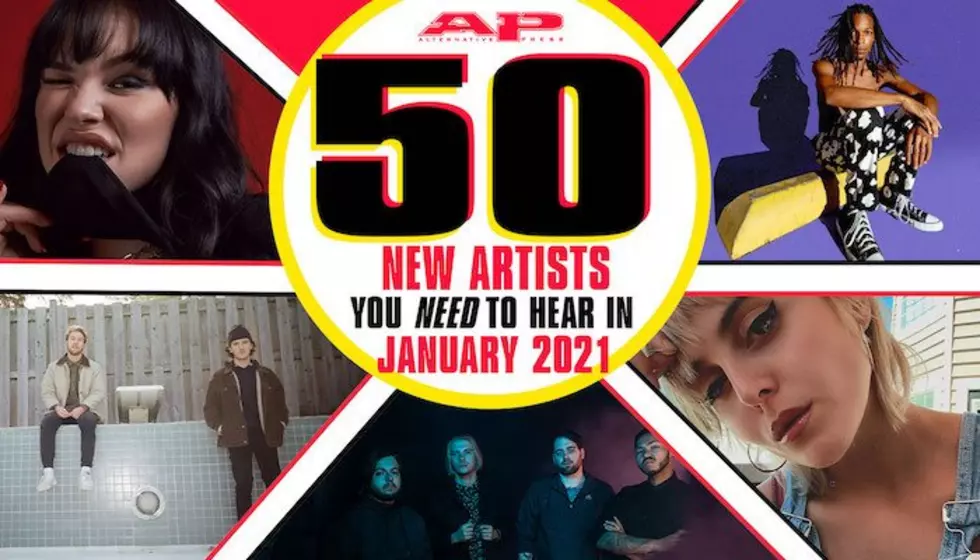 50 new artists you need to hear in January
[Photos via UPSAHL, cleopatrick/Steve DeCiantis, Hollow Front/John Fleischmann, Madison Olds, Jany Green]
Everyone loves to jam out to their favorite artists and classic hits, but let's not forget about all the fresh talent constantly popping up around the world. From pop and indie to punk and post-hardcore, there's always a new name in music waiting to be heard. 
We know there's a lot of faces to sift through, so we're here to help. Each month, we're gathering the best new releases within the past four weeks from artists you may not know and are putting them all in one place. Check out what music you might have missed in December below and follow the AltPress Discover playlist on Spotify to stay up to date on new music. Who knows? You just may find your next favorite band. 
Alex McArtor – "House On The Bay"
Influenced by the carefree thoughts that come from being young, Alex McArtor shares an introspective music video for her latest single, "House On The Bay." Indie-pop grooves take over the entire scheme, but McArtor's Texas accent finds its way to the forefront to give the track a unique country feel. Each beat is illustrated by imagery reminiscent of VHS tapes and home recordings. The track is McArtor's second single since the release of 2019's Heart Talk, Vol. 1, originally dropping in July 2020 following "Biggest Fan."
Ben Chandler – "Addicted 2 U"
Co-produced by Mike Freesh (Oliver Tree), Ben Chandler's "Addicted 2 U" is the perfect song for when you want to feel warm inside during these cold winter months. Inspired by a memorable night with his girlfriend, the guitar-driven track features lively beats radiating feel-good vibes. The track is Chandler's third single following "Red Line" and "Strawberry Candy" since the release of the Sweet Dreams, Sweet Heart EP earlier in early 2020. 
Carpool Tunnel – "Empty Faces"
Inspired by classic rock, Carpool Tunnel serve old-fashioned grooves fitting for a slow dance at a '70s prom with "Empty Faces." Taking influence from social media and how through it we can feel connected to people we've never met, the track mixes the perfect amount of surf riffs and contemporary breaks. Swinging beats hold down the tempo while a slightly distorted guitar leads the rest of the band through each verse. "Empty Faces" was the fourth in a string of singles from the band in 2020. The group are expected to drop their debut LP early this year via Pure Noise Records.
Checkmate – "325"
Checkmate get personal and focus on the turmoils of addiction in their latest emotional track, "325." Singer/guitarist Billy Beitz's shaking vocals desperately rip into your heart while guitars link together each verse with fiery rock breaks. "'325' is very personal to me," Beitz says. "I used to be addicted to opiates and hurt a lot of people that were close to me during that time. That's something I can't take back, but [I] have been working on myself and have been sober for a year." "325" is the group's third single since their self-titled LP, following 2019's "Ledo Pizza" and 2020's "stupid."
cleopatrick – "GOOD GRIEF"
With the first single off their upcoming debut full-length, cleopatrick are a force to be reckoned with in "GOOD GRIEF." Gritty vocals from lead singer/guitarist Luke Gruntz paired with hard hits from drummer Ian Fraser make the song a head-banging party. The track and its accompanying music video "imply a future filled with mosh pits and chaos" when live shows can make a safe return.
contradash – "hi neighbor"
Off contradash's (Chase Blohm) debut mixtape, ALL-STAR, "hi neighbor" brings back the days of note-passing and lingering heartbreaks. Upbeat drums accompany Blohm for every chorus, while a steady bass resonates in the background. Inspired by when he played sports in his childhood, contradash made sure the release of his latest album was just right—when he felt like an "all-star." "I remember feeling like a celebrity when I made the all-star team in fifth grade," he says. "Even though the status was imaginary, that was the fuel for this project." ALL-STAR is available now via Interscope Records and also includes "petal pickin."
Dangerface – "Bad Ideas"
Dealing out aggressive punk licks alongside searing vocals, Dangerface share all of their "Bad Ideas" with their latest single. The track is a medley of memorable progressions and builds into an intense guitar break filled to the hilt with intricate fingerings and solos. The track is the band's second single of 2020 following "Lights Out!" featuring Magnus Bokn.   
The Dead Love – "All For Nothing"
Their third single of 2020, the Dead Love discover everything is "All For Nothing" through tight riffs and bouncy rhythms. Melding punk with a bit grunge, the trio's high energy translates into each drum hit and reflective lyrics. Driven by intricate guitar breaks, "All For Nothing" keeps the listener captivated with rocking cadences and beats.
Dog Trainer – "2019"
We're all aware that 2020 was a rough year, but Dog Trainer want to remind you that "2019" wasn't so hot either. Compared to previous releases, the track is one of their most upbeat songs, even with the lyrics focused on unfortunate happenings from last year. Mixing bright pop beats with their signature lo-fi vocalizations, the track contains a groove that's easy to relax to. "2019" is the duo's lead single for their upcoming album, Scrolling to feel better… part one, out March 26.
Dollar Signs – "Negative Blood"
Dollar Signs look on the brighter side in their energetic single, "Negative Blood." Punk-rock guitar riffs are joined by the occasional trumpet and easygoing beat until the track explodes into fast-paced choruses. "The song itself is an ode to endless charge through the storm of shit in everyone's lives," vocalist/bassist Dylan Wachman says. "Not everything is an omen. Things can actually turn out better than you planned." The track is the quintet's first single since 2019's I Need Some Space EP. It marks a new era for the group as it comes alongside their signing with Pure Noise Records. 
Doodseskader – "Tranendal"
Doodseskader's "Tranendal" rips the breath from your lungs with crushing breakdowns and heavy guitar licks. Various breaks between screams take listeners through valleys of calm before exploding into mountains of gritty roars. The track is featured on the group's debut EP, MMXX: Year Zero, alongside previous singles "Meat Suit" and "Lepers."
Ellington – "EMT"
Former R5 drummer and touring musician for the Driver Era, Ellington (Ellington Ratliff) breaks out on his own with his debut single, "EMT." Led by a resonating bassline that vibrates deep in your chest, alt-rock guitar progressions are spread throughout the track in energizing breaks. Short for "empty," the track was written when Ratliff had a lot of time to himself and thought about his past. "It was strange to look back on times that were seemingly great but realized they left a bad taste in my mouth," he says. "That realization fueled the lyrics and the tone of the song, which is about observing your ego and how that can drive you off the deep end."
Forrest Isn't Dead – "Here We Are"
Indie-pop outfit Forrest Isn't Dead address their struggles and their fight to maintain humanity with "Here We Are." Echoing choruses are backed by upbeat drums while reverberating guitars radiate euphoric waves of calm. Vocalist Forrest Kleindienst says the creation of the song felt very natural between him and his bandmates, and the track was inspired by his own relationship with his father. "I don't hold any negative feelings or regret toward him," Kleindienst says. "Everyone has to deal with their choices in their own way. I did learn that you can't control how people treat you, but you can control how much power you let them have over you."
Glacier Veins – "Feel Better Now"
Glacier Veins take on a monster terrorizing the city in the music video for "Feel Better Now," taken from the band's latest LP, The World You Want To See. Inspired by video games and '80s aesthetics, the imagery tells the story of how the band take down lead singer Malia Endres' evil alter ego. When it looks like it's not going to end well for the quartet, they rise with a chorus of dreamy rock riffs and powerful drum hits. The World You Want To See is available to purchase here via Equal Vision Records. 
Glitterer – "Are You Sure?"
With an old-school punk vibe, Glitterer questions certainties and self-assuredness with "Are You Sure?" "I felt very sure I had the answers to a lot of questions," singer Ned Russin (formerly of Title Fight) says. "What am I doing with my life? What do I like? Who am I? My current self not so much." Beginning with a simple drumbeat and bass progression, the track slowly builds to a gripping chorus filled with crashing cymbals and ornate guitar riffs. The track will be included on Glitterer's sophomore LP, Life Is Not A Lesson, which drops Feb. 26 and is available to preorder via ANTI- Records.
Gracie Abrams – "Brush Fire"
Accompanied only by soft synths, Gracie Abrams finished out 2020 with captivating choruses in "Brush Fire." Following the release of minor in July, Abrams wanted to release the track before the new year to close the chapter on 2020. Delicate keys accent the singer's words, and her soft vocals stand front and center as she recounts heartbreak and insecurity.
Hollow Front – "Wearing Thin"
Post-hardcore quartet Hollow Front deliver sonic breakdowns and swaying rhythms in the emotional single "Wearing Thin." Focused on lost and unrequited love, thundering basslines complement each scream and heart-wrenching lyric. "I was coming from the angle of my past relationship," vocalist Tyler Tate says. "I felt so tired from it, yet I didn't want to bring myself to let it go because there's a part of you that thinks it could still be OK. It wasn't healthy, so 'Wearing Thin' is really me saying that I'm ready to stop feeling this way." Alongside the track, the group announced their signing with UNFD and will be releasing a reissue of their debut album, Loose Threads, Feb. 25.
ISOTOPES – "Flower"
Combining the heaviness of post-hardcore with the flashy melodies that encompass pop punk, ISOTOPES present "Flower." Hard-edged riffs fill each break, while minor chords perfectly accent the meaning behind the track. "[The song] is about the instant feeling of falling in love, although you feel it won't last because you still have to face all of your own burdens," vocalist Justin Miller says. "You find it more perfect to just die in that moment in order to capture it."
Jany Green – "Move"
Led by a head-bopping bassline, you're sure to "Move" with Jany Green's jazzy single. Sparkling tambourines propel the backtrack alongside steady shakers and drums. Sonoras trumpets embellish the chorus and slowly build toward an electrifying solo that overtakes the track's bridge and final moments. "Move" was Green's fifth single of 2020 following the equally energetic "Drippin" and "Little."
The Keystones – "Cut To The Chase"
The Keystones release alt-rock electricity alongside vicious breakdowns with "Cut To The Chase." Powerful drums lead the track through each winding verse and chorus alongside steady guitar riffs. The track is the first featuring new vocalist Rayven Burdette. Proud of his Japanese-Mexican heritage, he hopes to use the band as a way to give a voice to immigrants across the country. "This was the first time I was a part of a team of musicians with a goal in mind," he says. "This was the first time I was being encouraged to do what I love most. This was the first time I felt accepted."
Lakes – "Pine Barrens"
U.K. indie six-piece Lakes take you through a growing forest of melodies and sweet-sounding lyrics with "Pine Barrens." Led by a single guitar, vocalist Blue Jenkins is front and center before being joined at the chorus with harmonies and the occasional run from light orchestra bells. The song ends with a steady crescendo that builds into a plethora of rhythms before finishing on a single line. The track joins "Kids" with former Real Friends vocalist Dan Lambton as the fourth release since their debut full-length, Constance, in 2019.
Liv Strange – "People Are Strange"
Liv Strange gives the Doors' "People Are Strange" a sinister makeover with her own rendition of the track. Serving as her debut, the song's slow tempo and drawn-out vocals set it apart from the bright, swing-like original. Influenced by the "oddities of the 'average' individual," dark synths shake in the background of each chorus below Strange's piercing falsettos.
Lande Hekt – "December"
Off her upcoming solo debut, Going To Hell, Muncie Girls' Lande Hekt shares the guitar-driven and bright "December," which echoes with winter nostalgia and self-reflection. Hekt's soft vocals are complemented by lively cymbal crashes and rhythms, while catchy breaks are spread throughout the track. "It's a bit of a self-indulgent teenage issue, worrying whether anyone will fall in love with you or not," Hekt says. "But I think it's also trying to work through the worries that go along with realizing you're gay." Going To Hell drops Jan. 22 via Get Better Records.
Madison Olds – "All The Small Things"
Madison Olds gives blink-182 a synth-pop spin with her rendition of "All The Small Things." Replacing punk guitar riffs for steady beats and slower tempos, the singer's airy vocals float through each verse and dynamic buildup. Olds says she wanted the track to have a chill vibe but still needed to keep the song's sense of nostalgia. "I was never a bad kid, but whenever I heard this song, it brings back nostalgic youth rebellion," she says. "I associated it with every character I idolized and wished I had the courage to be like. To me, this song represented invincibility." "All The Small Things" is Old's fourth single of 2020, and she plans on releasing her second LP in 2021.
Maggie Gently – "Bitter Pills"
Indie-pop singer Maggie Gently looks into past decisions and swallows some "Bitter Pills" in her latest single. Soft guitars lead the track as Gently reflects on what she really wants for herself in thoughtful verses. "Bitter Pills" follows "Where My Time Went" as the singer's second single since she released her debut EP, Good Cry.
Magnolia Park – "Love Me" (feat. Kellin Quinn)
Featuring Sleeping With Sirens' Kellin Quinn, pop-punk five-piece Magnolia Park stacked their latest single "Love Me" with relatable lyrics and rocking rhythms. Influenced by hip-hop and emo rock, the band blend synths with intricate riffs for catchy choruses and heart-fluttering crescendos. After sharing a clip of the track on TikTok, the video has garnered over 38,000 views. "Love Me" is the band's fifth single of 2020 and will be featured on their debut mixtape, Dream Eater.
My Perfect End – "Radio Love"
My Perfect End tackle heartbreak and betrayal with their third single of 2020, "Radio Love." Compared with their previous releases, "River Of Denial" and "Here I Am," "Radio Love" sounds more lively but still contains hard-hitting and personal lyrics. The track dips and turns, with every verse and chorus building up to a breakdown that can tear down mountains. 
Nightly – "time online"
Focusing on the plights of social media and public image, Nightly learn to refocus on what matters in the "time online" music video. Between pop beats and infectious melodies, the accompanying imagery depicts the band in several different personas before they finally decide to take back their art and do it their way. The track is featured on the band's debut full-length, night, love you., which dropped in October last year. The trio will also be releasing several reimagined tracks, including "not like you (stripped)," on night, love you. (alt EP), which drops Jan. 29 via BMG.
Palette Knife – "Ponderosa Snake House"
If you take pop-punk sweetness and mix in a dash of post-hardcore, what you'd get is a slice of Palette Knife's "Ponderosa Snake House." Catchy choruses are paired alongside intricate guitar riffs that sway underneath the occasional scream. The track was included in a double-single release alongside "Codename: Fireball" via Take This To Heart Records.
Pink Elefants – "Panic Automatic"
Pink Elefants are providing some warmth in these cold winter months with "Panic Automatic." Fiery choruses erupt into synths and guitar riffs, eventually leading you to a subdued bridge before blasting into a red-hot finale. With bouncy keys and energetic grooves, the track will have you dancing from the very first note. The song is the latest in a string of singles from the band that started with "Maryland" in December 2019.
POSTCARD BOY – "Skydive"
After putting a lot of focus on hard times and sadness with previous releases, POSTCARD BOY is ready to step into the sunshine with "Skydive." "[The track] follows a night-drive home encapsulated by the freeway lights, realizing you have fallen in love with the person in the passenger seat," he says. "A lot of my past songs I try to articulate and walk my way through my struggles with anxiety and sadness, but 'Skydive' is a bright and happy song." Depicting feelings of young love in front of mellow beats and comfy riffs, "Skydive" gives listeners exactly what POSTCARD BOY wanted: "a big comforting hug." The track is his second single since the release of the Limbo EP in July 2020 and follows "Picture Book."
Proper. – "Don't"
Reflecting on the death of Sandra Bland and racial inequalities, Proper.'s "Don't" is a powerful track that spotlights fears people of color constantly think about. Co-produced by Dan Campbell of the Wonder Years and mastered by Koji, the track slowly builds, beginning with a sigh and ending with a cacophony of echoing vocals and drum hits.  "America is a fucked-up place to live for those of us that aren't straight, white men," singer Erik Garlington says. "I've always known that, my bandmates know it [and] my family knows it, as do my friends that look like me. It's just something we live with, a crushing sense of helplessness that any of us could be murdered by police tomorrow." "Don't" is the band's first release since 2019's I Spent The Winter Writing Songs About Getting Better.
Sea Girls – "This Is The End"
Sea Girls closed out the tumultuous year of 2020 with a fitting track titled "This Is The End." Not only marking the end of the year, "This Is The End" also begins a new era for the band as they close out their last album cycle. With lyrics about a failed relationship, the track's despondent meaning is put aside with catchy melodies and lively synths playing in the background. The track is the band's second single since the release of their debut LP in August 2020 with Open Up Your Head.
Sincerely, Me – "Claw Machine"
Included on their latest LP, Half Empty (Deluxe), Sincerely, Me share delicate acoustic pickings with "Claw Machine." Though the overall feel of the song is light, lines focused on the feeling that comes when someone leaves you make the track as relatable as it is sweet-sounding. Soft harmonies are spread throughout the track, highlighting its most heartfelt words, while the light hits from a tambourine keep the beat in the background. 
Siiickbrain – "PIN CUSHION"
In contrast to her swaying vocalizations surrounded by synths and backbeats, Siiickbrain's (Caroline Miner Smith) screams hold their own as they echo in front of a reverberating bass and into the depths of your ears. The track is the latest in a series of singles Smith dropped throughout 2020 following "Doomsday Ride Or Die" and a feature on Maggie Lindemann's "GASLIGHT!."
SLUGS – "Super Sane"
SLUGS recount their 2020 in a harmony-filled ode to their struggles and confusions with "Super Sane." With airy flutes and personal lyrics, the song is based on life and how quickly it can begin and end. "A friend of ours died in a motorcycle accident on St. Patrick's Day. Another friend of mine had just had a baby," singer/guitarist Marissa Longstreet says. "At the time, I was celebrating the birth of a new life and mourning the loss of someone who didn't feel gone yet. I wrote this while processing that conflict—trying to convince myself and others 'I feel fine' while unraveling." "Super Sane" is SLUGS' first release since their 2018 EP, Cool World.
Stretched – "Situational"
In the track's accompanying music video, Stretched give performances outside music venues that are closed due to the coronavirus pandemic. With hopeful lyrics and easygoing guitar riffs and drums to match, the group want the song to instill hope in those who are hurting. "It was inspired by someone close to the band," vocalist Brent Campanelli says. "The lyrics are directed toward young people who don't realize their potential in this world and no longer want to live. We hope that this song speaks to those people and changes their hearts before it's too late." "Situational" is featured on the band's first EP, Elucidated, alongside their debut single "Idea Of You."
Sulene – "whiskey.weed.sex.candy."
As the first release since her latest EP, Fire Escaping, Sulene shares a look into herself with "whiskey.weed.sex.candy." The track was inspired by a phrase uttered by her friend during a girl's night. Sulene later put the phrase "that felt like something out of a cyberpunk anime." The result is a pop bounce surrounded by '80s feels and spacey synths. Despite the track's bright disposition, the lyrics are thought-out lines directed toward the singer's inner feelings. "What started as a quirky song with a funny hook idea turned into something much deeper when I reflected on how sad the hook actually made me feel," she says. "I realized I was within the grasp of hedonic pleasures in a way that was destructive to my life, specifically alcohol. And that I'd been stuck in this for many years." 
Sullivan King – "Dark Love" (feat. Aaron Gillespie)
Combining the darkness of metal with deep EDM bass drops, Sullivan King's (Keaton Prescott) "Dark Love" melds the best of both genres into a heavy beat-laden masterpiece. Featuring Underoath's Aaron Gillespie, the track begins with striking guitar riffs before joined by Prescott's gritty vocals, which are later taken over completely by percussive explosions. "Dark Love" is seventh in a line of singles King has dropped this year and marks his debut with Hopeless Records.
Suntitle – "As Your Ghost Takes Flight"
Off the Saves The Day tribute compilation The Influencers Forever Who We Are, Suntitle give "As Your Ghost Takes Flight" a harder edge without taking away from the song's integrity. Rock riffs are joined by a moving bassline that steers the track through each verse. All proceeds from the cover will be donated to HeartSupport, an organization founded by August Burns Red's Jake Luhrs with a focus on helping those affected by suicide, addiction and depression. The compilation album will be available Jan. 13 via True State Entertainment.
Thousand Thoughts – "Heads Or Tails"
Taking a chance with fate, Thousand Thoughts play "Heads Or Tales" with their latest single. Ear-catching melodies are backed by energetic guitar riffs dipped in synths. "Everyone wants to make change for the better, but nobody can do that until they change themselves for the better," vocalist Ethan Smith says. "This is a very direct track full of anger, pain and is definitely no holds barred. We aren't exactly controversial, just completely honest and a voice for the people." "Heads Or Tails" is the band's first release since The First Wave EP in August 2020 and is the final track in the "Empathy" anthology, which includes "This One's For You" and "Saviour."
Two Trains Left – "Not Ok"
Hailing from Paris, France, Two Trains Left share the first single off their upcoming EP, As Safe As Yesterday, with "Not Ok." Encompassed in pop-punk grooves, the accompanying music video features younger versions of the band playing through the track's relatable lyrics and catchy patterns. "Not Ok" serves as the band's fifth release of 2020 following "Power Lines" and "Safety Net (Acoustic Version)."
Up From Here – "Throw It All Away"
Pop-punk quartet Up From Here deliver upbeat rhythms and high-powered progressions in "Throw It All Away." The track encourages listeners to take control of their lives with its heartfelt lyrics. Since the band's collaboration with All Time Low's Rian Dawson for their second EP, Words Left Unsaid, "Throw It All Away" is the latest in a string of singles from the group following "Afterthought" and "Be Back Soon." 
UPSAHL – "Arizona"
As the bonus track for her latest EP, Young Life Crisis, UPSAHL reflects on her start in the music industry compared to her life before in "Arizona." A lone electric guitar accompanies the singer through the first verse before steady cymbals join in at the pre-chorus. It's a slow crescendo to the chorus, where UPSAHL shares who she is through head-swaying beats and candid lyrics. Young Life Crisis served as the singer's last output of 2020, closing out a year of releases, including "12345SEX" and a "Drugs" re-release with Two Feet, a single which was used in over 1 million videos on TikTok.
Us In Motion – "Death Poems"
Alt-rock quartet Us In Motion reflect on the pressures of being independent artists with "Death Poems." Produced by Josh Schroeder (Dayseeker, the Plot In You), swaying rhythms create hypnotic grooves with vocal progressions that linger even after the final note. Ominous tones move between each riff, accenting the anxieties the track was written after. "When we started gaining an audience from our previous record," vocalist Grant Bastin says, "I was constantly beating myself up anytime I'd take a break because I had this unhealthy 'I need to be creating something 24/7 or else we're going to fall behind' mindset."
USERx – "Above" (feat. Masego and West Banks)
Composed of singer Matt Maeson and producer Rozwell, USERx teamed up with Masego and West Banks to create the duo's second single, "Above." Rozwell's simple beats don't overshadow the vocalists as they each have their turn at the mic dealing out personal verses. Chill and easygoing, the group blend R&B with alternative stylings to create a feel-good track about what you really need in life.
The Weeks – "Monoglot"
The Weeks dole out intricate guitar solos and gravelly vocals in "Monoglot." Directed by Aaron Scott, the accompanying music video features a black-and-white performance from the band featuring distorted shots and artful hand movements. Between ornate guitar riffs and anchoring rhythms, vocalist Cyle Barnes says the track focuses on the different journeys everyone takes through life. "Sometimes we don't always see the full picture, just bits and pieces," he says. "Everyone has a journey, but they normally only let you see the end." "Monoglot" is included on the band's latest LP, Twisted Rivers, via Crooked Letter Records.
WENS – "love blind"
With delicate piano progressions and soft crescendos, WENS' "love blind" serves as a heartbreaking reflection on broken relationships and first love. "I wanted my relationship to work so badly that I slowly chipped away at myself until I lost who I was without that person," she says. "I was trying so hard to bring us back to life, but my harsh reality was that it's nearly impossible to repair something that is past the point of being fixed." Featuring a bridge encompassed in magical synths, WENS mostly keeps the backtrack simple, allowing for her emotional lyrics to take center stage. The track is the third release since her debut EP, Lemoncholy, dropped earlier this year.
(We Are) PIGS – "Pulse Queen"
Her debut single as (We Are) PIGS, Esjay Jones rips through each scream and progression with exponential aggression in "Pulse Queen." Remarking on her personal experiences in the industry, Jones' self-produced track features shredding basslines and ruthless roars. "Although the central narrative of this song and project is subjective, 'Pulse Queen' is a veracious depiction of the music industry through my experiences," she says. "It's been really eye-opening to discover the lack of value placed on originality and authenticity in the music business once you are deep in it."
Zero 9:36 – "In My Hands"
Enlisting Travis Barker and rapper Clever, Zero 9:36 (Matthew Cullen) delivers a genre-mixing collaboration dominated with compelling guitar riffs and thundering beats in "In My Hands." Barker's iconic drum stylings accent each chorus, while Clever doles out hard-hitting lines about losing love. "It's open for interpretation, but for me, it's about a relationship," Cullen says. "When the other person finally leaves you, you want her to come back because you know you fucked up. However, it's better if she doesn't because you'd still probably let her down. It's recognizing the problems are your fault." His next EP,…If You Don't Save Yourself, drops Jan. 22 and will include "In My Hands" alongside "The End / Undead" featuring Hollywood Undead.