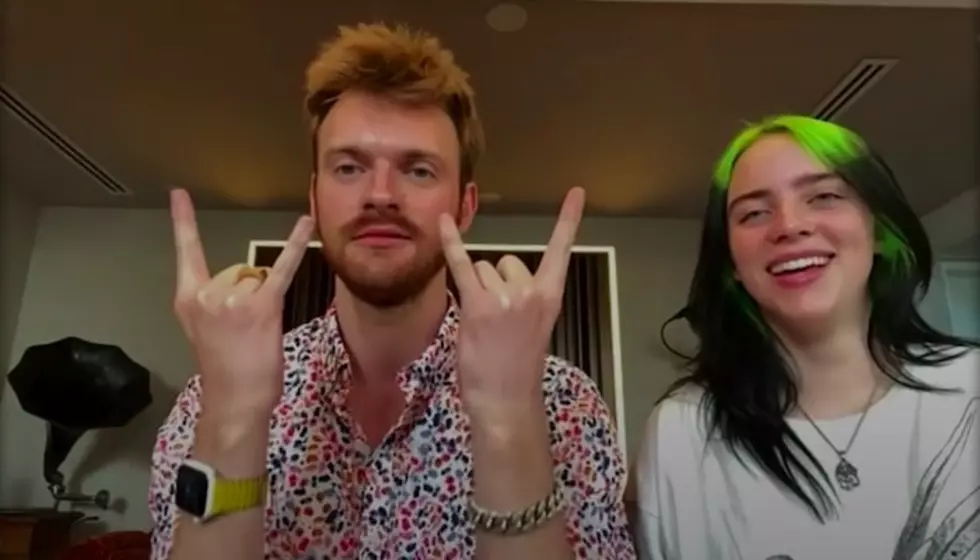 Watch FINNEAS make a "very metal" James Bond remix for Jimmy Fallon
[Photo via YouTube]
This week, Billie Eilish and FINNEAS joined Jimmy Fallon for a Tonight Show interview. During the show, the duo opened up on how the "No Time To Die" James Bond theme came to be.
As well, FINNEAS created a "very metal" remix for Fallon live on the show.
Last month, FINNEAS revealed that both he and Eilish are working on new albums. However, fans shouldn't expect to hear either LPs any time soon. According to the award-winning producer, they don't plan to release their albums during the pandemic.
"Billie's album, and my album, they won't be a bummer COVID record," he says. "I have a desperate desire not to release them during COVID-19. It's the vaccine record! I want it to be the album everyone's out dancing in the streets to."
Now, it looks they are taking a break from recording to chat with Jimmy Fallon on the Tonight Show. The sibling duo talked about "No Time To Die," the new James Bond theme Eilish released earlier this year.
She shares that both she and FINNEAS struggled with the song when they first started working on it.
"We were kind of stuck for like the first few days we tried to work on it," she says. "You know it was a lot of pressure, it's a fucking Bond song. So we were pretty stumped and there was one day where FINNEAS was playing on the piano and he played his one melody."
After hearing the melody, "No Time To Die" was quickly created. For the James Bond theme, FINNEAS and Eilish knew that they wanted a song that truly emulated the new film.
"What's funny is that we kind of started with making sure we got a melody that we felt was really solid before we tried any lyrics out," Eilish says. "We both think it's really important to have the title of the movie in the song and have the song be called that. It wouldn't have been satisfying otherwise."
Along with talking about the new James Bond theme, FINNEAS also showed the Tonight Show how he creates his beats at home. Fallon sent FINNEAS four recordings of him singing "No Time To Die." The producer then took those clips and created a "very metal" remix of the Bond theme.
"If it's okay with you, I am going to try and make a beat really quickly out of the samples you went me," he says. "Very cool, very metal."
From there, FINNEAS created Fallon's own version of the theme song called "Jimmy Bond." The track features layered beats and Fallon's recordings of the track.
Eilish and FINNEAS' appearance on the Tonight Show comes just a week after the teaser for Eilish's new documentary was released. The World's A Little Blurry will presumably be about Eilish's musical upbringing, her breakout hit "ocean eyes" and the success of her debut No.1 album WHEN WE ALL FALL ASLEEP, WHERE DO WE GO?. 
The World's A Little Blurry arrives in February 2021. The documentary is anticipated to premiere in theaters as well as on Apple TV+.
Watch FINNEAS' "very metal" remix of the James Bond theme below.
What are your thoughts on FINNEAS' remix? Do you like Billie Eilish's James Bond theme? Let us know in the comments below.