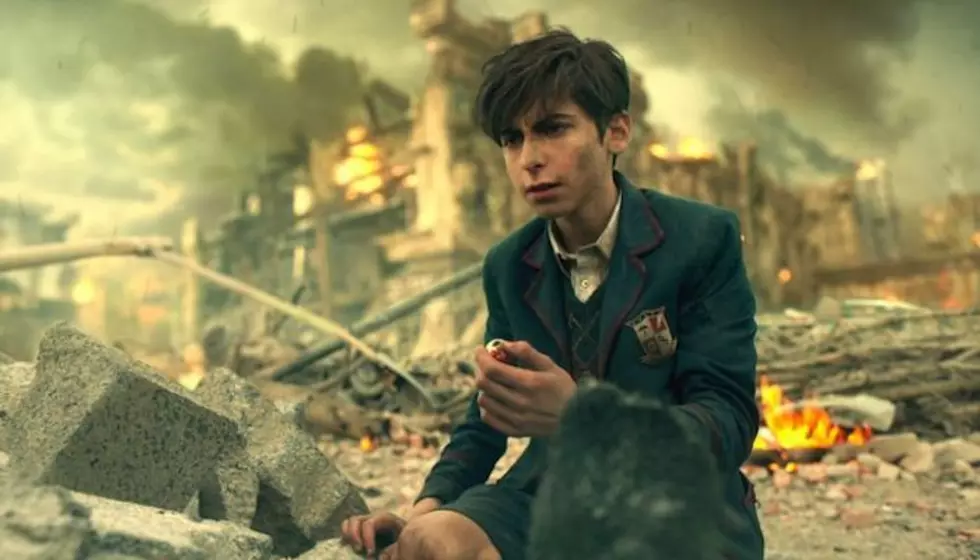 'The Umbrella Academy' time travels its way to 'Jeopardy!' answer
[Photo via Netflix]
While we've been eagerly awaiting The Umbrella Academy season 2, which wrapped filming in November, it looks like  Jeopardy! is down to have it return to our screen in other ways. Fans were in for quite the surprise last week when the Gerard Way-penned comic series appeared as a question on the game show.
Jeopardy! has featured the 1975, Panic! At The Disco (or was it Fall Out Boy?), Rob Zombie, twenty one pilots and more. Now, the scene's favorite comic-turned-Netflix series is joining the ranks.
Jeopardy! is currently hosting its The Greatest of All Time tournament, which has three record-breaking former contestants—Brad Rutter, Ken Jennings and James Holzhauer—competing against each other.
Match 3 concluded Thursday evening and will pick up Tuesday, Jan. 14 with match 4. Jeopardy! didn't skimp on Friday's show, however, airing a new episode with three other contestants.
Katie Needle, Alek Van Houghton and Jack McGuire faced off Friday where they were presented with the "numerical characters" category during Double Jeopardy!. Kate chose the $800 question, which featured a The Umbrella Academy shoutout of Aidan Gallgher's Number 5.
"Number 5 is the teleporting, time-traveling alumnus of this Netflix 'Academy,' possibly helpful on a rainy day," the prompt reads.
Katie got it right, later returning to the category for a Stranger Things-inspired question about Millie Bobby Brown. "This three-named actress turned her powers to Eleven on Stranger Things," the $1600 question reads.
Katie got it right, eventually securing $12,400 at the end of the round to maintain the lead. Fans were stoked to see both shows get a shoutout—check out some reactions below.
More on The Umbrella Academy
The Umbrella Academy left quite a bit to be answered before signing off on season one. Fans have been clamoring for any type of detail regarding season two since. Now, it appears fans are really digging deep into the universe of the show and producing some rather interesting theories regarding its characters.
One fan proposed a theory claiming that Sir Reginald Hargreeves and Number 5 are the same person. Read the details below.
In the theory posted to Reddit, the fan claims Number 5 and Father Reggie are the same person. How is this possible? Well, the details get a bit complex.
We know that Five went into the post-apocalyptic future to stop it from happening. He was then trapped and worked for The Commission for years. He then found a way to return to the past to warn his family of the impending doom. But, a miscalculation caused him to revert back into his 13-year old body.
This is where the theory begins. As a disclaimer, like in all mediums, book or film, the rules and effects of time travel are dicey and vary greatly depending on the creator.
Five says he projected his consciousness in a quantum state that exists across all instances of time. The miscalculation resulted in him reverting back into his younger self. The theory alleges that the Five's consciousness could have split apart and allowed him to interact with different versions of himself across all different timelines.
Reginald does have quite a bit of knowledge on time travel which is apparent when he warns Five about jumping into the future.
It is a rather interesting theory, however, the author revealed that they have not read the Gerard Way-written comics that The Umbrella Academy is based on. Comments were quick to say that this theory is not possible due to details revealed in the comics that they show has not released yet. It is a fun theory nonetheless and maybe The Umbrella Academy will do something different.
[envira-gallery id="194728"]