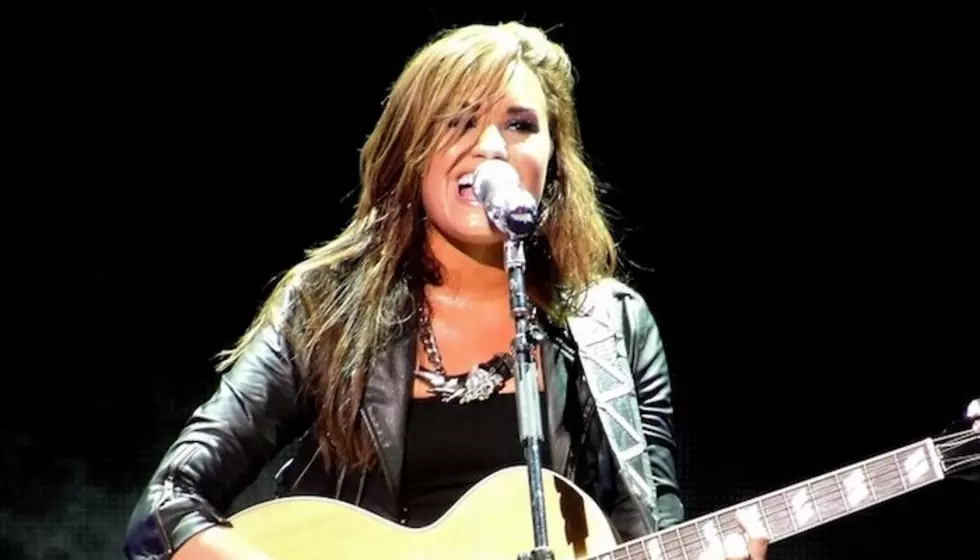 Do you remember when Demi Lovato played Warped Tour?
[Photo by Paige Kaitlyn/Wikimedia Commons]
Many of us can recount a few now-surprising performers who graced the Warped Tour stage, including Katy Perry, the Black Eyed Peas and Eminem, but do you remember when Disney turned pop star Demi Lovato worked her way onto the summer festival lineup?
Imagine the good old days of 2010. Warped Tour still exists, and you can attend as many dates as your savings account will allow. Hey Monday, Alkaline Trio, Motion City Soundtrack and more of your faves were in the lineup.
If you were in attendance June 27, 2010 at Ventura, California's Warped Tour and hit We The Kings' set, you were one of the lucky audience members who got to see Lovato's special cameo for an acoustic rendition of "We'll Be A Dream" alongside Travis Clark.
The track was released just a few months prior in late 2009 as part of the band's sophomore album Smile Kid. However, the collab leaked just days before the album's official release much to fans' excitement. They later teamed up for their first group performance of it at Hollywood's House Of Blues in February 2010, debuting a music video soon after.
HOB certainly wouldn't be the last time Lovato joined the band for a performance as she headed to the Warped stage that summer.
In typical 2010 fashion, she donned a long swoopy side bang, several bracelets, a cut-off jean vest and some statement cowboy boots for her onstage appearance. Following the set, Lovato took to Twitter to thank the band for inviting her.
"Such an honor to be on the warped stage," she shares. "Thank you guys so much and @wethekings for having me :D"
No stranger to mosh pits, Lovato ventured out to other sets with older sister Dallas Lovato among others. She was found dancing and singing along to "DON'T TRUST ME" and "DOUBLE VISION" by alt-pop duo 3OH!3.
The singer was also spotted hanging out with Hey Monday and Bring Me The Horizon, the latter of whom she's openly professed her fandom for.
She returned to the tour in 2011 where she got matching tattoos with friends Ivey Ensley, Hanna Beth, and Lauren Pietra. Placing hers on her wrist, each friend inked Ensley's lips in a different spot. Lovato later opened up about the ink, explaining, "It was just a spur of the moment stupid decision." She covered the tattoo with a rose a few years later, sparking public criticism from the artist Ashley McMullen.
It's no surprise she made her way to the Warped Tour circuit. She's been a scene kid her whole life. The singer even made her solo career debut with the pop rock Don't Forget in 2008 and later co-wrote "For The Love Of A Daughter" with the Academy Is... frontman William Beckett for third LP Unbroken. Aside from collaborating with Beckett and WTK, she also teamed up with blink-182's Travis Barker to release an emo version of her song "I Love Me" in May.
Prior to coronavirus lockdowns, she also belted out Paramore's "Misery Business" at Emo Nite with Clark while wearing a T-shirt from Taking Back Sunday and the Used's co-headlining tour in 2014. When coronavirus limited concerts and gatherings, Lovato made a playlist for Emo Nite containing the likes of TBS, Paramore, Panic! At The Disco and Underoath, among others.
Lovato has been busy at work sharing music during the pandemic, releasing a buzzing synth-pop single "OK Not To Be OK" featuring Marshmello. She also shared "Still Have Me" and "Commander In Chief" in September and October, respectively. The latter track serves as a song aimed directly at Donald Trump for his mishandling of social and health issues. She also urged her fans to vote and head to the I Will Vote campaign to learn more about their local elections.
Check out the recent Marshmello collab, which the duo released in partnership with Hope For The Day on World Suicide Prevention Day, below.