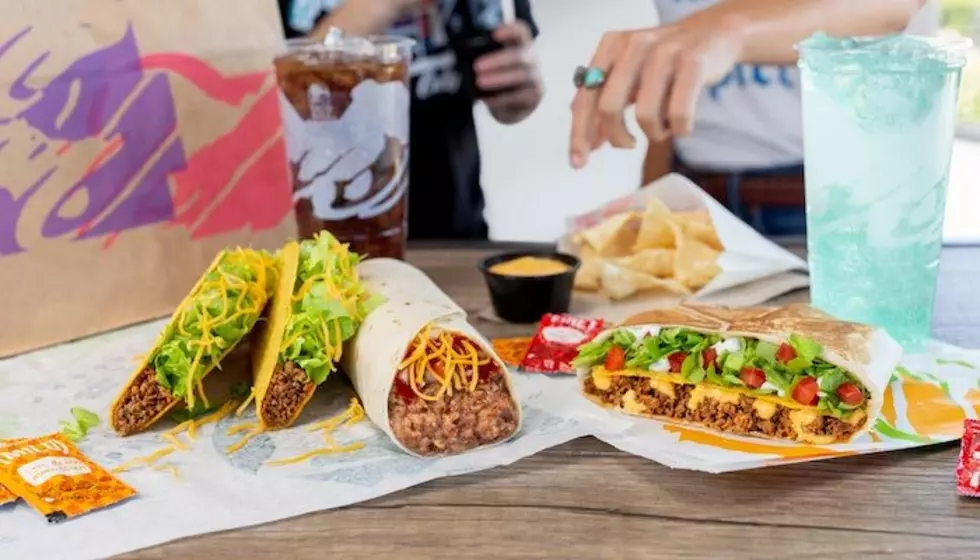 10 ways Taco Bell is helping us all Live Más
[Photo via Taco Bell]
Taco Bell is truly one of the only places we will always be in the mood for no matter what.  If we stay out late drinking, we are almost always craving a Loaded Potato Griller and a quesadilla. If we have some time to go on a quick lunch break, we're bringing back nacho fries for the entire office. Taco Bell is perfect for any occasion, which is why we love it so much. 
Aside from our nacho fries obsession, there are so many other reasons to love Taco Bell, from its ridiculous merchandise to its charitable efforts. Check out 10 reasons why Taco Bell is the best fast-food chain below.
1. The company is good to its employees.
Outside of its amazing food, Taco Bell seems to always think of ways to attract workers and make them want to stay. The company is currently looking to pay its managers a $100,000 yearly salary. Additionally, it pays its workers for 24 hours of sick time. Taco Bell's parent company, Yum! Brands, also offers six weeks of paid paternity leave to all employees. 
2. It knows how to keep us on our toes with menu items.
Taco Bell is constantly creating new menu items that make headlines because they're just so crazy, they work. The cult-favorite nacho fries are constantly rotating off and on the menu, so we're always excited to see them come back. The company made giant nachos and chips flavored like sauce packets, and it never makes us feel bad about our obsession with cheese. Taco Bell is serving up some crazy stuff, but it hasn't let us down yet. 
3. Taco Bell is life-saving
Let's not forget last March when a man and his dog survived off packets of Taco Bell sauce after his car was stuck in the snow for five days. The man sustained himself because he had the fairly common bad habit of storing packets of Taco Bell sauce in his car, and it ended up as his only food source. The lesson here is that you should always have some packets of hot sauce on you at all times, just in case. 
4. It makes the merch we didn't know we needed.
Taco Bell knows how to make merch that is almost as good as their food. With pool floats, phone cases, school supplies, Halloween costumes, onesies and more, the sky's the limit with what the chain will put their logo and hot sauce packets on, and their newest pieces just keep getting better and better. 
5. It was progressive with its accommodating menu.
Taco Bell was the first fast-food chain to offer a menu certified by the American Vegetarian Association. Since then, its vegetarian options have only expanded, with the latest additions being the Black Bean Crunchwrap Supreme and Black Bean Quesarito. To put all of the options in perspective, there are 36 certified vegetarian ingredients (26 of which are vegan) that can be customized more than eight million ways, so there's definitely something for everyone. 
6. People have some of their most personal moments there.
There are so many people who have an undeniable love and appreciation for Taco Bell. The restaurant is more than just a favorite fast-food place to some people, such as the woman who celebrated her 106th birthday at the chain. Also, let's not forget that people were getting married at Taco Bell and having weddings complete with Baja Blast and Doritos Locos tacos. 
7. It knows how to party.
Taco Bell loves to be the life of the party, and it's constantly proving it. In 2017, the chain partnered with Lyft so you could purchase a T-Bell stop on your ride home from the bars and pay for your food in the app. Also, it serves alcohol at select Taco Bell Cantina locations, which is unlike anything we've ever seen at a fast-food joint. Let's not forget the mother of all parties was when it created the Taco Bell hotel, and guests got to chill poolside with tacos and Baja Blast.
8. It's charitable.
For over a decade, the restaurant has been sponsoring bands with their Feed The Beat program, with alumni including Broadside, Citizen and Fit For A King. Currently, iDKHOW, WSTR, Ultra Q and more are participating. The program sponsors tons of artists in many ways, starting with giving them gift cards so they can get some free food on the road. Also, it tries to help "fans discover new bands and bands discover new fans." Plus, music aside, the company gives away a Live Más scholarship through the Taco Bell Foundation.
9. It's some of the healthiest fast food.
If all of that wasn't enough, Taco Bell is considered one of the healthiest fast-food restaurants. Some of the reasons include its use of natural additives, sodium reduction in menu items and offering a "Fresco" option that makes any dish more health conscious. 
10. We're always in the mood for it.
Even if Taco Bell didn't have so many reasons to make us love it, it'd still be one of our favorite places because the food is just so good. A Crunchwrap Supreme never sounds like a bad idea, and most of us will probably find a way to serve Baja Blast at our weddings. We're truly obsessed with Taco Bell, and we're not afraid to show it.