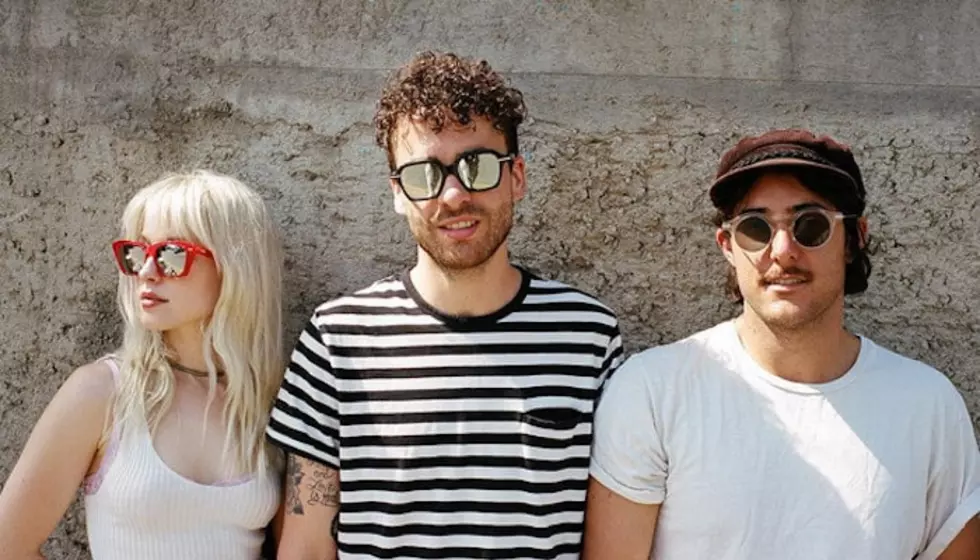 Hayley Williams reimagines a Paramore classic in duet with fans—watch
[Photo via Spotify]
Hayley Williams is revisiting one of Paramore's most classic songs in a duet with fans. This week, she took over her hair brand Good Dye Young's TikTok account again where she performed a new rendition of "The Only Exception."
For the video, Williams joined TikTok users @rachiichachii and @richmusicrich whose covers of the Brand New Eyes song have grown in popularity on the video-sharing platform this month.
Over the past year, Williams has gotten involved with the Paramore trends that have emerged on TikTok. Although Williams doesn't have a TikTok profile of her own, that hasn't stopped her from sharing videos on Good Dye Young's account from time to time.
Back in July, she reacted to viral grandma drummer Dorothea Taylor's cover of "Ain't It Fun." Shortly after, Williams also took part in that "Fake Happy" TikTok challenge inspired by the face masks people have been wearing amid the COVID-19 pandemic.
Williams even shared her hilarious reaction to one Paramore fan's dramatic TikTok parody of "All I Wanted." More recently, in October, Williams revisited some of her past iconic eras including "Decode," After Laughter and Petals For Armor, courtesy of the Good Dye Young staff and their TikTok account.
Now, Williams is serving even more Paramore content on TikTok this week. Earlier this month, TikTok user @richmusicrich shared a beautiful cover of "The Only Exception." Since its release, the video has earned over 2.6 million views. As well, the video has inspired a number of other renditions of the Brand New Eyes classic including one from Rachael Jenkins (@rachiichachii) who posted a duet of the song with @richmusicrich.
Eventually, the TikTok duet caught the attention of Williams who decided to add her own spin to the 2009 song. Earlier this week, Williams posted a new video layering her vocals on top of @rachiichachii and @richmusicrich's beautiful cover.
For the TikTok, Williams incorporated new harmonies and a fresh take on the song's melody that isn't heard in the original recording. Together, the layering of all three artists' vocals creates a delicate and mellifluous new version of "The Only Exception."
Williams' TikTok duet is available to watch below.
Soon after Williams posted the TikTok on Good Dye Young's account, Jenkins shared their own response to Williams seeing their duet.
"No more videos sorry I passed away," Jenkin says in the TikTok video's caption.
Similarly, @richmusicrich also shared their reaction to Williams' duet this week. The brief video shows them in sheer disbelief that the Paramore frontwoman saw their video and decided to make a TikTok duet with them.
Back in June, Williams caused quite a stir when she seemingly revealed "The Only Exception" is one of her least favorite Paramore songs. The frontwoman took part in a viral social media trend where she ranked her favorite Paramore albums and songs. However, when it came to ranking her favorite songs on Brand New Eyes, Williams made it clear which track she's not too fond of anymore.
she tweeted
BNE
Twitter
More on Hayley Williams and Paramore
Williams has been staying pretty active on social media over the past few months. Back in January, she sent Twilight fans into a tailspin when she revealed Paramore's "Decode" and "I Caught Myself" are not her favorite songs from the film. As it turns out, Williams' favorite song from Twilight is actually Radiohead's "15 Step" which doesn't even appear on the official soundtrack.
The topic, which was sparked by Phoebe Bridgers, eventually spread across Twitter and earned a response from the actual Twilight Twitter account. Collectively, the account and many fans agree that "Decode" is the superior song on the movie's soundtrack.
TwilightTwilight
Shortly after all of this, Williams began teasing an exciting announcement with a slew of mysterious package deliveries to fans and cryptic clues. Finally, at the end of January, Williams hand-delivered a CD of her single "My Limb" to one lucky fan and asked them to leak it online. The song wasn't released onto streaming platforms until after Williams surprise dropped her sophomore solo album FLOWERS for VASES / descansos a few days later on Feb. 5.
The album is a follow-up to her debut solo LP Petals For Armor which was released in May. This time around, however, Williams wrote and performed every piece of music on FLOWERS for VASES / descansos which is a career first for her.
Not long after the album's release, Williams began shifting focus back to Paramore. Since last year, rumors have been swirling that Williams, Taylor York and Zac Farro might be working on a new album. In fact, Williams has already offered some insight into what their new music could sound like. Back in May, Williams told NME that the trio's new sound may be influenced by the music they grew up listening to.
"We've thought about [the next Paramore album]," Williams told NME. "Taylor's mentioned things like: 'Oh, God, I miss guitars. We've found ourselves listening to a lot of older music that we grew up being inspired by. T and I liked stuff that was a bit more ratty sounding: The Rapture, Yeah Yeah Yeahs. All three of us loved Queens Of The Stone Age's Songs For The Deaf."
Then, in September, a subtle change to the band's social media platforms caused fans to speculate a new Paramore era is on the way.
Shortly after, in December, Jimmy Fallon mentioned Paramore in a comedic bit on The Tonight Show. During the episode, Fallon jokingly predicted the future names of Taylor Swift's albums after she released the Grammy-winning folklore and, eventually, evermore.
Fallon went on to say that one of Swift's albums will be called "Paramore" since it rhymes with her previous album titles. In the end, Fallon finished the quip by saying that Paramore will release a new album called "Taylor Swift." Of course, Fallon's remarks caught the attention of the trio who used the opportunity to seemingly confirm new music is in the works.
In late December, Williams added fuel to the rumor fire when she debuted a new hair color. Using her Good Dye Young products, Williams returned to her iconic orange hair she rocked during the Riot! era. This change led many fans to believe Williams was subtly confirming the start of a new Paramore era with the hairstyle. However, in February, Williams revealed during a Twitter Q&A that the hair color change has nothing to do with Paramore's music plans.
"Actually no! I was just ready," Williams tweeted. "I always knew that at a certain point when I started feeling a little braver, I'd go back to red. Hair is a great indicator of so many things. This is where I tag
@gooddyeyoung
Along with this, Williams also went on to say that she has no plans to release another solo album. Although she has plenty of other solo material written, she is more focused on creating a new Paramore album for now.
Earlier this month, Williams also revealed the real reason why Paramore have never released a full documentary. In the past, Paramore have debuted a series of mini-docs including ones during the Brand New Eyes and After Laughter eras. As it turns out, the band have actually filmed three different full-length documentaries in the past decade. However, none of the documentaries were ever completed.
For now, it's unknown when Paramore's next album may arrive. However, if history repeats itself, fans may get to hear it sometime this year. Since the release of 2009's Brand New Eyes, Paramore have steadily released a new full-length studio album every four years. With After Laughter making its debut in 2017, it's possible we could hear new Paramore music in 2021.
What are your reactions to Hayley Williams' "The Only Exception" TikTok duet? Let us know in the comments below.