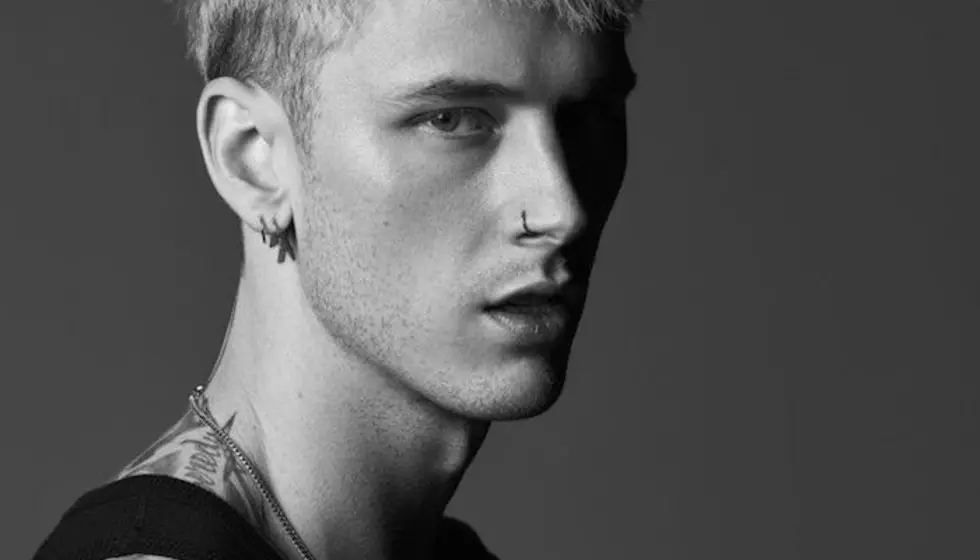 Machine Gun Kelly plays new song in livestream performance
[Photo by: Justin Campbell]
Machine Gun Kelly gave fans a special treat in the way of a new song he and his friends performed last night.
The rapper took to social media to play a handful of tracks along with the new one for fans to check out while people are stuck at home.
He and his bandmates swapped instruments and played a handful of tracks on Instagram live last night.
They played the new track before blending into "Alpha Omega." Further, they ripped through "why are you here," "Habits," and "I Think I'm OKAY."
Machine Gun Kelly has been busy plugging away at his upcoming Travis Barker produced pop-punk album for quite a while now.
Tickets To My Downfall is expected to arrive at some point this summer. 
It was first teased as a rock album amid studio sessions with Travis Barker, blackbear, Goody Grace, Mod Sun and more, while he has been teasing fans since December.
Barker also later elaborated on the origin of the album title in an interview with Zane Lowe.
YUNGBLUD
Hotel Diablo
I Think I'm OKAY
put together a "sad" version
Kelly also revealed other previous collaborators blackbear, Trippie Redd and Young Thug will be joining him on the new project. He also said his wish list of collabs includes Attila frontman Chris Fronzak and the Used vocalist Bert McCracken. Machine Gun Kelly got one of those wishes granted in the form of McCracken.
Initially, MGK gave a timeline for fans wondering when it would arrive saying it would hit in early 2020 between January and March. That obviously changed over time though.
In a story posted to his Instagram, Machine Gun Kelly shows that we can expect Tickets To My Downfall this summer. The video shows MGK's hand showing off his trippy fingernails with text spread out saying, "Tickets To My Downfall This Summer." Check it out below.
[video width="640" height="1136" mp4="https://media.altpress.com/uploads/2020/02/87910641_553760038569716_3447024659952162353_n.mp4"][/video]
More recently, he's been playing riffs from various bands while staying inside during the COVID-19 coronavirus pandemic. Since the pandemic became a hot topic across the world this month, he's been staying very busy.
He ended up dropping a new track titled "Bullets With Names" featuring Young Thug, RJMrLA and Lil Duke. Earlier this week, he also released an official video for the song which you can see below.
Then, he joined YUNGBLUD's "Shit's Weird Keep Calm and Carry On" show along with Bella Thorne and Oliver Tree. The livestream show was a way for YUNGBLUD to connect with fans following concert cancellations and events and travel bans due to the virus. So far, YUNGBLUD has had to cancel shows in ten different countries.
The livestream saw YUNGBLUD perform a set and do a Q&A segment after Tree gave a brief cooking lesson and MGK and Thorne played a drinking game.
Later in the day, MGK got up to some riffing of his own sharing a short but sweet cover of a Paramore classic in "Misery Business."
With this one he had a little help from Omar Fedi. Fedi contributed guitar work on MGK's latest Hotel Diablo including Lil Skies collab "Burning Memories" and "I Think I'm OKAY."
Elsewhere, he's played a cover of Red Hot Chili Peppers' "Californication," Nirvana's "Smells Like Teen Spirit" and Juice WRLD's "Lucid Dreams."
Now, fans are getting a glimpse of a new track from Machine Gun Kelly. He and his bandmates hit up Instagram live to give fans something to check out while everyone is self-isolating. You can check out the clip below.
[video width="886" height="1920" mp4="https://media.altpress.com/uploads/2020/03/MGK-new-song-1.mp4"][/video]
What do you think of the new Machine Gun Kelly track? Let us know your thoughts in the comments below.
[envira-gallery id="218747"]