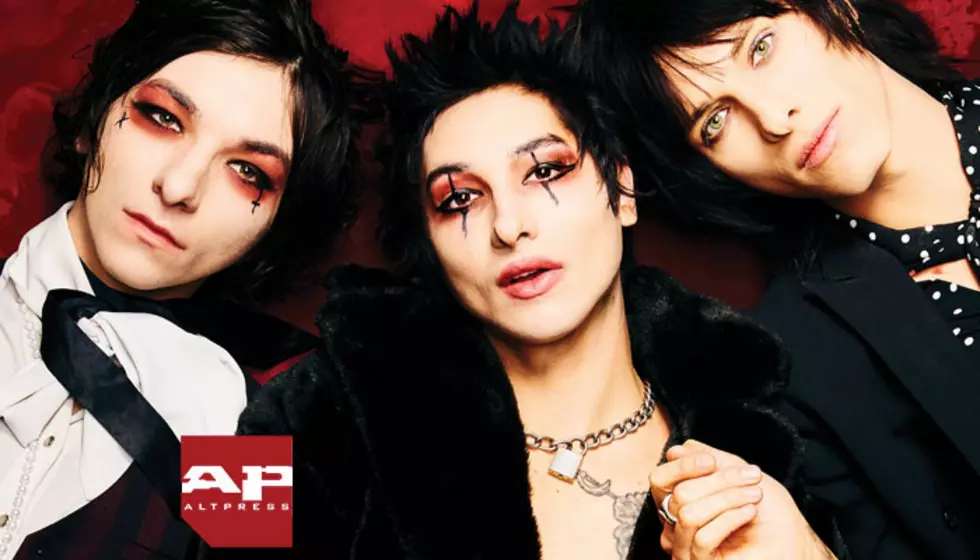 Palaye Royale unveil 'The Bastards' preorder details after artwork leak
[Photo by: Jonathan Weiner]
Recently, Palaye Royale released the album art for their upcoming record The Bastards. The Bastards will be Palaye Royale's third full-length studio album to date.
The 70's glam-rock looking icons also revealed the date for preorders and we couldn't be more stoked. 
Recently, you might have heard a snippet of Palaye Royale's new single with the incredible VUDU augmented reality app. The app allows you to sing along next to some scene heavy-hitters such as Remington Leith and Poppy. The upcoming single from The Bastards, "Lonely"  mini-debuted on VUDU, and the band posted the lyrics to social media shortly after. 
But now we have bigger fish to fry. Fans have been clamoring to see what the new album cover would look like, given the high-end, gothic style of their previous works: Boom Boom Room (Side A) and its followup Boom Boom Room (Side B).
Well, it's finally here thanks to Apple Music. The streaming platform leaked the artwork for the previous singles: "Massacre, The New American Dream," "Hang On To Yourself," "Nervous Breakdown" and "Fucking With My Head."
So, to stay ahead of the game, Palaye Royale went and confirmed the artwork with their own post. The album cover features the brothers three in the back of a vintage car. Rocking the clean new red and black aesthetic, their logos are emblazoned on the chrome side paneling of the black automobile. 
As Apple Music has already leaked the album cover we wanted to confirm. Our new album, The Bastards is available for pre-orders Friday, March 13th. Truly excited to have this next era released into the world. x Photo: @ashleyosborn
Palaye Royale also revealed when they're launching preorders for the album. Friday, March 13 is when The Bastards can be preordered. It's also the day that the single and music video "Lonely" releases. We might as well declare March 13 as Palaye Royale day.
The Bastards will consist of four acts.
Palaye Royale are currently on a massive tour of Europe, where they've had to cancel a few shows due to coronavirus and venue issues, but they will head stateside beginning in April. A full list of those dates is below. 
Dates:
04/17 – Sacramento, CA – Ace of Spades*
04/19 – Vancouver, BC – Venue Nightclub*
04/20 – Portland, OR – Hawthorne Theatre*
04/21 – Seattle, WA – Neptune Theatre*
04/22 – Boise, ID – Knitting Factory Concert House*
04/24 – Salt Lake City, UT – The Depot*
04/25 – Denver, CO – Summit Music Hall*
04/26 – Omaha, NE – Slowdown*
04/29 – Minneapolis, MN – Varsity Theater*
05/01 – Cincinnati, OH – Bogart's*
05/03 – Chicago, IL – House of Blues – Chicago*
05/05 – Pittsburgh, PA – Rex Theater*
05/06 – Detroit, MI – St Andrews Hall*
05/07 – Cleveland, OH – House of Blues – Cleveland*
05/08 – Toronto, ON – The Opera House*
05/10 – New York, NY – Webster Hall*
05/14 – Boston, MA – Paradise Rock Club
05/15 – Philadelphia, PA – The Theatre of Living Arts
05/16 – Baltimore, MD – Baltimore Soundstage
05/17 – Charlotte, NC – The Underground
05/18 – Nashville, TN – The Cowan
05/20 – Orlando, FL – The Plaza 'LIVE'
05/21 – Atlanta, GA – Buckhead Theatre
05/23 – Dallas, TX – TBD
05/24 – Houston, TX – White Oak Music Hall
05/27 – Phoenix, AZ – The Pressroom
05/29 – Los Angeles, CA – The Wiltern**
*with The Hunna
**with Jessie Paege
Palaye Royale also appears on AltPress #380. Besides a gorgeous photoshoot and tons of awesome stories, you can read about how much the band truly cares about their fans. Here's a snippet below.
"I realized how incredibly awful this world can be," Sebastian Barrett begins. "And if you don't have inspiration or a sense of understanding—someone to extend their hand—it can make you feel lost. Some of these kids feel so accepted, and this band make them want to be alive. When someone tells me they stayed on this Earth longer than they were going to because of something we've done, that's more important than a hit song or making someone in a boardroom happy."
Order yours below!
[envira-gallery id="199143"]