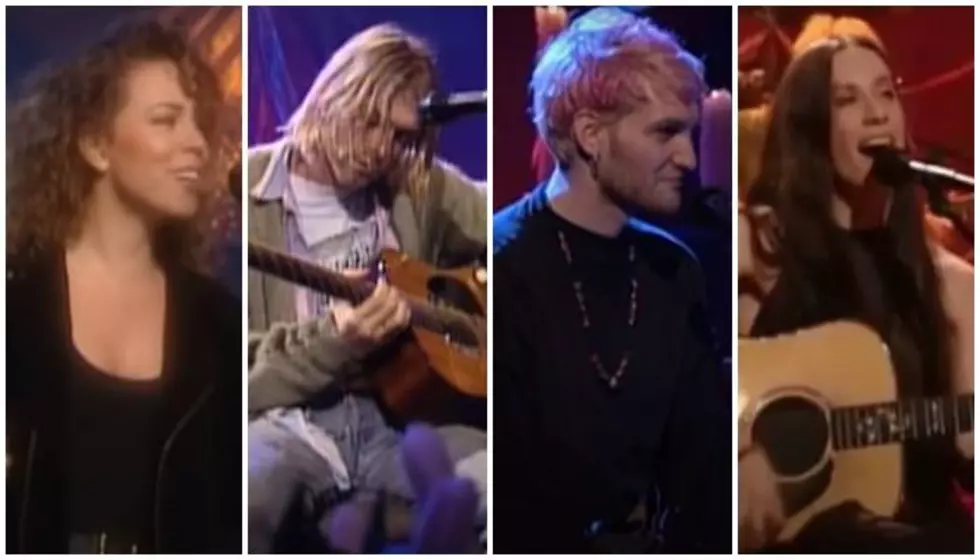 10 'MTV Unplugged' performances from the '90s that remain iconic
[Photos via YouTube]
There's no doubt that the relative abundance of "unplugged" performances has skyrocketed in the past year. It makes sense, given that pared-back sessions are far easier to conduct over a livestream than a full-band setup. Still, though, we can't help but feel like we're experiencing a bit of a '90s cultural revival.
If you have no idea what the hell we're referencing, you probably didn't digest nearly enough MTV throughout the decade. The channel greatly popularized acoustic performances with the debut of the Unplugged series in 1989. No lie, we're still thinking about quite a few of them.
Here are 10 of the best stripped performances artists put on for MTV Unplugged during its first decade on air.
Poison (1990)
It's no surprise that a band that had largely defined the late '80s hard-rock scene was an early fixture on the MTV series. Unplugged showed us Poison in a new light that still hits us right in the chest 31 years later. "Every Rose Has Its Thorn" was a natural setlist staple under the format. However, the band also performed acoustic versions of "Unskinny Bop" and "Talk Dirty To Me," among others.
The Cure (1991)
The Cure's "Just Like Heaven" is emotional enough, even with all of its upbeat instrumentals. Take them away, though, and it hits a thousand times harder. The entire set was a showcase of Robert Smith's evocative vocals. In addition to the 1987 hit, it also featured the first-ever performance of their notable '90s track "A Letter To Elise."
Mariah Carey (1992)
Mariah Carey's reputation as a vocal powerhouse dates back to the early '90s. Revisiting her 1992 MTV Unplugged performance, it's really not hard to see why. The set was such a knockout that she released all seven acoustic renditions as an official EP just three months later. An extended edition, MTV Unplugged +3, was also made available. It featured the full audio setlist plus video recordings for "Make It Happen," "Can't Let Go" and "Emotions."
Read more: 10 pop-punk bands from the '90s who are still influencing the genre
Duran Duran (1993)
To say that it's jolting to hear Duran Duran without their iconic synths is an understatement. To this point, their 1993 feature on MTV Unplugged felt like an other-dimensional experience. In addition to revisiting their earlier discography, the band played two tracks off their then-recently released second self-titled album, "Ordinary World" and "Too Much Information."
Nirvana (1993)
Unfortunately, Nirvana's MTV Unplugged debut came toward the tail end of their extensive performance history. The set was released as a live album just shy of a year later, months after the tragic loss of Kurt Cobain. The record earned the band their first and only Grammy for Best Alternative Music Performance in 1996.
Rod Stewart (1993)
Rod Stewart's MTV Unplugged debut was notable not just for its divergence from his spirited pop-rock foundations. It also marked a reunion with his former Facesbandmate and long-time collaborator Ron Wood. They even incorporated the band's 1971 hit, "Stay With Me," into the whopping 21-song setlist. The performance, which was later released as an album, Unplugged...And Seated, also includes covers of prolific artists such as Van Morrison and Tom Waits.
The Cranberries (1995)
Let's be honest: No '90s music series would have been complete without a feature by the Cranberries. The iconic alt-rock group joined Unplugged in 1995 to deliver an acoustic set following the release of 1994's No Need To Argue. The performance also included then-unreleased tracks off To The Faithful Departed, "I'm Still Remembering" and "Free To Decide," as well as "Yesterday's Gone," which only got an official release last year.
Alice In Chains (1996)
It's always fun to see more traditionally heavy artists showing off their soft sides. And that's exactly what Alice In Chains did during their 1996 MTV Unplugged debut. The band later released the hour-plus-long acoustic showcase as their first-ever live album, aptly titled Unplugged. The record was a marked success, peaking at No. 3 on Billboard 200.
Oasis (1996)
Oasis' 1996 MTV Unplugged performance was remarkable in more ways than one. In addition to featuring haunting acoustic renditions of their '90s Britpop hits, it was also a significant milestone in the longstanding rift between the Gallagher brothers. You'll probably notice that Liam Gallagher was absent altogether, reportedly having bailed on the performance last minute. The vocalist eventually took his turn in the spotlight, debuting on the series as a solo artist in 2019.
Alanis Morissette (1999)
Alanis Morissette just barely made it onto MTV Unplugged within its first decade. She appeared for an acoustic set in September 1999, just over a couple of months shy of the series' double-digit birthday. We're glad it happened, too, because we couldn't have imagined closing out the '90s without hearing "Ironic" and "You Oughta Know" in such a capacity.
What were your favorite MTV Unplugged performances to come from the '90s? Let us know in the comments!